The 3D Measuring Company (T3DMC) are excited to announce they will be exhibiting at this years' Advanced Engineering 2021 event.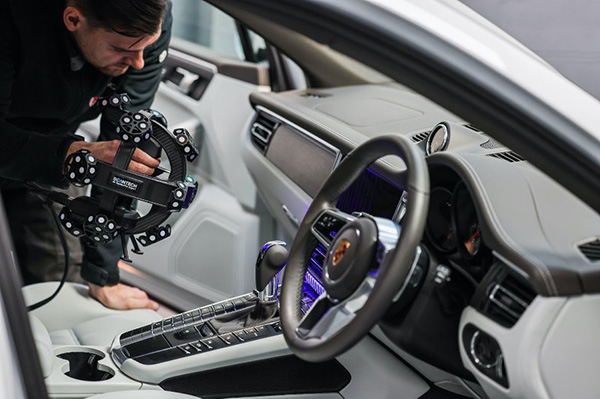 Held at the NEC Birmingham between 3rd and 4th November, Advanced Engineering is the UK's leading engineering and manufacturing event for the engineering supply chain.
Following a successful appearance at TCT 3Sixty in September this year, the team at T3DMC are looking ahead to launching four new and innovative 3D scanning solutions to visitors.
T3DMC's range of portable 3D scanning devices provide highly accurate scan data, that improves productivity, reduces costs, and highlight any issues that may impact production quality. 3D scanners can be seamlessly integrated into manufacturing processes – either at the start of a project or at the production line for instant inspection and quality testing.
One of the highlights on the T3DMC stand during the exhibition is KSCAN Magic, a device that defines a new dimension in 3D measurements. Designed to improve quality control within manufacturing processes and reverse engineering, KSCAN delivers impressive scanning speeds of up 1.6 million measurements per second.
As a multi-tool, KSCAN has a flexible selection of laser scanning volumes, with the capacity to capture detailed 3D data on any surface – from small, palm-sized objects to those of a larger scale. Visitors to stand D74 will have the opportunity to see live demonstrations of KSCAN Magic and speak with T3DMC's expert engineers.
Another star of the show will be Trackscan P42, which can capture accurate and highly detailed data without the use of reference markers, making data capture simple and effective. Trackscan is the fastest 3D scanning system in its class, boasting 1.9 million measurements per second. This combined with a large measurement volume of up to 16.5M3, and dual measurement volumes for small and large parts, makes this model an extremely versatile and capable measurement system.
Adam Stanley, Managing Director at T3DMC commented "We're excited to showcase our range of 3D scanning devices to audiences at this year's Advanced Engineering show. As consumer demands increase with the quality of goods they expect, there is a need for manufacturers to improve their processes and introduce new technologies to support this. We're looking forward to speaking with visitors and demonstrating how our range of devices can help them save time and money within their existing methods."
Other devices on show on the stand include the brand-new SIMSCAN – the fastest, smallest, and lightest 3D scanning system on the market, and iReal 2E – a cost-effective colour 3D scanning solution. The team will also be handing out free samples of AESUB spray range for those applications where a thin coating of matting spray helps pick up those fine details. The range includes their innovative evaporating product and a new version designed for use in a spray gun.
For more information on the range of scanning devices available from T3DMC, visit www.t3dmc.com.
For more information, please contact:
Suzanne McNicholas
Head of Digital & Content
Reech Media (on behalf of T3DMC)
Suzanne.mcnicholas@reech.media
With over 20 years' experience, The 3D Measurement Company (T3DMC) are a leading UK supplier of 3D engineering solutions. ISO9001 certified by Interface NRM, a UKAS- accredited certification body, T3DMC specialise in 3D measurement, quality & inspection, reverse engineering and 3D measurement system solutions. Working with customers across all industries, from automotive and aerospace to power generation and medical;T3DMC take great pride in helping clients solve their manufacturing and design challenges.
In addition to providing innovative portable 3D scanners, T3DMC are also experts in providing professional 3D scanning services, including automated scanning.