Detectable Warning Systems' ADA/AODA compliant AlertTile® FR Tactile warning delivers surface applied interior construction and safety.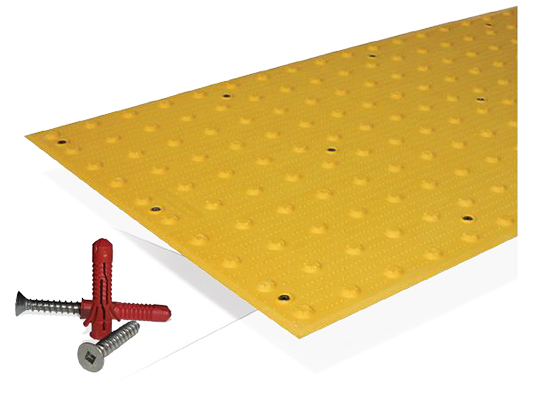 Chagrin Falls, OH
Today, there is increasing demand to adhere to the Canadian Accessibility Codes' indoor standard requirements used for fire-resistant ratings in the growing ADA/AODA compliant tactile warning surfaces construction market. In response, Detectable Warning Systems™ (DWS) is launching their AlertTile® FR detectable warning product−a fire-resistant detectable warning to its line of ADA tactile safety products.
Now a part of the proprietary product family of Mar-Bal, Inc. (Mar-Bal: Chagrin Falls, OH), DWS's AlertTile FR is designed and engineered for interior exit stair wells, vestibules to exit stairs, lobbies, and corridors. Notably, the fire-resistant glass reinforced thermoset composite product exhibits superior smoke and flame resistance−meeting the critical ULC-S102.2 fire-resistance standard rating (<5 Flame Smoke Rating, <15 Smoke Development) as is required by the National Building Code of Canada (NBC).
In full compliance with Canadian Accessibility Codes, AlertTile FR also meets the requirements of the Ontario Building Code (OBC) 2012 Table 3.1.13.7, meets or exceeds AODA, CSA, ISO, NFPA 130, as well as provincial and national building codes.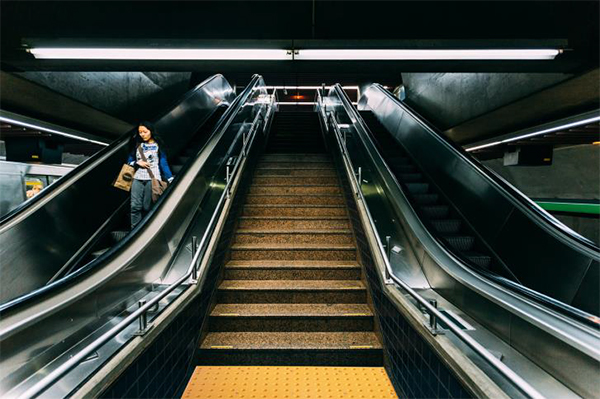 Alert

Tile

®

FR PROFILE:

Durable and lightweight, the glass-reinforced thermoset composite product is engineered for superior impact resistance, slip resistance, wear resistance, and long-term durability for both new and retrofit applications. The exclusive design of AlertTile FR incorporates a thin, semi-rigid profile with a perimeter beveled edge, to provide a safe and easy pedestrian transition. Mar-Bal's vertical integration ensures quality throughout the entire manufacturing process.

The surface applied composite features truncated domes designed to comply with ADA/AODA standards. AlertTile FR is flexible enough to conform to ramp irregularities, and also utilizes its own established anchoring system.

Fast-and-easy installation is also achieved via a premium adhesive and HILTI HUD anchors with stainless steel screws. Simply apply the adhesive on the back, place in desired location, and install the anchors. These unique configurations help to readily conform to the strict ADA/AODA specifications

A premium UV resistance system ensures long-term color retention. Available colors (integral throughout) include: Yellow, Colonial Red, Brick Red, Black, and Dark Grey. Sizes available: 1' X 3' and 1' X 4'.

PHYSICAL CHARACTERISTICS:
ASTM C 1028 – Static Coefficient of Friction ≥ 0.8 wet/dry
ULC S102.2 – Flame Spread < 5
ULC S102.2 – Smoke Development <15
ASTM D 570 – Water Absorption ≤ 0.05%
ASTM D 1037 – Accelerated Aging Cycle Testing No effect
ASTM D 543 – Chemical Resistance No effect
AlertTile FR CONCLUSION:
The purpose of the Canadian Accessibility Code's Disability (Access to Premises-Buildings) Standards is to improve the accessibility of public buildings for people with disabilities. Given the indoor requirements, per the ULC Fire Standards Canada, DWS's AlertTile FR meets these stringent requirements and ensures that public domains in the United States and Canada are safe and accessible to everyone–regardless of health or disability.
AlertTile FR joins one of the industry's most complete lines of ADA/AODA compliant tactile warning surfaces engineered for visually impaired pedestrians. To facilitate everything the Canadian market needs as one source–including meeting evolving specifications, DWS has also entered into an exclusive distribution and project management agreement with one of the Greater Toronto Area's (GTA) leading construction material providers–Cityscape Supply Group (CSG).
According to CSG's Owner/President, Michael Wilson, "AlertTile FR tactile warning panels also address Ontario's recent building code that requires a fire-resistant panel for buildings seven stories or higher. This is a big issue since building codes just changed in the last couple of years, and permits are now required for all builds (old and new) to become compliant."
According to Anthony Lignetta, Mar-Bal's Director, Proprietary Products, "AlertTile FR is a perfect solution for meeting Canada's strict indoor fire-resistance and disability standards. Contractors, distributors, provinces, and municipalities will all benefit from the product's advanced engineering and innovative composites design."
Mar-Bal provides DWS customers with full-service, innovative, and economical detectable warning (and adjacent) products with composites to address these needs in the USA and Canada. Known as 'The One-Source Solutions Provider', privately held Mar-Bal has three state-of-the-art U.S. manufacturing plants in Ohio, Virginia, and Missouri–producing everything entirely turn-key. DWS products also feature ease-of-installation, consistent delivery, and unparalleled customer service.
Providers of one of the most complete and cost-effective lines of detectable warning products on the market, DWS offers both composite and flexible materials for either cast-in-place or surface applied applications including the following brands:
RediMat™ / AlertCast
®

/ AlertTile

®

/ AlertTile

®

FR / Cast Iron™

For more information on Mar-Bal's line of DWS products please visit: www.detectable-warning.com

Or contact us at: (866-999-7452)

Contact Cityscape Supply Group's Michael Wilson for DWS products via email: mwilson@cityscapesupply.com or call at: (416) 688-3445

Corporate Profile: Detectable Warning Systems is part of the Mar-Bal, Inc. proprietary family of products. Headquartered in Chagrin Falls, OH, Mar-Bal, Inc. has been an innovative leader in the custom composite, molding and material manufacturing industry since its founding in 1970. For over three decades Mar-Bal, Inc. has manufactured and engineered quality, customized parts and materials while delivering unmatched client cost-effectiveness through superior customer service and the Total Value Commitment. Mar-Bal, Inc. operates manufacturing facilities in Ohio, Virginia and Missouri.

©2021 MAR-BAL, INC. ### All rights reserved.