November 12, 2019
By Elizabeth Sturcken
Business leaders in every industry are scrambling to invest in new technology to hone efficiencies and drive profits. From AI and automation, to big data, sensors and blockchain, uptake is steadily increasing.
In its second annual Business and the Fourth Wave report, Environmental Defense Fund surveyed 600 executives at companies with $500 million or more in earnings, and 94% of business leaders across five industries said they are putting these technologies to work in order to stay competitive. And year over year, uptake is increasing.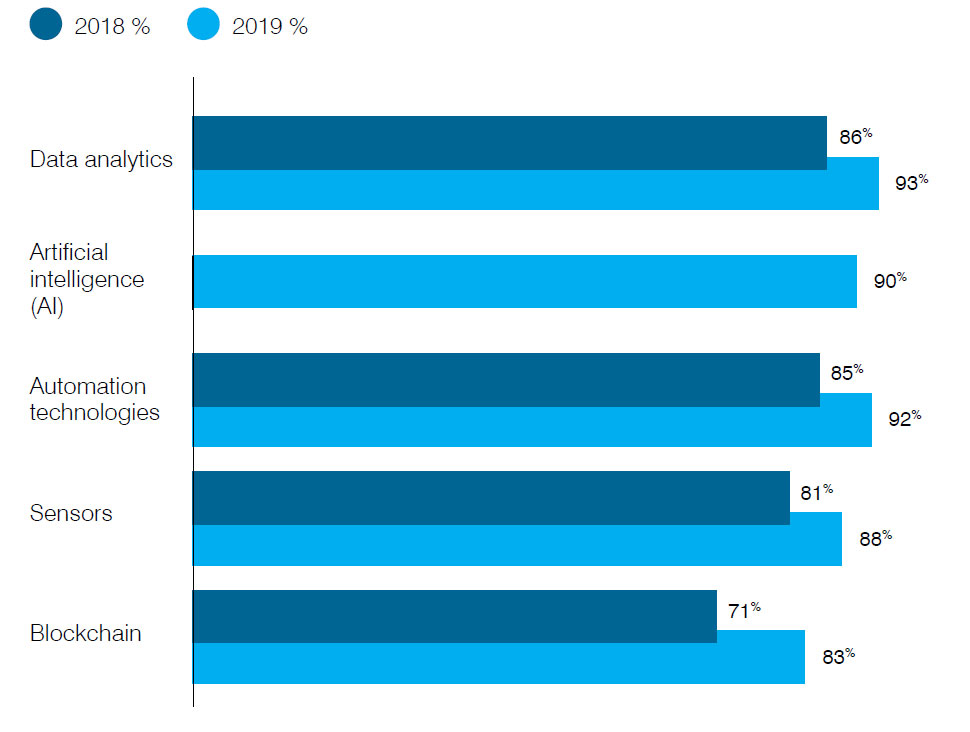 However, despite an overwhelming belief that this emerging tech can boost both ROI and sustainability, only 59% of those leaders are actively investing in tech for the purpose of reducing their environmental footprint. This is a huge opportunity gap. Here's why.
The push for businesses to adapt and adopt
Across every sector, consumers, investors and employees are using their influence to demand corporate solutions to our global climate crisis. This stakeholder pressure is forcing businesses to raise the bar for corporate sustainability. And executives are feeling the heat. When asked who is holding business accountable for their impact on the environment, more than 9 in 10 leaders surveyed noted consumers as the leading motivator; up 13% since 2018. Pressure from employees is up 15% year over year, and investor pressure is up 14%.

This pervasive pressure from stakeholders is now in public discourse. Employees are using their volume, networks and stock options to leverage change within their companies, as seen recently with Google, Amazon and others. Over half the respondents in a 2019 consumer retail study said that sustainable business practices drive brand loyalty. And the perception that investors don't care about ESG is just outdated. Sustainable investing is becoming synonymous with investing, according to a study in the Harvard Business Review, and investors are seeking deeper levels of engagement with their portfolio companies, especially around ESG issues that affect financial performance.
All of this points to an urgent need for business leaders to double down on integrating sustainability into their business strategy.
About that opportunity gap
If 94% of CEOs and VPs strongly believe that emerging tech can drive gains for both profit and the planet, why are only 59% of business leaders investing in the rapid deployment of this technology to make their companies more sustainable?
Two alarming hindrances were noted in the EDF survey: lack of clear ROI and lack of quick ROI. This old-school, quarterly returns-focused thinking isn't taking into account the growing stakeholder pressure for more holistic, profit with purpose leadership.
First let's debunk outdated thinking that profits and sustainability are mutually exclusive.
Many businesses are already capitalizing on the win-win that today's technology can deliver. Amazon is addressing fleet emissions and freight expense by purchasing 100,000 electric trucks. AT&T is mitigating operational risks from climate change by using supercomputers to model extreme weather. And Google is using AI and machine learning to use less energy, cut energy bills and reduce emissions, while also using AI to reduce the amount of energy needed for cooling data centers by 40%.
Also, entirely new industries are springing up to help businesses be more sustainable. From increasing building efficiencies through sensors and smart windows, to AI and robotics for factory automation, sustainability innovations are driving a new renaissance for tech. And the market is only growing – investments into sustainable technologies surged to over $9 billion last year.
Growth potential ahead
When it comes to using technology for sustainability, the energy and technology sectors have advanced the most, year over year. Both industries lead the charge in using data, AI, automation and sensors, and both see strong potential in how they can improve their environmental impact. Blockchain and sensors are the least used Fourth Wave technologies, which makes them important areas where leaders can gain a competitive edge— especially if blockchain increases clean energy use or is powered by renewable energy.
Still, most business leaders do believe that technology will help them win on both economic and environmental fronts. For example, 93% agree emerging technologies can improve a company's bottom line and impact on the environment. And the use of technology to improve environmental impact sends important signals. Nine in ten executives agree that businesses that do so are leading companies within their industry (92%), and that environmentally sustainable business practices helps attract and retain top talent (91%).
As the Fourth Wave of environmentalism takes hold, corporate leaders recognize that business as usual will no longer keep them at the head of the pack. To stay competitive and relevant in today's sustainability-driven climate, companies must embrace the innovations that can take their environmental commitments to the next level — while also continuing to find ways to boost their bottom line. The good news is they can use their current investments in emerging technologies to position themselves as corporate climate leaders.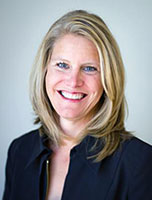 About the Author
Elizabeth Sturcken is a managing director at Environmental Defense Fund, working with the EDF+Business team, she helps develop, implement and manage innovative projects with leading companies to create environmental change.
Contact
www.edf.org | esturcken@edf.org