Bringing inkjet technology to ID card printing gives small- to medium-sized organizations ability to produce more secure ID cards.
By Jim Meier, Senior Director of Product Marketing with HID Global
Inkjet technology that was popularized at home has since transformed traditional document and image printing for small- and medium-sized businesses and schools. Up until now, however, it has not changed how these organizations produce employee and visitor badges, issue student and faculty IDs, or create gift and loyalty cards. Those who have used inkjet printers for these kinds of IDs and cards have been restricted to printing on adhesive paper labels they would apply to plastic cards or printing directly on specially coated card stock that incurred additional expense. However, most would prefer to print directly onto cards using industry-standard ID card stock. These organizations also want the ability to personalize their cards via inline encoding during the printing process with trusted identity data so users can leverage applications for physical and/or logical access control as well as those for stored value and/or cashless transactions. Until recently, the only way to meet these needs involved bearing the cost and complexity of ribbon-based direct-to-card (DTC®) or retransfer card printers.
Now, new approaches to inkjet printing are bringing the broader benefits of personalized, secure ID cards to much smaller organizations. The latest units print on the same standard, off-the-shelf polyvinyl chloride (PVC) stock used for most of the world's corporate IDs and campus cards but replace print ribbons with snap-in ink cartridges. This approach not only simplifies printer use and maintenance but also gives card designers much more control over their per-card costs.
Inkjet Technology Tailored to ID Cards
A new generation of inkjet printers used for ID cards employs specially formulated, inherently UV-stable inks that adhere to standard, off-the-shelf PVC stock. At 600 to 1200 dots per inch (dpi), inkjet card printers provide higher print quality for images, text and barcodes than can be achieved with standard, 300 dpi DTC printers.
Because these printers also offer contactless card encoding reader functionality, they enable the same card used for identification to also be used for door entry, cashless vending, logging time and attendance, participating in gift and loyalty programs, and conducting financial transactions using QR codes.
Plus, dependent on card design, inkjet technology enables each of these applications to be deployed at a lower cost per card (CPC) than was previously possible with ribbon-based printers. There are several elements that factor into this cost calculation.
Calculating Cost per Card (CPC)
The CPC calculation includes the initial printer hardware investment and the estimated number of cards that will be printed over a certain period of time. Also factored in is the cost of the card stock that will be used which will vary depending on card construction and whether or not technology cards will be employed to support contactless applications.
The CPC calculation also considers the cost and yield of printer consumables such as print ribbons. With ribbon-based printing, users are bound by set ribbon roll pricing and the fixed number of images yielded by each roll. They must run through an entire set of ribbon panels even if the card design does not fully utilize all panels. As a result, the consumables component of CPC remains the same regardless of print volume.
This all changes with the latest inkjet card printers that use drop-on-demand (DOD) technology. The printhead in these units only ejects ink droplets as required by the card's design. As a result, users can choose less complex card designs that will enable a single ink cartridge to potentially produce hundreds more cards at a fraction of the cost than would be possible with print ribbons.
CPC Comparison
Figure 1 shows three different card designs and what their CPC would be if printed with a card printer using DOD inkjet versus standard DTC ribbon-based printing.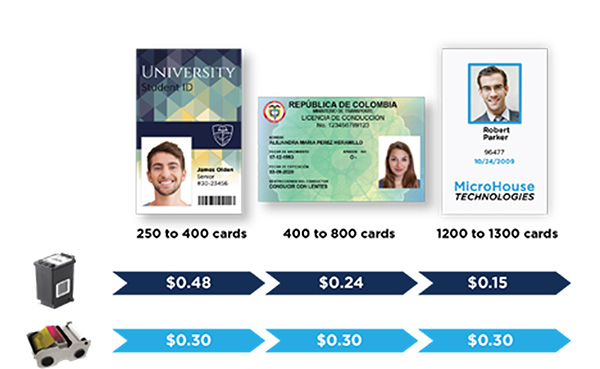 Just like an inkjet paper printer at home, the more color applied on a per-page basis, the faster ink cartridges will deplete. So, as depicted by the card example on the far left, due to the heavy use of significantly darker colors (which require more ink to produce), a single ink cartridge will typically only yield 250-400 cards. In this scenario, that same number of cards can be produced less expensively with ribbon-based printing.
However, when lighter colors are introduced or less color overall is applied, there is a tremendous shift in CPC. Simply by using lighter colors as depicted in the middle card example, a single ink cartridge can yield the same number of cards but at a much lower cost than with print ribbons. By minimizing color overall as shown in the card example on the far right, a single ink cartridge yields the same number of cards but at half the cost.
Higher Quality and Security at Lower Cost
Bringing inkjet technology to ID card printing gives small- to medium-sized organizations new opportunities to produce higher quality and more secure ID cards that can be used for many different applications — and all at far less cost than was previously possible. Combining affordability with ease of use, these inkjet card printers provide an alternative to ribbon-based units that, for many, are considered cost-prohibitive and overly complex. They also create new opportunities to optimize CPC with every card design.
Jim Meier is a Senior Director of Product Marketing with HID Global and manages the portfolio of desktop printer products. He has more than 25 years of experience working with printing technologies and has 20 patents related to these technologies.