The new CartMover™ XR offers increased durability and power that will solve your toughest cart handling challenges.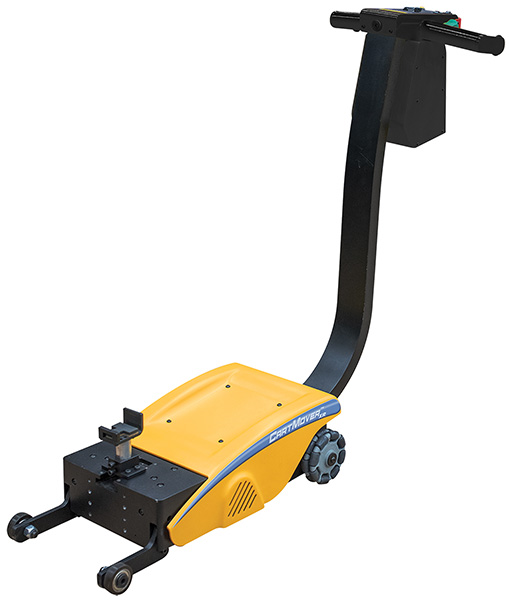 Built on the proven CartMover™ design platform and now with a 20,000+ lb. capacity*, the NEW CartMover™ XR is Appleton's most powerful and flexible CartMover™. The CartMover™ XR introduces features that increase productivity and ensure worker safety wherever you need to move heavy loads on wheels. With an improved, extreme-duty lifting platform and frame, the CartMover™ XR delivers an enhanced ergonomic design that increases worker safety and a huge 4-inch lift height that allows for moving a wider-than-ever variety of carts over a greater range of surfaces. Paired with the long-life, easy-to-change Lithium Iron Phosphate modular battery, the highly-maneuverable, CartMover™ XR is as easy-to-use as a pallet jack – just far more powerful and useful.
"The new CartMover™ XR offers increased durability and power that will solve your toughest cart handling challenges. The new, bigger lifting range means the CartMover™XR can accommodate almost any cart type or configuration without the need to change tooling even when you use different carts in a single facility. The high-visibility body allows operators to easily spot the CartMover™ XR, while the ergonomic design allows for safe and comfortable operation for all of your operators. Finally, our new Lithium Iron Phosphate battery delivers quicker charging and larger capacities, which means more power for a longer period of time!" – Matt Spang, Director of Sales, Appleton
Eric Quandt, Vice President – Operations of Appleton offers – "We are very excited about our new CartMover™ XR. Appleton's primary focus has always been taking the time to research and understand the market and deliver products that directly address our customers' needs. This philosophy has helped us to introduce ground-breaking products that quickly become industry standards. The development of the CartMover™ XR is no exception, and we are very excited to offer yet another innovative product that provides improved performance, efficiency and safety for our customers."
Excellent for both long-haul moves across a facility, and short moves within a manufacturing cell, the CartMover™ XR is ideal for almost any manufacturing situation. The CartMover™ XR can be equipped with a variety of engineered or custom hitches to securely connect to a variety of carts, bins, vehicles or other wheeled loads. The CartMover™ XR is also highly customizable to solve specific material handling challenges. If it moves on wheels or casters, the CartMover™ XR will move it safely and efficiently.
Website: https://bit.ly/3w6ecfg
Features:
The most powerful and heavy duty CartMover™ ever offered
Improved, extreme duty lifting platform and frame
Sleek, high-visibility ergonomic design increases worker safety and improves productivity
Enhanced 4-inch lift range offers use on a larger variety of carts and increased ground clearance for steeper transitions, inclines and ramps
Quick-Change, high-performance 24V Lithium Iron Phosphate (LiFePO4) long life battery
Capacity to over 20,000 pounds*
Compact size and highly maneuverable
Programmable Speed Controller from creep speed to 4.5 mph
Rugged welded steel frame construction
Ergonomic handle and variable speed throttle
Reversing Emergency Switch
What can the CartMover™ XR move?
Mobile carts with heavy castings or metal parts
Supply carts and waste bins
Carts used in shipping and receiving
Laundry carts (multi-cart "trains")
Just about anything on casters or wheels – moves loads weighing more than 20,000 lbs.
Where can the CartMover™ XR be used?
Cell manufacturing facilities
Vehicle repair or manufacturing
Hospitals
Aerospace manufacturing
Commercial laundries
Print and converting facilities
Shipping and Receiving
Anywhere you need to move loads on casters or wheels
*Depending on the type of move and environmental conditions
Website: https://bit.ly/3w6ecfg
Developer of the CartMover™ XR and a member of the Double E Family of Converting Industry Suppliers, Appleton is a fully integrated engineering, design, sales, service and manufacturing firm producing high-quality material handling solutions and remains committed to its heritage of over 100 years of innovation, quality and outstanding customer service.
Appleton, 1025 Breezewood Lane, Neenah, WI 54956