Small-to-midsized companies are the underpinnings of our country and we're bringing back sorely-needed jobs. How? By innovating.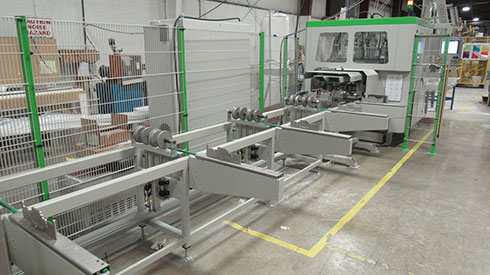 Woodbridge, Virginia – RJT Industries, a Mid-Atlantic manufacturer of vinyl windows and doors, had a unique idea to alter a common saw used for cutting window frames. Their idea would improve accuracy and dramatically increase production throughput. RJT Industries worked with Urban Machinery in Cambridge, Ontario to transform a lineal PVC cutting machine into a Frame Processing Center.
Rick Kennel, President of RJT Industries (www.rjt-industries.com) had this concept in mind when he visited the Glass Build Show several years ago. He spoke with Urban Machinery, an exhibitor, and found they were receptive to the concept. After a good deal of time spent consulting with engineers and computer experts at Urban, and with their own window experts, the group came up with a new multi-functional machine. The Frame Processing Center accurately performs numerous functions as two PVC profiles pass through the machine at once, cutting production time in half. These processes include:
* Make cuts and notches on jamb and sill profiles
* Drill installation screw holes
* Drill jamb adjuster holes
* Locate coil balance holes for multiple configurations
* Make miter cuts
* Optimize lineal cuts
* Reuse previous day's production scraps or drops
According to Mr. Kennel, the equipment is computerized, so it can be easily programed to produce their wide range of styles and sizes of windows and patio doors. The Frame Processing Center not only produces accurate, finished profiles, it eliminates the problems of misalignment, errors, and spoilage. The new equipment is at least 50% faster than older methods and requires fewer personnel to operate.
Mr. Kennel notes, "We've been able to eliminate at least 4 saws, punches or tools, and their accompanying material handling, from our fabrication process. Now that we can produce products more quickly, our company can take on more business. In our case, automation doesn't cause employees to lose jobs; on the contrary, we're hiring more people to work downstream handling our increased capacity."
RJT Industries Windows and Doors is a family-owned company formed in 1976. Their facilities are in Woodbridge and Henrico, Virginia. The company supplies windows and doors to the Contractors industry for use in residential and commercial properties. RJT Industries serves Maryland, Virginia, and the D.C. area.
The company builds the Earthwise™ brand of windows and patio doors. Earthwise was the first window to be Made-In-USA-Certified® and carries the Good Housekeeping Seal.