SERVO's new VFD and VFD Plus kits convert older step pulley mills and worn out variable speed mills to smooth, electronic speed control.
Eastlake, OH−July 2020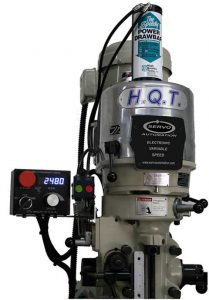 Variable speed components on milling machines typically wear out within 5-10 years and will need to be rebuilt–which could represent thousands of dollars for a stop-gap repair. Unique to the market, there is now a one-time, alternative solution that completely eliminates a machine's needless sliding variable speed pulley components–providing an ultra-reliable, long-term fix.
SERVO® Products Company (Eastlake, OH), a progressive designer and manufacturer of a broad line of manual knee-type milling machine accessories since 1964, recently introduced their new Variable Frequency Drive (VFD) and VFD Plus kits which are full-featured packages designed to convert older step pulley mills and variable speed mills from mechanically controlled speed, into an electronically controlled machine.
The complete VFD kits are "plug-and-play" solutions that are easy to install and easy to operate–quickly upgrading a mills reliability, versatility, and productivity with smoother variable electronic speed control.
Made in the USA, both VFD kits are also suited for smaller garage/machine shops, mills, lathes, and grinders.
Adaptable to most applications, the VFD kits can run the motor on 220V single-phase incoming power vs. requiring three-phase power–eliminating the need for a phase converter. Providing all the torque you need in a convenient package, it can go up to 5,000 RPMs in high gear–10-15% higher than the standard milling machine could do. Unlike early VFD kits, these provide full-torque at the lowest RPM.
Notably, both VFD kits feature a red E-Stop button that milling machines typically do not have. There is also an E-Stop safety circuit to prevent accidental start-ups.
SERVO VFD STANDARD SPECS / FEATURES:
Two RPM Ranges (50-500 RPM & 500-5,000 RPM)
Full torque throughout the entire RPM range
Accurate in both gear ranges
Can run a three-phase motor with single-phase input
(up to 3 horsepower)
Sensorless vector control
Includes all mounting hardware
Spindle rotation is always correct
Bright Blue LED Display that is truly accurate in both gear ranges
10 Turn potentiometer for accurate speed control
Integrated dynamic braking resistor for quick forward/reverse changes (like tapping applications)
There is a window to view the VFD status
SERVO VFD PLUS SPECS / FEATURES: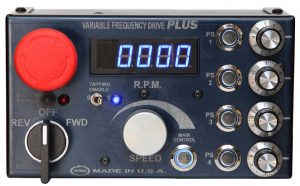 SERVO's VFD Plus has all of the standard VFD features, plus it increases the versatility of mills with essential upgrades including:
4 PRESET SPINDLE SPEEDS: In addition to one main speed for fast speed selection, there are an additional four presets for a total of five! These preset speed controls allow operators to set up to 4 different speeds, and quickly change spindle speeds at the press of a button. The preset speed button lights up and displays RPM's.
SEMI-AUTOMATED TAPPING FEATURE: The tapping function uses a proximity switch to reverse the spindle at the user set depth to automatically reverse the spindle, and back out of the tap. Once the spindle goes back to the top position, the spindle then turns forward, ready for the next tapping cycle.
You simply put the drill in, and then set the speeds; i.e.-push button "1" at drilling speed, then set push button "2" at a tapping speed. This allows you to run through a desired sequence at the right RPMs.
SERVO VFD & VFD PLUS / CONCLUSION:
With an eye on innovation, Servo Engineer, Garry Yaworski, designed the advanced VFD & VFD Plus kits to address the issue of upgrading old-school step pulley type mills and variable speed mills with component failure with a comprehensive solution.
According to Yaworski, "The goal was to improve the mills reliability and productivity with a long-term, all-inclusive fix versus a standard rebuild-type approach. Our VFD kits are comparably priced to a typical variable speed disc replacement, and allow end-users to take advantage of the versatility and reliability of electronic speed control."
Servo can also custom tailor CNC packages to fit specific machine requirements, whether it's a new installation or a retrofit replacement for an old unreliable control–including VFD speed control through the program. Solutions for most any milling, turning, or grinding applications are also supported by Servo's partner company/distributor High Quality Tools® (Eastlake, OH / Largo, FL), which is a one-stop retail supplier of replacement parts, tools, and accessories for vertical knee-type milling machines. Servo also has a network of approximately 250 dealers throughout the U.S.A.
For more information about SERVO visit: www.servoproductsco.com
For more information about HIGH QUALITY TOOLS visit: www.hqtinc.com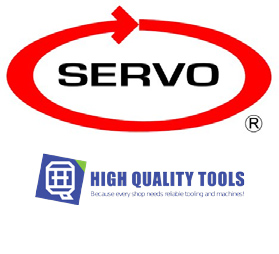 CORPORATE PROFILE: Since 1964, SERVO® Products Company has been a progressive designer and manufacturer of a broad line of manual knee-type mill machine tools and accessories–including power feeds, small precision drill presses, power drawbars, variable frequency drives, bracketry, and the recently added Orion CNC Retrofit package. With a focus on knee mill power feeds and precision drill presses for the medical, aerospace, jewelry industries (amongst others), Servo is a family owned, ISO 9001: 2015 Certified, made in the USA manufacturing company that has a reputation for high quality and unparalleled customer service.
Since 1983, High Quality Tools® has been a dedicated Servo partner/distributor and one-stop retail supplier of replacement parts, tools, and accessories for vertical knee-type milling machines.
Author: Greg Heyen / Servo Products Company / Main: 800.521.7359 / gheyen@servoproductsco.com
Editorial & Photo Contact: Ray Farrar / Method Media LLC / 216.861.0862 / rayf@methmedia.net
©2020 Servo Products Company ### All rights reserved.