Camera kit with ultra-high resolution and instant autofocus for Linux platform enables rapid development and production of embedded video.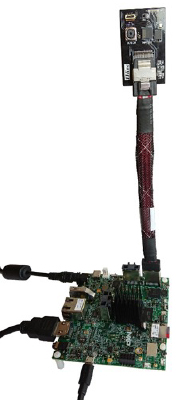 [Santa Clara, CA] THine Solutions, Inc., a THine company, today introduced their second THEIA-CAM family kit, the THSCM101, a 13MP (megapixel) Phase-Detection Auto-Focus (PDAF) Linux Camera Reference Design Kit.
The THSCM101 Kit interfaces to NXP's i.MX 8M family EVKs and is based on THine's THP7312-P image signal processor (ISP) and Sony's IMX258 13MP CMOS PDAF image sensor. The Kit includes a Camera Board, a Mini-SAS cable to directly connect the Camera board to NXP i.MX 8M family EVKs' CSI port, and all required software to stream images. The Kit can be easily set up to stream images by connecting it to the NXP i.MX 8M EVK or i.MX 8M Mini EVK using the SD card image available at THine Solutions' website which includes the Video4Linux2 (V4L2) driver to control various video functions. THine's optimized ISP firmware provides high image quality that is repeatable in every unit for use in high volume production. The Linux driver, SD card image, and reference circuit schematics can all be made available to interested customers. In addition, customization of the Kit is easily achievable using THine's GUI based Software development tools. As a result, the THSCM101 accelerates customers' time-to-market without expensive initial costs for developing embedded camera systems with a Linux platform.
Until now, the typical camera choice available for NXP i.MX 8M family EVKs is a 5MP image sensor camera with embedded ISP and no capability for image customization nor production scalability. In addition to increasing the image resolution from 5MP to 4K2K (and potentially to 13Mp with software upgrades), this new THEIA-CAM Kit improves the image quality and adds PDAF technology that provides the ultra-fast auto-focus functionality preferred for live video streaming and/or information scanning applications. Also, the Kit's embedded ISP firmware compensates for CMOS Camera Module variations that are each fully characterized at the factory to achieve perfect unit-to-unit image quality in production.
For users that have unique system requirements or preferences, THine's ISP THP7312-P and its companion Camera Development Kit (CDK) tool (https://www.thinesolutions.com/camera-development-kit-cdk) allow customized image quality tuning. THine's THP7312-P ISP supports high-resolution performance of up to 16 MP with industry-leading throughput, low latency, and low power consumption. The CDK tool is useful to easily make minor image tuning changes or more major changes of the ISP firmware for applications that require a different image sensor than the Sony IMX258.
The THSCM101 currently supports resolutions up to 4K2K using with the NXP i.MX 8M Mini. However, future software upgrades will increase the available resolutions supported to include 13MP. Also, these upgrades will allow additional i.MX 8M family EVKs to be supported including the i.MX 8M Plus.
The Kit enables plug-and-play operation, and it includes firmware optimized for most of V4L2 camera functions, significantly shortening development time and reducing engineering costs. Developers can use this smart reference design kit as a production-ready final product or as a development tool for high-resolution camera systems.
"This kit will be the salvation for many system designers needing enhanced video streaming and image quality performance," said Tak Iizuka, Chief Solution Architect of THine Solutions. "The struggles of engineers who need to embed advanced imaging capabilities today are immensely difficult. Our Kit provides those engineers with an easy-to-use alternative to the off-the-shelf 5MP cameras that are currently marketed with the NXP i.MX 8M family EVKs. Upgrading from the 5MP to a 13MP camera is much more than just increasing the display pixels by x4 from 1080p to 4K. It requires to develop baseline camera features such as Auto White Balance and Auto Exposure covering those hundreds of millions of pixels per second under multiple different light sources. This new Kit provides engineers with all these baseline requirements along with much more including the capability of quick auto-focus and perfect unit to unit image quality. Finally, there is a solution for many engineers to easily upgrade embedded camera systems with the NXP i.MX 8M family Platform."
THSCM101 Key Features
High resolution including but not limited to 4K2K and 1080p.
Phase Detection Auto-Focus (PDAF)
Well-Optimized Image Quality with Auto Focus, Auto White Balance, and Auto Exposure
Scalability for high volume production
Compatible with NXP i.MX 8M and i.MX 8M Mini EVK's
To learn more, go to https://www.thinesolutions.com/linux-camera-for-imx8-with-13mp-pdaf-sensor
THSCM101 Availability
The THSCM101 is available for purchase at Digi-Key:
https://www.digikey.com/en/products/detail/thine-solutions-inc/THSCM101/14563118
THEIA-CAM Family
The THEIA-CAM family of Kits address wide-ranging camera applications including but not limited to AR Glasses, Barcode Reading Devices, Biometric Devices, Bodycams, Document Scanners, Machine Vision systems, Medical Scopes, Microscopes, Surveillance Cameras, Vision Assistance Glasses, and Webcams. THSCU101, the first Kit in the family, is a 13MP PDAF USB Video Class (UVC) Camera. Future THEIA-CAM family Kits will expand THine's Camera Reference Design Kit offerings to other platforms including NVIDIA Jetson processors.
About THine: THine Electronics, Incorporated is a fabless semiconductor and AI/IoT-based device/system company that provides innovative mixed signal LSI and analog technologies such as V-by-One® HS, LVDS, other high-speed data signaling, timing controller, analog-to-digital converter, ISP, power management and drivers for LEDs and motors, as well as AI/IoT-based devices, services, and systems. We also provide Kit solutions and design-aid tools for embedded camera and video transmission extension applications. Our target markets include Medical Scopes, Surgical Microscopes, Multifunction Printers, Surveillance Cameras, Body Cams, Biometric Devices, Document Scanners, AR/VR Systems, Biometric Devices, USB Webcams, High Resolution Displays, and Automotive Infotainment Systems. THine is headquartered in Tokyo, and has subsidiaries in the US (Santa Clara, CA), Yokohama, Taipei, Seoul, Hong Kong, Shenzhen, and Shanghai. THine is listed on JASDAQ of Tokyo Stock Exchange under the security code of 6769. For more information, please visit www.thine.co.jp/en/.
Contact
Marc Sheade, GM Marc.Sheade@thinesolutions.com