New census data analysis by GO Topeka shows the city's poverty rate decreased by 44%, impacting communities of color the most favorably.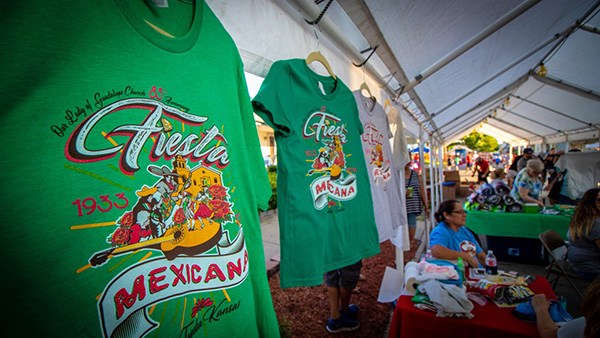 TOPEKA, KANSAS – GO Topeka, the economic development group for Kansas' capital city, announced today that its Hispanic population grew by 24% in the last decade, according to 2020 census data. Shawnee County, home to Topeka, reached a historic high population of 178,909, driven in part by an increase of 23.6% in residents who identify as non-white Hispanic. The growth is attributed to the community's business opportunities, affordability and Mexican heritage, which drives annual celebrations like Fiesta Mexicana, one of the Midwest's largest Mexican festivals.
Census data also revealed that the city's overall poverty rate has decreased by 44% in 10 years. This significantly impacted Topeka's Hispanic population, where poverty dropped by nearly half, bringing its members well under the national average. In addition, Topeka added 1,641 international immigrants, with nearly 10% of the city's population identifying as newly immigrated people, most of whom come from Central and South American countries.
"I've seen our Hispanic and immigrant populations drive innovation and strengthen our community," says Topeka Mayor Michelle De La Isla, who speaks both English and Spanish. "It's incredible to watch the city grow as a cultural hub, and with the constant development of initiatives to support Hispanic entrepreneurs, students, families, children and even tourists, I'm excited to see what's to come."
"The people of Topeka pride themselves on being an inclusive and welcoming community," said Glenda Washington, chief equity and opportunity officer for the Greater Topeka Partnership and senior vice president of GO Topeka's division of Women and Minority Business Development. "Our non-white Hispanic growth, as well as growth of those who identify as two or more races, reflect trends we see nationally. What sets Topeka and Shawnee County apart from many communities is that we see this diversification as a strength. Our future may look different than our past, but that future will bring so many more voices to the table."
Topeka has implemented many initiatives to support its growing Hispanic community. Business owners along the East 6th Hispanic Corridor are supported by the Greater Topeka Partnership team, which coordinates visits with Spanish-speaking staff to offer resources and support. Students have access to career training, English as a Second Language services and educational resources through Washburn Tech East, a new $6 million extension campus of Washburn University and Washburn Tech. Built with funds from GO Topeka, the extension was designed with input from community leaders and is strategically located in East Topeka, a location home to predominantly African American and Hispanic communities.
"I'm not surprised that our Hispanic population is increasing," said Pedro Concepcion, owner of Topeka-based business consulting company K.I.T Solutions. "I was born in Mexico and moved to Topeka from Chicago. Not only did I meet other young Hispanic professionals, but the city also propels my culture and heritage forward, giving me the opportunity to grow while embracing my potential as a leader."
From art murals to the Mexican rodeo, Hispanic heritage is prevalent throughout the city. La Comunidad, a new exhibit on display through November 21, features visual and performing arts from Topeka's Hispanic artists. Fiesta Mexicana, Topeka's biggest summertime celebration, is known for its authentic Mexican food offerings and performances. Visit Topeka recently became one of the first Midwestern cities to make its visitor's guide available in Spanish. Many Hispanic immigrants have also found success in Topeka, with Hispanic owned businesses from a variety of industries, including hospitality and marketing, calling the Kansas capital their home.
"It's wonderful to watch our Hispanic population grow, though the news isn't a total surprise given our history and leadership," said Michelle Cuevas-Stubblefield, senior vice president of strategy for the Greater Topeka Partnership. "Topeka has long been home to Hispanic immigrants, some of which were part of the city's founding along with freed slaves and abolitionists."
"The model Topeka represents reveals a city that is embracing its diverse, increasingly bilingual population," Cuevas-Stubblefield added.
According to the 2020 census, Topeka's diversity also increased among other races: Its Asian population grew by 21.1% and its Native Hawaiian and Other Pacific Islander population grew by 36.1%. The population of mixed-race individuals doubled, with two or more races increasing by 157% and three or more races following closely behind at nearly 89%.
"It's exciting to see a Midwestern city become a melting pot of individuals from an array of backgrounds," said Freddy Mawyin, senior economic advisor of the Greater Topeka Partnership, whose family emigrated from South America. "With the resources the city offers, we expect to watch these numbers grow year after year."
Nearly half of Topeka's City Council is made up of Hispanic representatives, including current Mayor Michelle De La Isla. The 2021 mayoral candidates Mike Padilla and Leo Cangiani are also Hispanic individuals.
For more information regarding Topeka's 2020 census data, visit https://www.census.gov/quickfacts/topekacitykansas.
About Greater Topeka
The Greater Topeka area in Shawnee County represents a community of 178,909 people, located in the Greater Kansas City region. As the state capital of Kansas, Topeka is home to a dynamic employer base with headquartered companies including Hill's Pet Nutrition, Advisors Excel, Security Benefit, Capitol Federal and Evergy. Topeka is proud to be a part of the #KCHeartland.
About GO Topeka
GO Topeka creates opportunities for economic growth that provide a thriving business climate and fulfilling lifestyle for Topeka and Shawnee County. GO Topeka operates under the Greater Topeka Partnership, the leading economic development agency in the region. https://www.gotopeka.com/