Unilever joins project to close the loop on post-consumer polypropylene food packaging.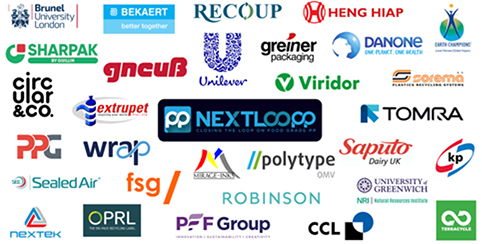 LONDON, England –
Unilever has joined Nextek's global project NEXTLOOPP, to create food-grade recycled Polypropylene (rPP) from post-consumer packaging waste.
Polypropylene (PP) is a commonly used packaging material for food across the globe. Yet, post-consumer PP packaging is not widely recycled in conventional mechanical recycling infrastructure.
Whilst food-grade PET bottles are undoubtedly a resounding success story in the plastic recycling ecosystem, creating the same circular economy for food-grade PP post-consumer packaging waste is long overdue. As a consequence, current food-grade recycled PP is currently limited to advanced recycling technology processes.
Unilever has committed to halve the use of virgin plastic in its packaging and remove more than 100,000 tonnes of plastic entirely by 2025 through their 'Less, better, no' plastic framework as a guiding principle to drive transition towards a circular economy.
Unilever and Nextek, together with other partners in the project are set to embark on the challenge to produce rPP through conventional mechanical recycling infrastructure, that meets the regulatory standards for use in food packaging.
The global organisations that have joined the multi-participant project include brand-owners, suppliers, universities and industry associations, through to end-users in the PP supply chain, and they bring their unique expertise to this cutting-edge project.
Sanjeev Das, Global Packaging Director in Foods & Refreshment Division says: "Unilever supports the advancement of mechanical recycling infrastructure to produce food-grade rPP to complement other technology routes. Unlocking the mechanical recycling route to produce food-grade rPP will help boost our efforts to keep plastics in a loop and out of the environment."
Professor Edward Kosior, founder and CEO of Nextek Ltd says: "the NEXTLOOPP project is very enthusiastic to welcome the participation of Unilever in helping to close the loop on PP food packaging. Unilever is a company that is committed to bringing sustainability and circularity to its many products and is helping to overcome the significant challenge of using high quality recycled polypropylene in food-contact applications. We look forward to achieving the goal of creating a long term solution for PP packaging so that consumers can be confident that when they participate in recycling, they are contributing to a better outcome for everyone."
About Nextek Ltd
Nextek is a global sustainability consultancy that offers strategic advice to regional and multi-national organisations and recycling companies. Launched in 2004, Nextek researches and develops innovative strategies and processes within the recycling ecosystem – from designing recycling plants to developing ground-breaking projects for governments and major organisations. Nextek launched NEXTLOOPP, a two-year multi- participant project, to close the loop on food-grade rPP. This project incorporates unique technological breakthroughs that include innovative sorting and cutting-edge decontamination technology.
www.nextek.org www.nextloopp.com
About Unilever
Unilever is one of the world's leading suppliers of Beauty & Personal Care, Home Care, and Foods & Refreshment products, with sales in over 190 countries and products used by 2.5 billion people every day. We have 149,000 employees and generated sales of €50.7 billion in 2020. Over half of our footprint is in developing and emerging markets. We have around 400 brands found in homes all over the world – including iconic global brands like Dove, Lifebuoy, Knorr, Magnum, OMO and Surf; and other brands such as Love Beauty & Planet, Hourglass, Seventh Generation and The Vegetarian Butcher.
Our vision is to be the global leader in sustainable business and to demonstrate how our purpose-led, future-fit business model drives superior performance. We have a long tradition of being a progressive, responsible business. It goes back to the days of our founder William Lever, who launched the world's first purposeful brand, Sunlight Soap, more than 100 years ago, and it's at the heart of how we run our company today.
The Unilever Compass, our sustainable business strategy, is set out to help us deliver superior performance and drive sustainable and responsible growth, while:
– improving the health of the planet;
– improving people's health, confidence and wellbeing; and
– contributing to a fairer and more socially inclusive world.
While there is still more to do, we are proud to have been recognised in 2020 as a sector leader in the Dow Jones Sustainability Index and – for the tenth-consecutive year – as the top ranked company in the 2020 GlobeScan/Sustainability Leaders survey.
For more information about Unilever and our brands, please visit www.unilever.com.