Veego's mobile app provides visibility of Connected Home topology to optimize customer experience.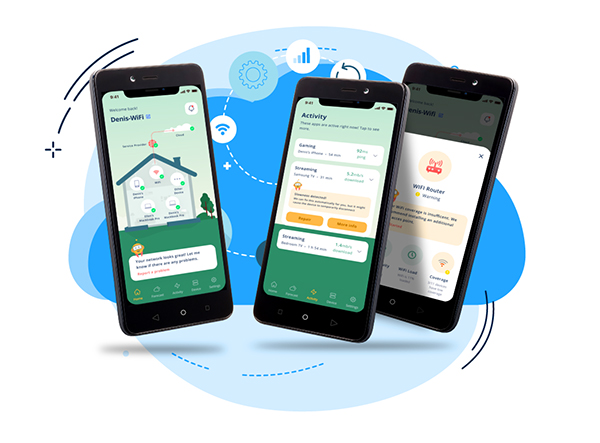 NEW YORK – Veego Software, the world leader in Connected Home Customer Experience and actionable insights, today announced the release of the Veego Self-Care app. Veego's mobile app enables non-technical home internet users to get real-time status and forecasted standing of their home device use. In addition, they can apply recommended quick fixes that proactively improve the user experience.
The Veego app provides superior insight into the quality of Internet service than the simple speed test commonly offered by providers to home users. Directly from their mobile device, users can view Connected Home topology and the health of all network components and active devices. By double-clicking on any displayed device or component, users can obtain information on performance; whether from cloud applications, CSP services, Wi-Fi networks, and end-user devices. The app identifies the actual source of Quality of Experience problems and eliminates the need for common customer calls to the CSP's Customer Care department.
The Veego Self-Care app presents all currently connected devices, live applications, and services. Users can tap on any displayed device or component to obtain more information about its Wi-Fi reception, network load, cloud status, and performance, or any problems they may encounter. In addition, when Veego spots a problem, the Self-Care app displays an alert on the user's phone with easy-to-follow recommendations for fixing the problem or directs them to contact the correct service center.
The Veego Self-Care app also forecasts network quality, enabling users to check and adapt their home network before important activities such as game tournaments or video conferences.
For advanced users, Veego Self-Care furnishes useful statistics and measurements such as the latency of currently active applications (critical to gamers), packet loss rates, and other indicators of network and session health.
"By running our breakthrough AI-based product, CSPs have been able to dramatically improve their understanding of each customer's Quality of Experience," stated Denis Sirov, Veego's CTO. "We are now able to pack all of our acquired intelligence into a simple, easy-to-use smartphone app that lets CSP customers manage their connected home and optimize their experience."
Veego also offers a white-label version of the app can be branded by Communication Service Providers (CSPs) and distributed to their subscribers to increase engagement and customer loyalty.
About Veego
Veego continuously enhances the Internet user experience in the connected smart home. Developing Artificial Intelligence and other breakthrough technologies, Veego delivers to Home Stakeholders a unique understanding of the performance and behavior of connected devices and the apps and services running on them, and the experience of users engaging with them. The Veego Home Insight Platform generates vast volumes of new data that enable a wealth of valuable insights into the connected home, including penetrating understandings of the customer experience, internet usage, performance, trends, and more. To learn more, please visit www.veego.io.