Family Handyman builds the ultimate getaway experience using Wayne Dalton's Contemporary Aluminum Model 8850 garage door.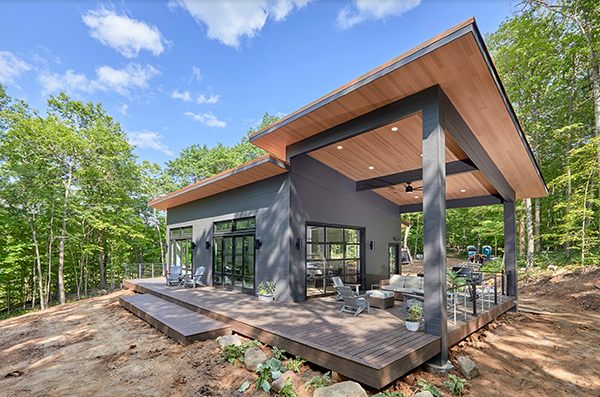 Decorated as the most ambitious and exciting project to date in the company's 70-year history, Family Handyman, a leading home-improvement destination, built a 1,000-square feet Getaway Home, showing DIYers how to build a functional second or vacation home from the ground up in the woods of Northern Wisconsin. Wayne Dalton was enlisted by Family Handyman to turn a second dream home into a DIY reality using a Contemporary Aluminum Model 8850 garage door featuring a black anodized frame and clear glass for a modern look that offers maximum visibility.
"Inspired by last year's stay-at-home mantra, Family Handyman fueled the desire to escape everyday life that many of us encountered with the idea to build a serene and functional 'getaway' home. By incorporating Model 8850's sleek design in place of a traditional wall to enhance the functionality of the home, the team was able to amplify the Getaway home's glass expanses and patios-beautifully fusing indoor and outdoor spaces for the ultimate getaway experience," said Sarah Schram, Senior Brand Marketing Manager at Wayne Dalton.
Installed by Lakeland Overhead Garage Door Corporation, Model 8850 garage doors include glass full-view panels that provide an unrestricted view for year-round enjoyment. Primary features of Model 8850 include a rugged, anodized aluminum frame, tongue-and-groove joints, and reinforced fins with a heavy-duty track and brackets for years of smooth, trouble-free operation.
Family Handyman Getaway home, along with a step-by-step building guide, will appear online at www.familyhandyman.com/article/the-getaway/ and in the September 2021 issue of the publication.
About Wayne Dalton
Wayne Dalton, a division of Overhead Door Corporation, is a world-class designer and manufacturer of residential and commercial garage doors. Wayne Dalton is known as a proactive business partner for its dealers, providing a wide breadth of innovative, easy-to-install products and smart sales tools to help grow their business. For consumers, Wayne Dalton simplifies the purchase process by providing a full range of doors and styles through conveniently located dealers. For more information, visit wayne-dalton.com