WEBCON Designer Desk is the first solution on the market that allows users to quickly turn ideas into interactive prototypes.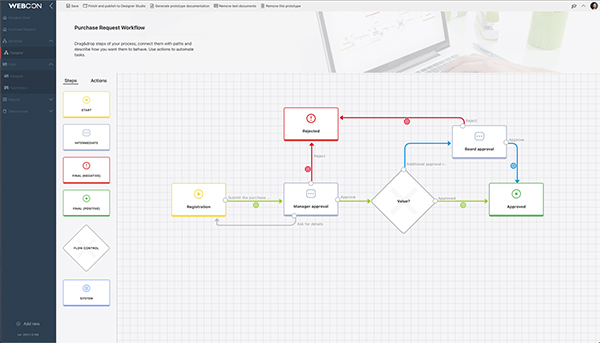 SEATTLE – WEBCON, a leading low-code platform provider for building and managing business process solutions, announced the availability of its Designer Desk process modeling software. Users and business stakeholders can use it to easily turn application ideas into functional, interactive, fully documented examples ready for IT to validate and complete. This intuitive tool addresses a critical gap in process automation – initial requirements definition – allowing organizations to effortlessly transform citizen-collected business needs into ready-to-use application prototypes.
Designer Desk is the first tool specifically designed for the latest movement in digital transformation: citizen-assisted development, where business stakeholders and professional application builders collaborate on the best solutions. The web-based, no-code tool is optimized to help business users gather requirements, create an application prototype, take that prototype for a test run, collect feedback, refine in real time, and forward on to development to turn into a complete production-ready solution. With one click, Designer Desk generates actionable documentation, automatically translating the prototype into complete specification requirements for IT.
"Designer Desk is different from other tools in that it doesn't ask you to build the entire application. Instead, you visually and interactively build an example of one," said Mike Fitzmaurice, chief evangelist and VP of North America for WEBCON. "It's a web-based, no-code, drag-and-drop solution optimized for business users, IT departments, integrators, analysts – everyone. Since determining requirements often takes as long as actual development, this is a true game changer for building business process solutions."
Designer Desk allows users to define and model the workflow, form layout, data, and reports the prototype will need, as well as desired roles and privileges. Instead of laboriously configuring every possible option, business stakeholders annotate what they want in terms of business rules, connections to other data sources and applications, automation actions, etc. Professional solution builders translate those annotations into application features.
"Designer Desk delivers the best of both worlds and the connection between them," Fitzmaurice said. "The people closest to the business problem get a way to design and test what they want to see and how they want it to behave. Professionals will see what users want instead of having to imagine it. The result for organizations will be faster deployment of superior solutions."
Designer Desk is available to test for free by visiting: https://webcon.com/designerdesk/. The free version comes with no time limits and allows users to build workflows, create forms, test prototypes and generate documentation. Organizations looking to transform Designer Desk prototypes into enterprise applications with a single click can contact WEBCON for enterprise pricing information: https://webcon.com/designerdesk/pricing/ 
About WEBCON
WEBCON is a leading European-based software provider that delivers an enterprise-grade low-code business process automation and management platform, which helps companies around the world work more efficiently and leverage the potential of digital transformation. WEBCON BPS platform helps international organizations with workflow automation, document management, and digitalization of their business processes. More than 650 companies worldwide, including such market leaders as Siemens Finance, Mitsubishi Electric, Diners Club, Societe Generale and Haddad Brands, have chosen WEBCON BPS to streamline processes and drive business growth. To learn more, visit the website: www.webcon.com.