YKK enters into a licensing agreement with Green Theme Technologies Inc. to use their water-free and non-toxic EMPEL™technology.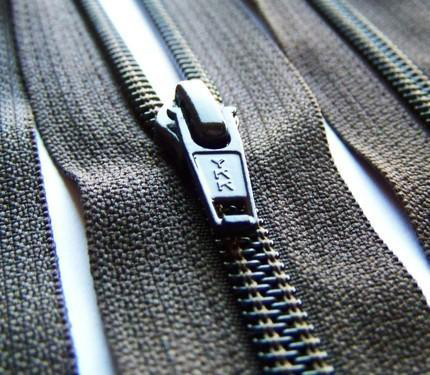 Tokyo, Japan: YKK, a global leader in zippers and fastening products, announced today that it has entered into a licensing agreement with Green Theme Technologies (GTT) to use their water-free and non-toxic EMPEL™ water protection technology on zippers.
GTT operates at the leading edge of sustainable performance textile finishes, and its PFC-free EMPEL platform is one of the best performing dry fabric finish in the world, now being utilized on zippers for the first time. The adoption of GTT's EMPEL water protection technology is in keeping with YKK's Sustainability Vision 2050 action plan to reduce water and chemical usage through innovative new technologies.
"While YKK is known for strong internal research and development, we are always looking for innovative new technologies to complement our own," says Terry Tsukumo, Vice President of YKK Global Marketing Group. "GTT's EMPEL technology offers extremely durable water protection with unparalleled performance, without the use of harmful chemicals."
According to GTT's Martin Flora, "Support from YKK comes at a critical time when major clothing brands and textile mills have to step forward to make a change for the future of the planet."
YKK has a long history of zipper innovation with its slide fasteners being used on everything from commercial fishing nets to space suits. As a leader in product sustainability, YKK launched the NATULON® zipper — the first zipper to be made with recycled material — in 1994. Since that time YKK has developed an expansive portfolio of eco-friendly products such as GreenRise® the first zipper to use plant-based polyester, and NATULON® Ocean Sourced® zipper, made from ocean bound plastic waste.
"The EMPEL technology will allow us to create a new generation of water protective zippers that perform better, have better flexibility, and are more sustainable," says Mike Maekawa, Category Manager, YKK Global Marketing Group. "It is game changing technology for high performance zippers."
GTT launched the EMPEL platform in 2018 and began with the goal of eliminating toxic PFCs. In addition to being highly sustainable, EMPEL treatment ranks among the highest water repellency and longest lasting protection available. GTT and YKK plan to collaborate with leading premium brands on the best quality and performance zippers on the market.
Download high resolution images: https://ykkamericas.com/news/ykk-signs-licensing-agreement-with-green-theme-technologies-for-water-free-and-non-toxic-empel-technology/
About YKK
Since the company's founding in Tokyo in 1934, YKK has continuously set industry standards for quality, service, value, and innovation in the production of zippers, plastic hardware, hook and loop fasteners, webbing tapes, and snap and buttons. With integrated production and supply systems in 72 countries and regions around the world, YKK is positioned to meet the needs of the many industries we serve as they increasingly diversify and require shorter product cycles. Guided by the CYCLE OF GOODNESS® philosophy – no one prospers without rendering benefit to others – YKK aims to contribute to a sustainable society through its products and manufacturing operations and constantly seeks new ways to serve the changing needs of its customers while at the same time investing in its employees and giving back to its communities. Discover more about YKK: https://www.ykkfastening.com/
Media contact: Jessica Cork, YKK Corporation of America, (+1) 770-261-6123, jessicacork@ykk.com
About Green Theme Technologies
Green Theme Technologies, Inc. is a textile innovation company with the mission to create products that out-perform existing technologies while eliminating water usage and pollution. Visit https://greenthemetek.com/ for more information. For more information, interviews and images, contact: Scott Kaier, Public Relations Director, scott@formidable-media.com, (+1) 802-238-7577.