Provides in-person and virtual access to a range of electron, light, and X-ray microscopy solutions to customers across North America.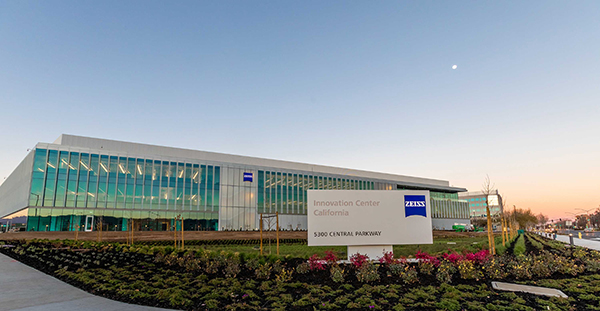 ZEISS announces the opening of its new ZEISS Microscopy Customer Center Bay Area (ZMCC BA), housed within the ZEISS Innovation Center California, a high-tech building designed to promote customer and employee collaboration. Unique to the industry, the ZMCC BA houses electron, light, and X-ray microscopes all in one location supported by resident application experts in life science, materials research, and electronics segments. The ZEISS experts review customers' microscopy requirements and discuss their specific applications to provide the best solutions for their microscopy needs. A virtual walk-through of the new space is available via http://www.zeiss.com/zmcc-bay-area
Based in Dublin, California, the 10,000 sq ft customer center is currently conducting virtual demonstrations and training for customers across the United States and Canada and is now open to in-person visits. Customers across North America can engage and interact with the ZEISS microscopes by utilizing the virtual access solutions or by scheduling a visit supported by the ZMCC applications team. Visit http://www.zeiss.com/zmcc-bay-area to request the virtual or in-person demonstration.
Among the latest ZEISS microscopy solutions that are on display at the ZMCC BA is the new Axio Observer with AI Sample Finder, Lattice Lightsheet 7, Gemini SEM 460, Gemini SEM 560, Crossbeam Laser FIB, Cryo correlative workflow, and Crystal CT. The breadth of the microscopy portfolio at the ZMCC BA will allow customers to explore the possibilities and advantages of the ZEISS correlative workflow solutions. The ZMCC BA also features a sophisticated sample preparation laboratory to support the materials research, electronics, and life science market.
"We are quite excited to be at the intersection of advanced microscopy, applications expertise, and customer interactions," said Dr. Vimal Gangadharan, Head of the ZMCC, North America. "Virtual demonstrations at the ZMCC have been ongoing with great enthusiasm. We have recently begun in-person interactions with our customers, where they can experience the innovation of the ZMCC space themselves."
For more information on ZMCC, visit http://www.zeiss.com/zmcc-bay-area
Press contact
Kristin Nugent
McNeil, Gray & Rice
Tel. 617-367-0100 x148
E-Mail: kristin.nugent@mgr1.com
About ZEISS
ZEISS is an internationally leading technology enterprise operating in the fields of optics and optoelectronics. In the previous fiscal year, the ZEISS Group generated annual revenue totaling more than 5.8 billion euros in its four segments Industrial Quality & Research, Medical Technology, Consumer Markets and Semiconductor Manufacturing Technology (status: 30 September 2018).
For its customers, ZEISS develops, produces and distributes highly innovative solutions for industrial metrology and quality assurance, microscopy solutions for the life sciences and materials research, and medical technology solutions for diagnostics and treatment in ophthalmology and microsurgery. The name ZEISS is also synonymous with the world's leading lithography optics, which are used by the chip industry to manufacture semiconductor components. There is global demand for trendsetting ZEISS brand products such as eyeglass lenses, camera lenses and binoculars.
With a portfolio aligned with future growth areas like digitalization, healthcare and Smart Production and a strong brand, ZEISS is shaping the future far beyond the optics and optoelectronics industries. The company's significant, sustainable investments in research and development lay the foundation for the success and continued expansion of ZEISS' technology and market leadership.
With approximately 30,000 employees, ZEISS is active globally in almost 50 countries with around 60 of its own sales and service companies, more than 30 production sites and around 25 development sites. Founded in 1846 in Jena, the company is headquartered in Oberkochen, Germany. The Carl Zeiss Foundation, one of the largest foundations in Germany committed to the promotion of science, is the sole owner of the holding company, Carl Zeiss AG.
Further information is available at www.zeiss.com
ZEISS Research Microscopy Solutions
ZEISS Research Microscopy Solutions is the world's only one-stop manufacturer of light, electron, X-ray and ion microscope systems and offers solutions for correlative microscopy. The portfolio comprises of products and services for life sciences, materials and industrial research, as well as education and clinical practice. The unit is headquartered in Jena. Additional production and development sites are located in Oberkochen, Göttingen and Munich, as well as in Cambridge in the UK, and in Peabody, MA and Pleasanton, CA in the USA. ZEISS Research Microscopy Solutions is part of the Industrial Quality & Research segment.