October 18, 2018
By Alan Mindlin, Technical Manager at Morey
At risk of falling further behind the competition, the U.S. is marching full speed ahead in the race for 5G. Earlier this year, the Federal Communications Commission (FCC) voted to accelerate the deployment of 5G networks by eliminating local rules and regulations. Instead of taking months or even years to review a carrier's application to install 5G cells on existing structures, cities and states now have just 60 days to reach a decision. When it comes to new buildings, the timeline is extended by just 30 more days.
Considering all that's at stake, the FCC's ruling isn't all that surprising. Up to 3 million jobs and $500 billion in gross domestic product will go to the country that first rolls out 5G wireless networks. The emergence of technical standards other countries are forced to comply with will also drive licensing revenue for years to come.
Above all else, technologies like telematics and robotics will become a much more common sight. From reduced latency to greater automation, see what's in store for the industrial internet of things (IIoT) as new innovations are implemented.
Speed things up
5G is more than just an upgrade. With speeds up to 100 times faster than a 4G LTE connection, 5G networks will revolutionize the IIoT. Often plagued by latency issues, companies limit the number of connected devices they deploy. After all, what good is an IIoT application if data can't be processed in a reasonable timeframe?
The power of 5G resolves issues tied to data transmission. Rather than bringing a network to a halt with too many connected devices, you can use more technologies than ever before. Better yet, improved data processing sets the stage for more valuable insights. Concerns regarding the health of machines on the factory floor can be addressed by accessing available data.
In the past, repairs only occurred once a machine broke down. With real-time data, however, you can monitor workload to perform maintenance long before serious issues arise. The result? Less costly repairs coupled with minimal machine downtime.
It's tough to dedicate a portion of your budget toward preventive maintenance – especially if you don't have enough data to back up the decision. A 5G network removes some of the ambiguity that stops progress in its tracks. Earn the buy-in of others across the organization by using up-to-the-minute data that highlights areas for greater cost savings and efficiency.
Usher in automation
Automation is on the rise. Among the most important reasons for this sudden surge is the advent of 5G. While robots made their way onto the factory floor years ago, they've only just started to assume greater responsibility. Instead of settling for simple tasks that require minimal data processing, robots are leveraging 5G wireless networks to more efficiently communicate with other machines as well as their human counterparts.
Current networks don't have the bandwidth to keep up with the data requirements of complex tasks. With 5G, however, data gathered by robots can be processed fast enough to avoid the latency issues that often limit automation. Jobs previously reserved for skilled workers can be passed to robots that use available information to improve over time. The speed and reliability of a 5G network can even welcome remote control and monitoring of safety-critical applications.
In addition to enabling robots to take on difficult challenges, machine learning made possible through faster data processing frees up workers to focus their attention where it's needed the most. For example, if a sudden departure occurs, workers can spend time reviewing resumes and interviewing candidates while robots tackle less pressing issues. This flexibility promises to pave the way for greater efficiency on the factory floor.
The race for 5G is in full swing. Eager to reap the rewards that come with improved network connectivity, the FCC waived many of the regulations that prevent 5G from making its mark in the U.S. From increased network speeds to a boost in automation, the impending shift toward 5G means big things for your business.
With reduced latency comes the opportunity for worthwhile insights that save you money. Meanwhile, the faster data processing that comes with a 5G network will also open the door for more automation. Take full advantage of the impact 5G is poised to have on the IIoT by embracing this new frontier of connectivity.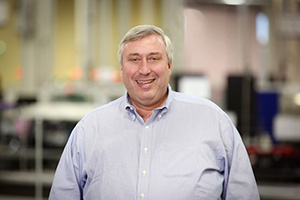 About the Author
Alan Mindlin is a Technical Manager at Morey, focusing on new business development and new customer acquisition. He does so by leading strong product design teams, creating state-of-the-art solutions and using best-in-class manufacturing facilities.
Alan has nearly 40 years of engineering expertise, having worked with Bell Laboratories in the U.S., Europe and Asia, and as a consultant for startups. He also has a bachelor's degree in electrical engineering and a master's degree in marketing and operations from Washington University in St. Louis, as well as a master's degree in electrical engineering from Purdue University.