Volume 21
| Issue 2
| Year 2018
Click here to read the complete illustrated article as originally published or scroll down to read the text article.
Manufacturers are typically eager to adopt new technologies that help reduce costs and improve productivity. The problem is that these technologies historically were implemented separately to address the specific needs of a given department—sales, shop floor, front end office, engineering and design. Consequently, manufacturers are hamstrung by a variety of legacy systems that don't interact well; but to fix this requires IT and budget resources they simply don't have the luxury to expend.
Implementing a Digital Workplace solution provides a cost- and time-efficient solution that integrates the production line with front office functions and provides unprecedented levels of agility. Examples of operational and competitive advantages manufacturers stand to gain with a Digital Workplace include:
Improved connection and collaboration among sales, design and production teams and the shop floor;
Enhanced infrastructure efficiency and improved flexibility via the adoption of a cloud-based architecture;
Protected corporate assets against cyber threats with persona-based user profiles and access conditions;
Dedicated partner ecosystem with industry leaders in Digital Workplace solutions;
Designated IT support that combines comprehensive user and support team training;
Automated dashboards with visual depictions of user interactions to identify and correct workflow inefficiencies.
Mike Harm, Chief Technology Officer for Workplace at Atos, a global leader in digital services and IT infrastructure and management, explains how a Digital Workplace can accomplish this. "One of the factors driving the Digital Workplace is the growing acceptance of BYOD—Bring Your Own Device. The traditional IT attitude is 'stack and rack'—put the equipment somewhere, define the devices to use, restrict user access by job authorization, and support it all with a number to call if you've got a problem. That's great to maintain high security. But in today's world, employees want to work with the devices they are most comfortable with and are best suited to their specific jobs. So a Digital Workplace has to be device agnostic, while at the same time highly secure. We accomplish this by deploying a cloud-based architecture where you can customize applications to a myriad of requirements and still maintain complete control over your IT environment with the highest possible levels of security."
Improving Connection and Collaboration
A cloud-based platform solves not only BYOD issues of multiple operating systems and applications preferred by individual users within individual work situations, it also allows manufacturers to easily integrate their various legacy systems without the hassle and expense of replacing all their hardware. "You can modernize your entire operations, from the boardroom to the shop floor, facilitating collaboration and communications across the supply chain as well as with your customers," Harm points out. "Without throwing out everything that you currently use that doesn't communicate across installations originally designed for specific departments only."
In addition to collaboration among departments and legacy systems, manufacturers strive to increase collaboration among individuals working in various capacities. Businesses typically rely on a patchwork of email, SharePoint and Office 365, WebEx type conferencing, instant messaging apps and dedicated collaborative software such as Slack. The Digital Workplace isn't intended to replace those tools—rather it determines how to most effectively deploy and integrate them in a way that provides the highest value.
One thing Harm feels further improves collaboration is a reduced reliance on email. "Workflow and document sharing were not part of email's original intent," Harm maintains. "It was a way to replace the mailroom, to distribute information. But that's how it is often used. Announcements and memos are fine in Outlook, but just about everything else has a better home in a unified communications and collaboration solution, or an enterprise social network, products like our own Circuit offering from UNIFY, Slack, Teams, Spark and similar applications. When you couple these products with a well-organized repository for archival and more permanent content and knowledge, you get a much more manageable solution than the frantic search for an attachment in email. "
Reconfiguring Your Infrastructure
An added advantage is that the Digital Workplace helps you reconfigure your infrastructure to reduce costs, eliminate redundancies and inefficiencies, and improve flexibility. Just one example is a company that wanted to move away from independent devices maintained by independent silos to a cloud-based Digital Workplace solution designed by Atos. "We moved 5,500 workloads and 2,500 databases from a completely on-premises legacy environment to 65 percent public cloud with infrastructure and platformas- a-service provided by Amazon," Harm says. "Compliance with strict data privacy controls and regulations only required keeping 35 percent of the workloads on premises in a virtual private cloud. In the process of this project, we decommissioned 30 percent of the company's infrastructure and archived 65 percent of its data."
Protecting Corporate Assets
Harm points out that one of the biggest emerging cybersecurity threats is directly tied to technological advancement. "The coming adoption of quantum computing IT infrastructure is going to make password protection and other encryption tools next to useless. Right now, if a cyber thief is intent on cracking a corporate system, it takes days of concerted effort. With quantum computing, studies indicate that what used to take three weeks of work could be accomplished in .3 seconds."
Which makes cloud-based platforms all the more important. "We have a different view now than we did traditionally when we would lock down the workstations and limit the usability of devices to prevent malicious or accidental data leaks and to prevent a compromised device from falling into the wrong hands.
Our challenge is to be prepared but not to a level that inhibits work experience or access to job-related data or applications," Harm says.
He adds, "Instead of the traditional password protection on the device, which makes the hardware secure but little else, we develop 'right-privilege', persona-based user profiles that define what type of job they are doing, the tools they need to do it, who they are doing it with, and where they are doing it. The levels of security are different for working at headquarters or on the shop floor, versus working at Starbucks, which is the most vulnerable, massive surface you can offer for a cyberattack. By setting access and service conditions through things like geo-fencing compliance, you've taken that remote vulnerability and reduced it considerably. Even if someone obtains an IP address, they can't get access to core intellectual property housed on your cloud."
Partnering for Success
Atos works with a client's existing IT suppliers or develops a platform using its own IT relationships. "We have strong partnerships with leading tech companies, such as SAP, Siemens, Dell EMC, Intel, and Microsoft" Harm explains. "If a customer says, this is what we use, please help us manage it, we have the expertise to do that because of those relationships. Of course, when the customer wants us to design the platform from the ground up, we have the relationships in place to do that too. We're able to procure and manage software, obtain licensing and put the pieces together into a cost-efficient solution."
Harm also notes, "Our partners have done a great job creating platforms that scale very well to both large and diverse organizations with multiple use cases for the platform. This enables us to create a 'one enrollment fits all' interface, with a very tailored set of configurations and personas behind it to meet the needs of individual business units, countries, or legal entities within a given enterprise. We know that the shop floor is a different world entirely from the design studio, and the HR and procurement offices are different still. We work with our clients to create bespoke solutions for them all, without making separate or complex investments to deliver that differentiation."
Providing Bespoke Support
Creating a bespoke Digital Workplace goes beyond the seamless and secure integration of applications and user experiences. Traditional IT management often relies upon third party support that is frequently unfamiliar with what users are actually doing. "We've all had that experience, as consumers and in the workplace, in trying to get support from someone who lacked an understanding of our situation. We thoroughly train our support resources not only in the technology they need to support, but also in the customer's company culture. On top of that, we do a full week of training in the customer's products and services. That adds another dimension—support people not only are familiar with the applications, but what the applications are being used for in that particular company."
The flip side of that is educating users on the proper use of the applications; an educated user means less reliance on support calls to try to figure things out. "We have a dedicated learning and development team that we send to the customer not just to explain how the technology works, but why it needs to work that way and the benefits to using it," Harm says.
Seeing is Believing
Another advantage of the Digital Workplace is the visual presentation of data. Sifting through dense text explanations and tables is not always easy to digest, and therefore is easily ignored. Dashboards that interpret and present data visually is not only easier to understand, but enables better decision making.
"Some truths can only be expressed to a certain extent in plain text. But even rich text has its limits. Color and shapes can convey urgency and impact in ways that cannot be expressed on a spreadsheet or in written words. With dashboards and data visualization, we can better understand the relationship between numbers, the things they represent, and our key performance indicators," Harm says.
And it's not just that you have some kind of colorful indicator that immediately shows you how one value is performing against another, it's also that you can see a deviation, click on the deviation and then take action, if not to correct it then at least see what the problem is, right from the dashboard. According to Harm, "IT services at Atos are heavily dependent on Lean and Six Sigma methods and defect elimination is a key component. Our analytics programs are developed and operated by Lean and Six Sigma experts and all of our quality and continuous improvement efforts follow similar maxims to industrialization. That makes these valuable tools not only for IT, but also for the manufacturer's business operations."
Realizing your Future Factory
Harm emphasizes that, "Our entire program is user- and business-centric. Not only do we leverage an entire program team that begins in our clients' environments to start the technical work, but we also deploy communications campaigns, education sessions, and people that can demonstrate the business and personal value of what's about to happen to the 'way of working' in that given environment. Atos continues to work with our clients well after the launch of a new program. For manufacturers, you not only gain the benefit of an affordable solution to modernize and integrate disparate operations, but a solution that connects everyone from the shop floor to engineering to sales, enabling them to communicate and collaborate in productive ways that meet both their individual needs and preferences, and the overall needs of the enterprise. Whatever you make, the Digital Workplace helps you make it better as you build your factory of the future."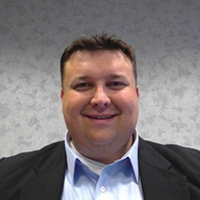 Mike Harm is the Chief Technology Officer for the Workplace domain at Atos and has spent over 20 years designing, implementing and envisioning differentiated workplace services in partnership with clients worldwide. With a background that spans support services, process engineering, IT Service Management, systems engineering and innovation product management, he is passionately connected to the technological, behavioral, and procedural pulse of the user experience from end-to-end. Mike is a member of the Atos Scientific Community where he explores the impact of digitization on the human experience, the future of work, and new concepts of productivity and employment emerging from digital trends.
In his role at Atos, he is responsible for technology partnerships, supplier strategic relationships, overall workplace vision and strategy as well as delivery technology policy in the workplace domain and adherence enforcement to those policies throughout service and product development lifecycle.