Volume 23
| Issue 1
| Year 2020
Click here to read the complete illustrated article as originally published or continue below to read the text article.
IBM and AT&T had it sort of easy—their abbreviations stood for products they no longer make, but the initials maintained brand awareness even as they moved into new businesses. What had been known as Marine Concepts for over 40 years confronted a slightly different challenge. As one of the leading composite design and development companies for the boating industry, what do you call yourself when you seek to apply the same core competencies and customer responsiveness to non-marine customers, but still maintain an identity built on nearly a half century of accomplishments?
In 2006, then owner Bob Long launched JRL Ventures as a separate brand to focus on non-marine sectors. In 2016, the company was reborn as Design Concepts/Marine Concepts (DCMC) following its acquisition by Leisure Products Holding to capture even more share across all its markets.
"We started out as a tooling supplier, growing over the years into a full-service engineering and manufacturer of CNC plugs, composite molds, CNC parts and composite parts for marine customers," notes President John Burgess. "Then we started looking at how to leverage our skills sets in other composites for other industries."
These include entertainment (specifically theme rides), aerospace, architecture, military, simulation, transportation and wind. Success in these various new businesses resulted in more than just an eventual name change. In 2012, DCMC quadrupled manufacturing space from 80,000 square feet to a total of 300,000 square feet between facilities in Cape Coral and Sarasota, Fla. In 2017, DCMC installed Mill 6, the fastest and largest (68 ft. x 24 ft. x 14 ft.) technology capable of milling structures up to 70 feet long in one base set. That same year it was acquired by Patrick Industries, a major manufacturer of component products and distributor of building products and materials for the recreational vehicle, manufactured housing, marine and other industrial markets.
"As part of Patrick Industries, we have more growth potential than ever," comments Burgess. "In addition to being a strong financial backer, Patrick provides us with relationships to over 80 of its business units serving a variety of customers."
The underlying reason behind DCMC's impressive growth over the years is what Ross Kennedy, Director of Business developments, describes as, "Our full suite of capabilities. From design and engineering of prototypes to final product manufacture, our dedicated team of experts provide complete solutions constructed to the most exacting specifications. Whether it's a large yacht or a small detailed part."
Full-Service Partnership
He adds, "What makes us unique is that we aren't just another mill filling customer orders. We are a full-service, end-to-end provider, with in-house staff to assist customers with a range of composites-tooling and fiberglass manufacturing capabilities." These include:
new designs and product changes
plug and mold construction
repair and refurbishment of current tooling
engineering design and documentation
reverse engineering
metrology
mold and part laser scan validation
patterns and cold mold kits
composite part production
advanced composites.
Moreover, Kenney emphasizes a particularly distinguishing DCMC approach to all its project work. "We view our customer relationships as partnerships. We assign dedicated project managers who stay on top of every step of the design and development process, to not only ensure a solution is delivered on time and on budget, but to anticipate problems and correct them before they happen."
With two 3-axis routers and six 5-axis CNC milling machines, in addition to the most advanced software, DCMC can create models and plugs quickly so products can get to market faster. Machines are just one part of that equation, however. Trained mill operators and experienced craftspeople ensure the highest quality achieved at the most efficient productivity.
The company employs about 350, encompassing talented designers, engineers, project managers, master carpenters and tradespeople. Even in today's tight job market, Kennedy explains how DCMC is able to attract qualified people. "We're always on the lookout for the next rock star,' the person who has the skill set we need to fill in. While they are sometimes hard to find, DCMC has a bit of an edge to attract them. Most mills do the same kind of tasks over and over again. Because we're more project-based, the work here offers more variety and is more challenging."
He adds that, "We provide in-house training and partner with our vendors to stay on top of new technologies. DCMC also offers a milling training program in conjunction with two local technical colleges. So our employees can expect to grow on the job. Also we offer competitive salaries and benefits that are equal to if not better than anyone else's. Another huge factor is that as part of Patrick Industries, we have a bigger company behind us that ensures longer term stability than your average mill operation. We're just a good place to work."
Kennedy says that with the exception of some projects that might involve more advanced design concepts, there isn't any dedicated split in functions between marine and non-marine projects. "The skill sets are the same," Kennedy explains. "We are nimble enough that we can employ our core competencies to take on just about any project and deliver it faster than anyone else. We're used to thinking on our feet.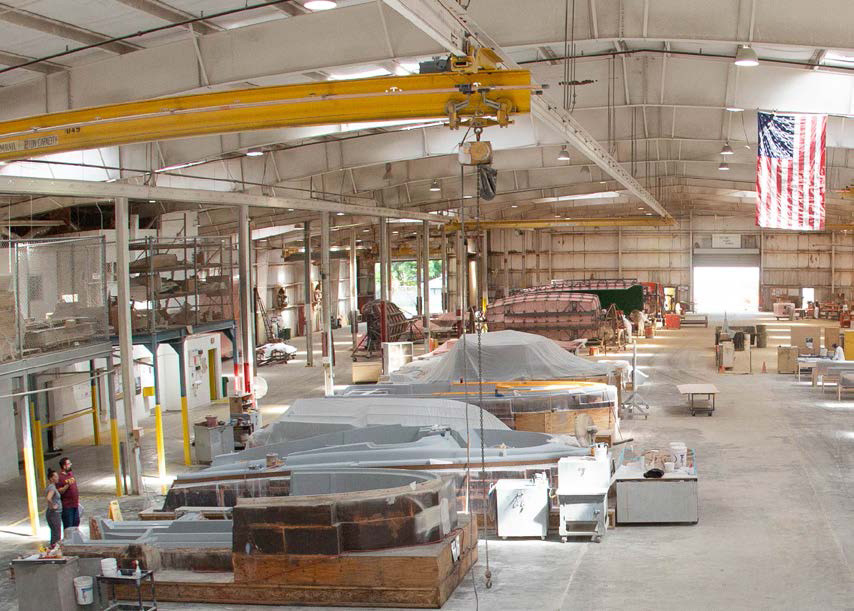 Innovative Technologies
Over the years DCMC has incorporated the latest technologies to better develop its products. A particular area of focus is the advancement of plug-building technology, which the Mill 6 achieves as the highest standard for modern plug construction.
Equally of note over the last five years is 3D printing. "We've done a number of projects with large 3D printers for parts manufacture. Once printed, the parts still need to be milled, so the technology pairs well with our competencies, allowing us to be even faster and cost-effective," Kennedy says. "Five-axis machining isn't going away by any means, but there are applications where 3D printing is becoming more advantageous."
The use of new materials is another driver of new business for DCMC. But whatever the material, the main considerations remain the same: design a product that can be made to the tightest tolerances that can be manufactured with quick lead times at the highest quality. "We're looking to grow the non-marine side of our business even as our marine business continues to do well," Kennedy says.