Amid the COVID-19 pandemic, the digital thread enables these manufacturers to reinforce supply chains and reduce operations downtime.
By Dave Duncan
Whether it's a malfunctioning production line machine or delayed arrival of supplier parts, unpredictability takes many forms for manufacturers. These countless forms of unpredictability including economic forces, disruptive competition, and global crises, are pushing manufacturers, and their surrounding supply chains, towards the highest levels of resiliency, flexibility, and agility to react to shifting market conditions.
Like most of the world, manufacturers are significantly impacted by COVID-19 or the 'coronavirus' pandemic; 75 percent of manufacturers cite supply chain disruptions from the crisis and 53 percent claim a change in their operations.
With lives on the line, manufacturers of varying sizes and industries foreign to healthcare including aerospace, automotive, gaming and high-tech, are re-tooling their production lines to ramp-up production of high-demand products that are in short supply.
The successes share a common 'Build Anywhere' theme where increasingly technology innovations both in digital and physical realms are expediting product development in unprecedented paces.
Specifically, the digital definition or 'model' of healthcare products is being democratized through the digital thread for 'new to healthcare' manufacturers (automotive, A&D etc.) and other stakeholders to fulfill global supply requirements and 'flatten the COVID-19 curve'.
There are parallels worth exploring between COVID-19 and the challenges manufacturers are proactively facing today.
Mass customization is driving flexibility, agility, and resiliency in manufacturing
Fortunately, we are seeing numerous 'hero stories' of organizations quickly manufacturing healthcare products in short supply including medical ventilators, test kits, and personal protective equipment.
These successes required global collaboration and manufacturers shifting to 'Build Anywhere' mindsets, where the highest level of flexibility and agility is required. This rapid product development philosophy is similar to manufacturer's achieving 'mass customization'. Manufacturers have increasingly needed to produce high volumes of customized and personalized products to deliver higher levels of customer satisfaction.
For manufacturers with high-quality but complex products like Volvo's engines, rapidly producing these highly configurable products is a massive challenge. Within many manufacturer's facilities and their supply chains there are bottlenecks from a discontinuity in information including customer orders, bill-of-materials, assembly information and work instructions. Implementing a digital thread links this information across the manufacturing process, enabling quicker time-to-market.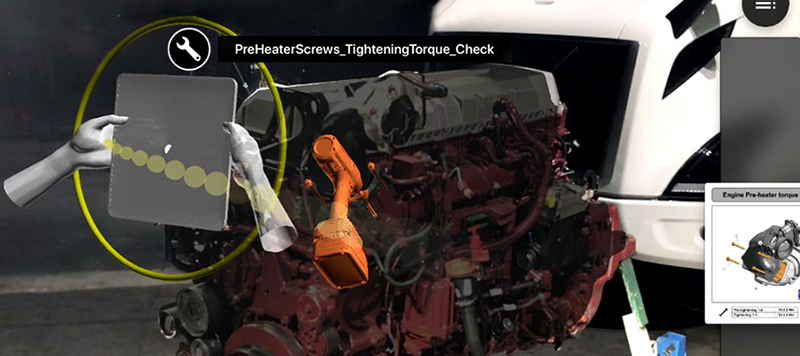 Manufacturers are applying this mindset to the crisis by democratizing medical product information to the broader supply chain and even non-healthcare natives.
There is an increasing amount of these powerful collaborative examples in the market:
These partnerships are key as global capacity is currently stretched thin. Manufacturers are additionally limited with only essential factory employees to comply with social distancing guidelines and some are restricted by government mandated lockdowns. Adding these logistic complications to the insurmountable demand for shortening supplies, have been driving forces to redistribute production to non-healthcare natives such as automakers. Remote Assistance tools are also increasingly leveraged to alleviate workspace congestion and scale worker expertise for capacity-constrained manufacturers.
Pairing the Digital Thread and Additive Manufacturing pushes production pace
Additive Manufacturing or '3D Printing' is illustrating its potential to rapidly develop new products through the digital thread in this crisis. Additive is the process of creating physical objects in a layer-by-layer procedure where minimal reconfiguration of manufacturing systems is required for new products. The digital thread rapidly provides the right manufacturing information at the right time to manufacture through additive.
Additive's flexible product development framework is not only expediting time-to-market for healthcare providers but is also enabling the broader manufacturing ecosystem to quickly develop high-demand healthcare products.
Quickly exchanging design components and information of these high-demand healthcare products (ventilators, valves, face shields) through the digital thread is allowing others to join the fight against the coronavirus.
Similar to how the public cloud has allowed people to access applications 'anywhere', the digital thread and physical innovations like 3D printers are welcoming the broader manufacturing ecosystem to 'build anywhere'. This unparalleled global collaboration to face this invisible enemy will be fundamental to filling high-demand healthcare equipment and equip our healthcare front-line workers with the tools to 'flatten the COVID-19 curve'.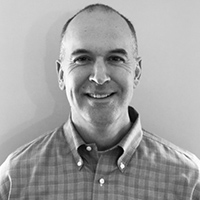 About the Author
Dave Duncan is a Product Management VP, responsible for growing PTC's Digital Thread and Digital Twin programs. Previously with PTC, Dave covered service product management (technical publications, knowledge management, diagnostics) in the US and England. Additional relevant industrial background includes, service manager at GE Healthcare, ERP technical services lead at JD Edwards (now Oracle), US Army officer in Germany and Bosnia-Herzegovina, and manufacturing QA at Bicron Electronics. Dave holds a Systems Engineering and Operations Research degree from Princeton University. He coaches high school rugby and youth basketball in his spare time.