Volume 22
| Issue 4
| Year 2019
Click here to read the complete illustrated article as originally published or continue below to read the text article.
Many a great idea goes unfulfilled due to lack of a practical means of implementation. Thankfully, the ICON A5 Light Sport Aircraft (LSA) isn't one of them.
The ICON A5 was born in response to the LSA category created by the Federal Aviation Administration (FAA) in 2004. The California-based company decided to make a unique consumer- friendly, easy-to-fly and highly versatile recreational aircraft to address a new market of fliers.
The first prototype of the two-seater ICON A5 amphibious LSA flew in 2009 and the company went into higher volume production in 2016. According to President and COO Thomas Wieners, what turned the dream into reality required "figuring out how to reverse engineer the manufacturing because the A5 was designed for its advanced flight characteristics and aesthetics, not manufacturability."
The ICON A5 is powered by a Rotax 912iS Sport fuel-injected engine, with avionics and other components supplied by OEMs. However, the airframe and other key assemblies are constructed in-house using high-strength, lightweight carbon fiber; the start-up initially contracted with suppliers to source these. "The plan was always to develop carbon fiber manufacturing as a core competency," Wieners points out. "The trick was figuring out how to do that in the most efficient and economical way."
One way was to source a leading composites supplier with a demonstrated record of excellence. Which is why ICON selected Toray Advanced Composites, a leading aerospace supplier of advanced thermoset and thermoplastic composite materials for the production of lightweight structures. Toray has been a proud partner of ICON from the very beginning with its first developmental aircraft all the way through to its hundredth production plane.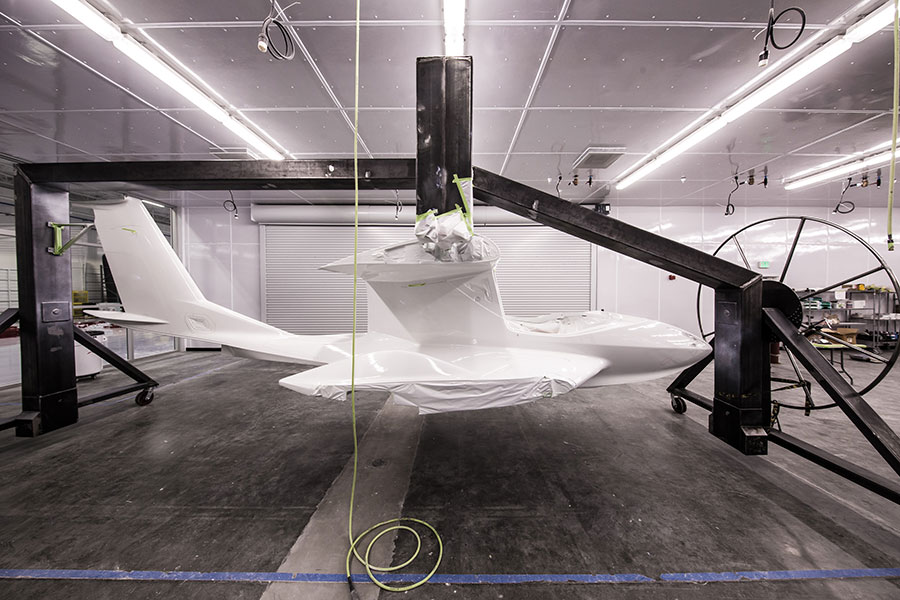 Wieners explains the ICON A5 production process comprises four stages. The first involves bonding the airframe and some 70 parts and assemblies with carbon fiber, and then painting them. This process involves using a variety of precision tooling, much of it computer aided, to form the material into composite molds, then curing the material so that it hardens and becomes strong.
Next is the extensive final assembly process, where the sub-assemblies, engine, avionics and other outsourced components are integrated into the airframe. Then comes flight testing and airworthiness certification, and finally, delivery to the customer.
In looking to "own" composite manufacturing in the most economical and efficient way, ICON established a 300,000 square foot facility in Tijuana, Mexico, taking advantage of high skill and lower labor costs in the area. Wieners noted the significant labor pool of workers familiar with the aerospace industry and carbon fiber manufacturing.
Once carbon fiber components are built, they are shipped for final assembly to Vacaville, Calif., to a 120,000 square foot space designed specifically for maximum production efficiency and quality. Wieners, whose background is in the automotive industry, notes that the objective was to achieve higher throughput by applying automotive manufacturing best practices of dedicated assembly line stations with precise tooling and detailed work instructions.
Given the manual final assembly process, critical to a successful build beyond equipment and standard operating procedures, is of course the people performing the work. Like any manufacturer in these days of low unemployment, attracting talent with the needed skills sets presents a challenge.
"In Vacaville, we have the benefit of being in the Bay area near Silicon Valley, so there's a significant talent pool to draw upon. The disadvantage is that we compete with a lot of other high-tech companies for the same people," Wieners says. "Where we stand out is our product, our mission, and our culture. There is nothing like the A5. It is a consumer-friendly, safe and technologically advanced aircraft that makes the adventure of flying more accessible."
He adds that the labor situation in Mexico is a little different. "Our pay structure is consistent with wages in the region. And again, we're a company with an exciting mission, utilizing the highest values and vision to achieve it, which makes us appealing. But in Mexico people also look for things like whether an employer provides food and transportation to and from work. We do both. We also have an indoor soccer facility, among other benefits. We actively foster the feeling of family and want people to know that this is where they belong." ICON A5 The company has produced and delivered more than 100 ICON A5s. The planes are sold directly by ICON and take about 3-6 months to deliver from time of order. Owners must earn at least a Sport Pilot License in order to fly the airplane. There are a number of ICON Flight Instructors and Flight Training Partners nationwide to teach both beginning and experienced pilots.
ICON offers accessories such as a trailer to tow the airplane behind a standard SUV and an inflatable dock, but the ICON A5 itself comes in one standard configuration package. Wieners does say, however, that at some point options packages similar to automotive offerings may be available.
The automotive model was also adopted for the cockpit instrumentation. "Our goal is to make flying less intimidating," Wieners explains. "One way we do that is the instrumentation, which has the familiar look of a car. Instruments are intuitive, ergonomic and simple. Gauges are kept to a minimum, and those that exist provide quick and intuitive data to the pilot. In particular, the Angle of Attack (AoA) gauge tells you what you need know to ensure the wings are oriented to maintain lift required for flight. This kind of instinctive instrument is one element that makes it much easier to learn to fly the ICON A5 compared to other aircraft."
Technological improvements in safety also provide peace of mind to novice and experienced pilots. The ICON A5 is the first and only plane to meet the FAA standards for spin-resistance. Among other contributing design elements, the ICON A5 wingspan employs several different proprietary airfoils that make it resistant to entering a spin, thus dramatically improving the safety of light aircraft, in particular those flown by inexperienced pilots.
Yet another safety feature is the ICON Parachute System (IPS), which can deploy from the aircraft at altitudes as low as a few hundred feet. Some 300 documented lives have been protected by this type of technology across the aviation industry. While safety is paramount, versatility and ease-of-use are also important priorities. The wings are foldable to provide easy transport or storage, and can be folded/unfolded by one person in a couple of minutes. Seawings™ extending off of the hull provide added stability for water landings, as well as a convenient platform to enter the aircraft. LED running lights are energy-efficient, lightweight and exceptionally bright.
Continuing Innovation
"Design innovation is in our DNA," Wieners emphasizes, noting that the ICON A5 has won a number of prestigious design awards. "We are looking to share that expertise with other manufacturers needing carbon fiber components. And at some point, we want to expand our own product line in the world of personal 3D mobility."
"For now, though, the focus is on the ICON A5 and promoting recreational flying to people who might not otherwise consider it." This past October, ICON provided more than 40 sales demonstration flights across the state of Texas. The company also maintains a showroom and demo center at Santa Monica Airport and has partnered with a luxury car dealership in Miami Beach to showcase the ICON A5. The plane was also recently featured on an episode of "Jay Leno's Garage" on CNBC, during which the well-known comic and talk show host, as well as car aficionado, takes a flight with an ICON Flight Instructor.
"We're proud of this aircraft and proud of our team, who make the dream of flight available to more people," Wieners says. "We employ sophisticated engineering know-how to make precision-molded carbon fiber parts for a sport plane that transforms flying from a mode of transportation to an exciting and safe adventure activity."