Volume 2
| Issue 6
| Year 1999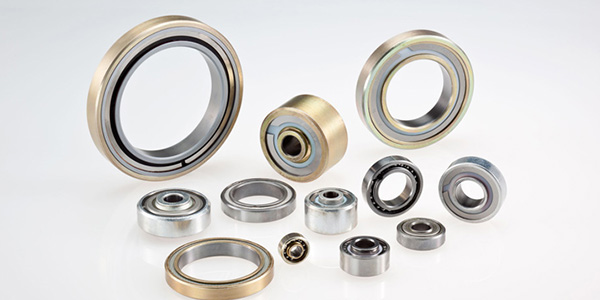 It all began a year after World War II ended, in an old wooden warehouse on the banks of the Contoocook River in scenic Peterborough, N.H. Today, New Hampshire Ball Bearings (NHBB) is everywhere, although you might not know it or recognize it. The company's 1,400 employees use its 455,000 square feet of facility space to turn out a wide array of bearings for custom applications, including everything from helicopter rotors to jet engines, and dental drills to blood analyzers.
That shirt you're wearing might have been made on a textile loom with NHBB bearings installed. The reel on that fishing rod you're about to cast into the water might have them as well. So, too, that race car zooming past you at your local speedway.
Beyond that, NHBB bearings are used in missile-guidance systems, artificial heart pumps, flow meters, machine tools, robotic arms and in a host of other applications.
Full Service
Besides the manufacturing side, NHBB provides sampling, inspection, measuring and testing, packaging and process control services to match its system to customers' application specifications.
Indeed, NHBB's quality assurance staff maintains process surveillance on all production operations. The latest in performance and reliability testing equipment is online in the company's clean- room facilities housing bearing assembly operations. All gauge-setting masters used are traceable to the National Institute of Standards and Technology (NIST).
For bearings to have the proper radial play, torque values, static and dynamic loads, and operating speed, the basic dimensions of bearing components must be machined to exacting tolerances. Attention to these dimensional tolerance requirements, as well as performance in every aspect of product manufacture is required in this competitive industry.
Exacting Customers
The list of client industries just about tells it all in terms of the need for precision. Who needs precision more than the makers and users of military and commercial aircraft, missile systems, computers and the biomedical and health care markets?
What has NHBB to show for all of that, besides a solid and growing customer base? "We recently achieved ISO 9000 approval, which marked two firsts in the U.S. bearing industry," Jack Langridge, vice president of sales and marketing, points out. "We were the first to have all of our manufacturing divisions ISO 9000 registered, and the first to have any of our divisions ISO 9001 registered." NHBB also meets the specifications for D1-9000 Rev A and AS9000.
Another way the attention to quality and precision has paid off: NHBB has been a consistent award winner from its customers in both the civilian and defense industries.
Four Divisions
NHBB's operations are configured in four main divisions. The HiTech Division is located in Peterborough, N.H., where Langridge is based. Due to a large capital infusion in the late 1980s/early 1990s, HiTech's size range expanded to 12" outside diameter and its product line now includes cylindrical roller bearings. Since the majority of what HiTech manufactures is custom-designed, the company's leadership position within the industry as the solution provider is firmly established. In addition to the large ball and roller bearing line, HiTech also produces inch and metric series single and duplex bearings; machine tool bearings; and airframe control bearings. All are made to appropriate Annular Bearing Engineers' Committee (ABEC) or Roller Bearing Engineers' Committee (RBEC) tolerances.
More important than the capital improvements are the investments the company has made in its employees. Ongoing training and improvements programs have created an extremely efficient work force. "Our people truly are our biggest asset," says Langridge.
The Peterborough operation also includes a full metallurgical lab and testing facilities, all aimed at design evaluation, lubrication and material analysis, and product performance. Recent certification to the environmental standard ISO 14001 is a display of this division's effort to be a well-rounded corporate citizen.
Astro Division
Laconia, N.H., meanwhile, is home to the company's Astro Division, a leading supplier of spherical bearings, rod ends, lined and composite sleeves, slotted-entry bearings and sub-assemblies. Users include such aerospace applications as helicopters, fixed-wing aircraft, jet engines, missiles, satellites, space vehicles and a variety of components. NHBB acquired the former Astro Bearing Co. in 1964.
Through its Astro division, NHBB is a leader in development of high-temperature and high-strength carbon fiber, polymeric composite bearings. Technical capabilities include sophisticated testing equipment.
Precision Division
Besides serving as the company's headquarters, Chatsworth, Calif., is home to its Precision Bearing Division. The operation was acquired in 1971 from SKF/Reed to produce high-volume specialty miniature and instrument bearings used in military, defense and aerospace applications, as well as medical and dental equipment, and computers and office equipment. Airframe control bearings have recently been added to this division's product mix.
Wide Range
Specific applications include synchros, servos, resolvers, disk and tape drives, precision gear assemblies, dental hand pieces, safe and arm mechanisms, gyros, potentiometers, flow meters, radar, optical devices, cameras, actuators, and many other electronic and electromechanical operations.
And NHBB recently added precision sub-assembly units/mechanical assemblies to its Chatsworth product line, providing a cost-effective option to customers. Overall, NHBB has in recent years spent $100 million in facilities upgrades and capital equipment, and the Precision Division is currently undergoing a $20 million renovation.
Finally, NHBB Europe, in Bracknell, Berkshire, England, represents the company for sales in Europe across all product lines.
Multinational Enterprise
Indeed, NHBB's operations dovetail nicely with parent Minebea Co., Ltd., based in Tokyo. The world's largest maker of miniature ball bearings and a major manufacturer of precision electromechanical devices, Minebea acquired NHBB in 1985. The parent is a sprawling multinational enterprise with more than 60 subsidiaries in 19 countries, a total of three dozen manufacturing plants, and some 70 sales offices.
It has annual sales of more than $3 billion and employs over 37,000.
What's next for NHBB? Its latest brochure issues a challenge: "As the 21st century approaches, we invite innovative companies and engineers working on new technologies to take advantage of NHBB's bearing expertise to help meet their design and performance goals."