Leading industry experts from ANCA and ARCH Cutting Tools discuss hot trends in cutting tools.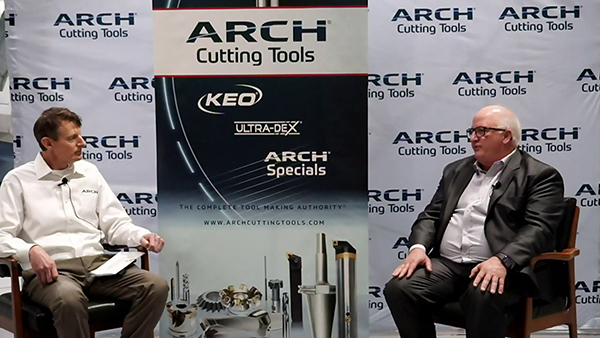 ANCA North American President Russell Riddiford recently participated in an award ceremony at ARCH Cutting Tools in Latrobe, Pennsylvania to celebrate the company's win in the 2020 ANCA Tool of the Year competition. During this time, Russell sat down with ARCH Cutting Tools President Jeff Cederstrom to discuss the successful collaboration between both companies, as well as future trends that they see on the horizon; and how best to maximize the opportunities of these trends.
Offline and in-process solutions help to deliver speedy custom profiles and get the "first tool right"
Jeff identified the growing trend towards custom tooling. While he described ARCH as a "full-service, one-stop shop with a broad portfolio of standard tools," he acknowledged that the company sets itself apart in the market, thanks to the breadth of their custom tooling capabilities. Many customers work with ARCH Cutting Tools, looking for custom solutions to reduce their manufacturing costs. This leads to combination tools with complex geometries. Jeff said the combination of skilled machinists, designers and technology that ANCA provides enables the process to flourish.
Recognizing the market need for adaptability to produce custom tools Russell highlighted the range of processes offered by ANCA that are targeted to increasing the "speed to get to the grinding point." ANCA's 3D simulation software generates a special profile offline, while the machine is still running and completing the previous jobs. The program is then downloaded to the machine, allowing ARCH to obtain better production of the first tool. ANCA offers ARCH the option to inspect their tool on the machine, using the LaserPlus System. The system measures the profile tool, automatically compensating the machine to correct any errors in geometry. Another option is to take the tool to a ZOLLER presetter, as ZOLLER is integrated with the ANCA machines on the floor. A full contour scan is performed using the ZOLLER »genius3« to identify any imperfections in the tool.
Russell sees the importance of having the "first tool right" as a critical point for production. After the pre-grind process through simulation to perfect the tool before it even gets to the machine, ANCA as the only company with a full linear motor product line, offers customers maximum accuracy, surface finish and stability throughout the grinding process. Another new technology is spindle temperature control, a software function that maintains consistent spindle temperature. Providing this stability again allows the first tool in production to be right.
ARCH Cutting Tool's winning tool offers five separate functions demonstrating the kind of complexity that is in demand. Jeff commented that custom tooling is becoming more challenging and ANCA's solutions offer significant benefits. Jeff noted: "Having the software so that it is user-friendly, and we can adapt to a request quickly and having not only the software but the machining technology to support it … is critical to us."
Jeff's company recently launched a program called "Hot Shop" to showcase their speed from production to delivery. If a customer needs a custom tool quickly, ARCH can produce any geometry of a solid carbide round tool and have it delivered within one week. Jeff explained: "Having equipment that is nimble and fast on the floor enables (this speed)".
Connected machines and integrated automation
ARCH has developed a web portal called "ARCH Specials." Customers can download drawings, a DFX file or use pulldown menus on the company website, or talk to engineers to generate a fast RFQ for application specific custom tools.
Online capabilities and cloud technology are a growing trend. ANCA can network all machines through their Management Suite software, allowing users to replicate and download files from anywhere in the country, such as across ARCH's multiple facilities. Additionally, users can monitor real-time performance of their machines to schedule and maintain the machines, as well as predict maintenance requirements to minimize downtime.
Both Cederstrom and Riddiford identified automation as another rising trend. From customers looking for more output, better quality and more productivity, to the social distancing requirements of COVID, to the gap in skilled labor; increased automation provides a solution to these challenges. To this end ANCA has developed AIMS (ANCA Integrated Manufacturing System). Russell explains: "This is the ability to bring a stock piece of carbide at the front end and at the back end have a finished tool…without manual or operator input throughout the process. This allows end-to-end grinding." Adding to ANCA's product range is automated laser etching with the AutoMarkX, which fits with AIMS to complete the process. Russell added: "Some people might think of it as the future, but AIMS is here today."
To see the discussion between Russell and Jeff, please click here or visit:
https://www.youtube.com/watch?v=6bxxa2NfebU
For further information, please contact:
Johanna Boland
Group PR and Communications Manager, ANCA
M: +61 407799779
Johanna.Boland@anca.com
ANCA is a market leading manufacturer of CNC grinding machines. It was founded in 1974 in Melbourne, Australia where the company still has its global headquarters. ANCA has offices in the UK, Germany, China, Thailand, India, Japan, Brazil and the USA, as well as a comprehensive network of representatives and agents worldwide.
ANCA CNC grinders are used for manufacturing precision cutting tools and components across a diverse range of competitive industries including cutting tool manufacture, automotive, aerospace, electronics and medical.