Volume 22
| Issue 3
| Year 2019
Click here to read the complete illustrated article as originally published or continue below to read the text article.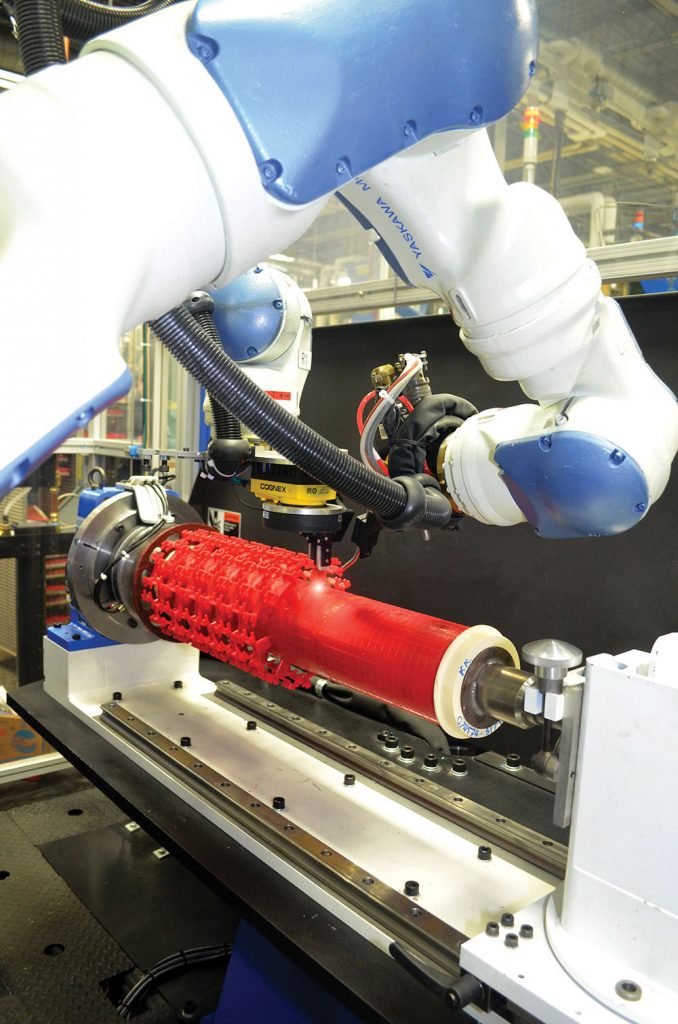 Finding ways to do things smarter is the guiding philosophy of Hitchiner Manufacturing, a leading and unique supplier of complete-to-print, high-volume, complex thin-wall investment castings and fully-finished casting-based subassemblies and components. However, the same competitive advantages that set Hitchiner apart in its primary customer base of aerospace/defense and automotive extend to other markets and applications, including industrial gas turbine, solar energy, medical and other general industrial parts.
"Our technology sets us apart," Chairman and CEO John H. Morison III, notes. In the 1960s, Hitchiner designed and built the first mechanized investment casting plant using automated shell-building equipment and conveyor systems. Of particular significance are counter gravity processes the company pioneered in the 1970s, which continue to differentiate it from other casting foundries.
"What counter gravity basically means is that it's a technique to pull metal into a mold, as opposed to pouring it into the mold," Morison explains. "The advantage is that you achieve higher efficiency with the ability to cast more parts per mold at tighter tolerances." Counter gravity Low-Pressure vacuum melt (CLV) and counter gravity pressure vacuum (CPV) can produce parts as thin as .015 of an inch. That's thinner than a credit card.
Reducing thickness requires less metal and less waste. It also makes it lighter, which is critical to improve fuel efficiency. Fuel economy improves by two percent on average with every 100 pound weight reduction.
This is particularly important to aerospace and defense OEMs such as Rolls Royce, General Electric, Pratt & Whitney, among others, where high-temperature, high-pressure applications that satisfy needs for increased fuel efficiency and stringent environmental controls.
The same high-performance, fuel-efficient applications—such as turbochargers and fuel rail function blocks, rocker arms and RA shaft assemblies—are why Hitchiner is a Tier 1 supplier of choice for customers such as Chrysler, Koyo and BMW. Indeed, Daimler recently awarded Hitchiner its 2018 Supplier Award winner in the Truck and Buses category for zero defects five years straight for supplying highly complex castings used in truck turbochargers." These turbochargers produced from Hitchiner castings allow Daimler trucks to draw sufficient power from lower rpm ranges, providing greater efficiency and reliability.
Defect-Free
Morison does point out with a chuckle that it isn't so much that Hitchiner's manufacturing process is incapable of making a defective part; rather, rigorous quality control procedures, which are ISO-9002 certified, ensure any defects are detected and scrapped so they aren't shipped.
There's also a bit of a mutual admiration society between Hitchiner and Daimler. "They have very demanding specifications, which is why they are able to offer best-in-class warranty," Morison points out. "Daimler is also unusual in making its own turbochargers instead of relying on third party manufacturers."
Morison notes that aerospace and automotive present different market challenges for Hitchiner. "The casting industry for aerospace is basically a duopoly; there are two companies that own about 80 percent of the market. So, we're a smaller player, but our competitive advantage is that our processes are ideal to meet the very demanding fuel-efficient, high performance application needs of aerospace and defense OEMs."
Automotive, in contrast, is the proverbial horse of another color. "There are endless competitors in the automotive market," Morison says, with only a little bit of exaggeration. "There are some 1700 foundries in China, about 200 in the U.S., and hundreds throughout the rest of the world."
Making It
Not only is the competition different, but so are the manufacturing methodologies. "Aerospace has much more rigorous testing standards," Morison points out. "Which is why we maintain separate production lines for automotive and aerospace."
The company casts more than 100 alloys. In sourcing raw materials, Hitchiner adheres to principles of the Dodd-Frank Law Section 1502 that prohibits funding of armed groups engaged in conflict and human rights abuses. Hitchiner requires suppliers to refuse "Conflict Materials" purchased from entities that finance or support such abuses.
Hitchiner employs 1900 worldwide, with manufacturing facilities in New Hampshire and Mexico. The company also maintains a sales office in France. While North America is a prime market, Hitchiner does business in Europe and Asia.
Hitchiner recently completed a 92,000 square-foot expansion to add capacity to meet demand. "Overall, we're fairly optimistic of continued growth, particularly in the aerospace sector. While we expect short-term growth in automotive, there is going be a change in our business as the industry moves to electric and hybrid platforms to replace gas engines. So over the next ten years the market for passenger cars is going to shrink, though we expect big trucks to continue to rely primarily with traditional engines."
Another potential issue is the uncertain tariff picture. "While our customers have been hurt by some of the recently imposed tariffs, currently nothing has affected us. If anything, it's helped put us in a better position against Chinese foundries, which of course are attractive for their high capacity for less demanding applications," Morison says.
Price is always going to be a consideration, he notes, as well as time-to-delivery. But for lightweight components needed to operate efficiently and cleanly in harsh environments to achieve greater fuel efficiency, Morison says, "Our technology is superior to traditional machine forging and stamping. Our parts are more environmentally friendly, stronger and thinner with no design compromises produced in optimal volumes than competing manufacturing methods."