Volume 10
| Issue 3
| Year 2007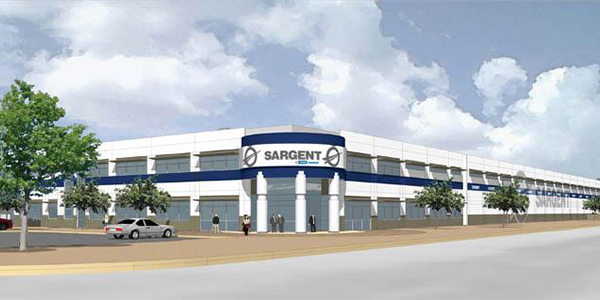 In only four years, and despite being in the epicenter of a highly competitive environment, Sargent Aerospace Canada has soared to a lofty position. Located in the heart of Montreal's well-known and highly regarded aerospace technology business community, the company is an industry leader in the machining and assembly of complex metallic components for aircraft.
As Sargent Aerospace Canada is affiliated with major corporations, it can deliver integrated products to customers throughout the world. Further, it brings to the industry more than 40 years of expertise. Drawing upon this experience, it is able to meet its customers' strictest requirements when it comes to aircraft engines and engine parts.
Advantageous Affiliations
Sargent Aerospace Canada is one of four business units operating under the umbrella of the Sargent Group, a leading global supplier of custom-engineered, high-quality products. Headquartered in Tucson, Ariz., the Sargent Group has brought together diverse companies to service the aerospace and defense industries. Its business units – Sargent Controls and Aerospace located in Tucson, Ariz.; Sonic Industries located in Torrance, Calif., and Airtomic, located in Jeffersonville, Ind. – design and manufacture hydraulic and pneumatic systems and components, self-lubricating lined bearings, and specialty fasteners. Sargent Aerospace Canada specializes in the precision machining of engine, landing gear and airframe components for aerospace customers.
The Sargent Group is a wholly owned subsidiary of the Dover Corporation, a Fortune 500 company established in 1955 and comprised of more than 50 independent operating companies. As part of Dover, Sargent and its business units benefit from a solid management foundation, as well as support for growth and continuous improvement, thanks to Dover's strategic investment in facilities, capital equipment, state-of-the-art software tools, quality system certifications, and new product development.
Moreover, through its relationship with the Sargent Group, Sargent Aerospace Canada is boosted by memberships with the Quebec Aerospace Association, the Aerospace Industries Association, and the National Business Aviation Association.
"Because we're supported by two major corporations, we've developed a very strong position in a region that has a lot of other machine shops," comments Alberto Stagnaro, Sargent Aerospace Canada's marketing manager. "The Montreal area is very big when it comes to aerospace, and it includes several major players, like Smiths Aerospace. But we've managed to become one of the top shops here."
Two Becomes One
Sargent Aerospace Canada came into existence in March 2003, when the Sargent Group acquired and then merged two companies, Airborne Gear Machining and Arell Machining. "We're two machine shops that were privately owned and then purchased and consolidated," says Stagnaro.
The combined Montreal sites total 75,000 square feet and employ 200 highly skilled workers. Collaborating with the company's customers, these employees supply finished goods for engine, aircraft and original equipment manufacturers. "Basically, we're now a machine shop that specializes in aircraft parts," says Stagnaro. "The bulk of our production is parts for jet aircraft engines. But we do build-to-print, unlike some other companies that do development. What we offer is high-tech quality machining and precision parts with very high tolerances."
Sargent Aerospace Canada is active in many engine, business jet and regional aircraft programs, and it has become a tier one supplier to all its major customers, managing kits of components and integrating items from its core business as well as specialized items purchased directly from tier two and tier three suppliers.The company's customer list reads like a who's who of the aerospace industry, as it includes big names such as Agusta, Bombardier Aerospace, Honeywell Aerospace, Messier Dowty, Pratt & Whitney Canada, Rolls Royce, and SNC Technologies. Stagnaro reports that Pratt & Whitney Canada is Sargent's biggest client. "They've provided us with an huge advantage. Our growth over the past two years has been tremendous, and that's mainly due to Pratt & Whitney," he says. "They've made us extremely busy." He adds that additional substantial business comes from the frame components delivered to Bombardier Aerospace.
Lean Machining
Along with its corporate affiliations and its in-house capabilities and expertise, a major factor in the company's success is the commitment it has demonstrated toward investing in its people, technology, facilities, and processes and equipment. A big part of that commitment is its embracement of programs designed to increase efficiencies and reduce costs. "That's one of our major activities these days," says Stagnaro. "We have full-time quality Kaizen engineers, and everything is moving toward cell manufacturing. In other words, everything will go into one-piece flow, to reduce costs. It's the only way we can stay competitive."
Stagnaro reports that Sargent Aerospace Canada implemented the lean practices about a year-and-a-half ago. Now, about once a month, the company experiences a Kaizen event – that is, an action intended to improve an existing process with a low Sigma score. "The large number of lean events that we do helps differentiate us from our competitors," he reveals.
In this way, Sargent can routinely deliver a finished product on time and at a competitive price. "For us, on-time delivery has been of primary importance," says Stagnaro. "In the previous two years, we were sometimes struggling to get product out of the door and to our customers. Now, we're gaining more and more control of our schedules, delivery and quality."
Its new lean look has enabled the company to turn around parts as quickly as possible. "Otherwise, we'd have only two choices: either close up shop or move to China," quips Stagnaro.
Customers like the leanness because it reduces their prices. "Each year, they're looking at price reductions. But how are you going to reduce costs?" Stagnaro points out. "It can't be through raw materials. Things like titanium are going through the roof, tripling in price. So, it has to be through labor, the way you make your parts. That doesn't always mean that you buy a newer and faster machine. Sometimes, it has to do with the way you've set yourself up. That's why we're doing all of these lean events. It makes us much more efficient."
Service and Quality
Another hallmark of Sargent Aerospace Canada's success is the breadth of its service. The company not only supplies a wide range of machining, assembly and kitting services; it also offers customers a range of complementary resources including project management, integration, development of manufacturing methods, tool design and fabrication, procurement and supply chain management, and value analysis.
In addition, the company is almost obsessive about providing top-notch quality. Quality, the company makes perfectly clear, is "non-negotiable." To that end, it strives to ensure the integrity of every component it delivers, which it accomplishes through its AS 9100, ISO 9001:2000 and Controlled Goods Registration Program certifications. It also participates with its customers in Delegated Quality Representative initiatives.
A reliable provider of high-quality and complex parts, delivered on time and in cost-effective fashion – that is what Sargent has striven to be. Indeed, that is what it has become.