Sutton Tools is winning market share, achieving a 10% improvement on its surface finish compared to its competitors using ANCA's linear technology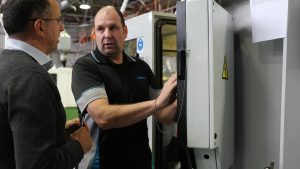 6th July 2017: Australia's largest manufacturer of rotary shank cutting tools, Sutton Tools, has gained market share in the highly competitive aerospace industry by producing superior tools using the linear motor technology on ANCA's MX7. To gain traction in the aerospace market Sutton's needed to push the boundaries of what could be expected from a tool machining materials in the aviation industry.
Jeff Boyd, Export Manager at Sutton Tools said: "By really focusing on how we could improve the surface finish, and with the added capabilities of the linear motor, we have created a product that is delivering significant productivity gains for our customers. The team are now consistently achieving a longer tool life and faster cycle times in some of the higher strength materials such as titanium, which is a great result."
"With our new MX Linear machine, we have seen dramatic improvements in the surface finish of the cutting tools. This change has been achieved by moving away from the traditional ball-screw movement on machines to a linear motor. We conducted a direct comparison as we have ANCA ball-screw grinders and have also experimented with different grinding wheel grades and grinding parameters to ensure we are achieving the best possible finish."
"A better surface finish has also meant we get better adhesion of the coating and stable performance to the cutting tool which is important for our customers. Tool stability is important because it means our customers can confidently forecast their production schedules and reduce machine down time. It makes their day easier!"
"A company in France had been buying a competitor's brand but we saw an opportunity to make a better product and win the business. After studying surface roughness of a tool we felt that the linear motor could achieve a higher accuracy of surface finish. We conducted some tests and found that was exactly what we could achieve and now we have a tool that performs better than our compeditors.
"To validate our grinding methods, we use an optical 3d scanning technique to measure the area surface roughness on the rake face and the cutting rake on the tools. This means we can manage our quality levels to a level of accuracy which is world class in the industry;" concluded Jeff.
ANCA is well known in the industry for its rigid grinding machines and has combined this with its sister company, ANCA Motion's, LinX linear motor technology. Tools ground using the linear motor have a consistently high-quality cutting edge and surface finish.
The LinX cylindrical linear motors ensure there is no loss of preload or rigidity when grinding tools and reversal errors are eliminated and higher contouring accuracy can be maintained due to a control algorithm we use which is unique to ANCA.
Follow ANCA on
For further information, please contact:
Johanna Boland
PR and Communications Manager, ANCA
M: +61 407799779
Johanna.Boland@anca.com
ANCA description
ANCA is a market leading manufacturer of CNC grinding machines. It was founded in 1974 in Melbourne, Australia where the company still has its global headquarters. ANCA has offices in the UK, Germany, China, Thailand, India, Japan, Brazil and the USA as well as a comprehensive network of representatives and agents worldwide. ANCA CNC grinders are used for manufacturing.

ANCA CNC grinders are used for manufacturing precision cutting tools and components across a diverse range of competitive industries including cutting tool manufacture, automotive, aerospace, electronics and medical.