Welling was recognized for his contributions to TA Services' Supplier Portal, boasting speed and quality improvements for all customers.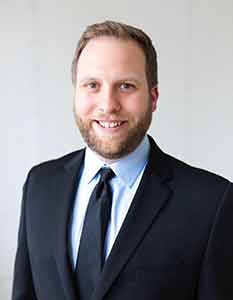 MANSFIELD, TEXAS — TA Services, a premier full-service logistics provider, is proud to announce that Andrew Welling, Director of Cross-Border Services, has been named to Supply and Demand Chain Executive's 2022 Pros to Know list. This award recognizes outstanding executives whose accomplishments offer a roadmap for other leaders looking to leverage the supply chain for competitive advantage.
With nearly a decade of transportation management experience, Welling is quite familiar with logistics management and his efficiency implementing initiatives have benefited shippers as well as their customers and supply chain operations across North America. One of Welling's largest and most well-received initiatives this year has been the application of the TA Services 'Supplier Portal' which automatically calculates pricing models for shippers. This portal improves customer experience by reducing communication touchpoints, filling labor gaps, and simplifying the entire pricing process for shippers.
In addition to the TA Services 'Supplier Portal', Welling helped implement the live optimization planning within their Managed Transportation team over the last year. This program helped clients build optimized loads using real-time data instead of historical information and offers the utmost flexibility for both shippers and carriers to ensure efficiency and quality service.
In response to being on the Pros to Know list, Andrew Welling said, "The company culture at TA Services is unparalleled. I strongly believe that while many 3PLs have similar service offerings, the people at TA Services make the difference. Over the last year, my goals revolved entirely around customer efficiency, and I negotiated many LTL and FTL contracts on behalf of key 3PL clients to bring stability to their supply chains. I am proud to be acknowledged on the 2022 Pros to Know list on behalf of the TA Services' team."
"When I look back at past Pros to Know winners, I see a lot of individuals who accomplished a lot of great achievements. But, this year's winners are reinventing what it means to be a supply chain professional. This year's winners are intuitive, adaptive and so super smart, and continue to push the envelope when it comes to everything supply chain-related," says Marina Mayer, Editor-in-Chief of Supply & Demand Chain Executive and Food Logistics. "We received over 360 nominations this year, the highest number of nominations ever for this award. It's proof that today's supply chain professionals are not only doing great things for the supply chain, but are also being supported by their teams, peers and partners."
Go to www.SDCExec.com to view the full list of 2022 Pros to Know winners and leaders in transportation management. The overall winner will be announced live at MODEX 2022 in Atlanta. Go to www.SDCExec.com/awards to learn more about upcoming Supply & Demand Chain Executive awards.
About Supply & Demand Chain Executive
Supply & Demand Chain Executive is the only supply chain publication covering the entire global supply chain, focusing on trucking, warehousing, packaging, procurement, risk management, professional development and more. Supply & Demand Chain Executive and sister publication Food Logistics are also home to L.I.N.K. and L.I.N.K. Educate podcast channels, L.I.N.K. Live, SCN Summit, SupplyChainLearningCenter.com and more.
About TA Services
Headquartered in Mansfield, Texas with offices located in strategic markets throughout North America, TA Services, Inc. has been operating for more than 35 years and provides a wide range of third-party logistics services including managed transportation, warehousing and fulfillment, multi-modal transportation brokerage and cross-border logistics. TA Services is a division of Birmingham-based PS Logistics, LLC. For more information: www.taservices.com.