February 12, 1028
By Pia Jala, Vice President, Operations, Labelmaster
Although there are thousands of items classified as "hazardous," in recent years, one has dominated in conversations about transporting dangerous goods (DG). From UN subcommittees to the shipping departments of every manufacturer and retailer who handles electronics: lithium batteries (and the fire risks associated with them).
To keep shipments and people safe, regulations on shipping lithium batteries and the devices that use them have grown more complex and more burdensome – including bans from commercial aircraft, new labels and classifications, new restrictions on consignments and state-of-charge and more. While these regulatory changes and shipping requirements are necessary in order to keep pace with evolving technology, they can have a tremendous, complicating impact on the supply chain.
So how do we make the shipment of lithium batteries, and other dangerous goods, simpler, safer and more efficient? It all starts with the box.
Make the Box Part of the Solution
In the modern supply chain, almost everything is shipped in cardboard boxes – but the box technology itself hasn't changed in decades. Conventional cardboard boxes are flammable, and if a box's contents ignite, the box may not just fail to contain the fire, but actually fuel it. That's why most shipments of lithium batteries and battery-powered devices require gels, heavy liners or other fire retardant fillers – not to mention precise exterior labeling and marking.
While most of the attention in the industry has been focused on the labels placed on the box or the packaging materials inside the box, improvements to the box itself could have a more significant impact on the supply chain by providing a simple and safe solution for shipping dangerous goods. This is especially important given the continued growth of ecommerce and direct-to-consumer shipping, as well as inevitable recalls and returns grow in number and scope.
So, what if the box doesn't burn so easily? Rather than simply providing a container, smarter packaging would directly contribute to safer shipments, and enable an efficient, compliant and lower risk supply chain. Fortunately, just as batteries and other hazardous materials have continued to evolve, so too has packaging technology. In fact, innovative packaging materials engineered specifically for shipping and storing lithium batteries are now available – providing a barrier against the fire risks associated with lithium battery transport.
Packaging Innovation Requires "Out of the Box" Thinking
There's a great deal of talk surrounding innovation in the supply chain. While the discussion primarily focuses on things like artificial intelligence, predictive analytics, autonomous vehicles and, of course, battery technology, there is a real opportunity to take advantage of innovation in packaging. But in order to capitalize on this innovation, it requires a fundamental shift in thinking.
Manufacturers, retailers, logistics providers and others need to view a box as more than simply just a necessary container that needs to be as low cost as possible, and view it as strategic component of the supply chain that can help:
Mitigate risk
Promote safety for anyone handling or transporting dangerous goods
Better manage recalls or returns
Provide a competitive advantage
The fact is that lithium battery-powered devices aren't going away – if anything, they'll become even more pervasive. Additionally, even more dangerous goods will continue to emerge and present shipping challenges for companies. But when your packaging actually enhances the safety of your shipment, your supply chain becomes all the more efficient and you significantly lower your fire risk.
Yet, safety and fire-prevention is only one benefit that can come as a result of using innovative package. There are more even more opportunities that organizations should be explored, such as embedding RFID into the packaging for better tracking and supply chain visibility.
Who says the box has to be just a box – why not make it part of your supply chain strategy?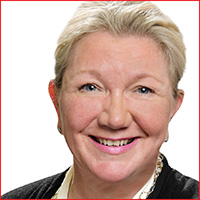 Pia Jala is vice president of operations for Labelmaster, where she works with clients to develop tailored solutions for safe and efficient transportation of dangerous goods. Since 2007, she has helped clients in diverse industries with issues ranging from rapid mediation of regulatory actions to complete overhauls of dangerous goods programs. Prior to her current position at Labelmaster, Jala was the global manager of dangerous goods for Atlas Air and Polar Air Cargo. She is actively involved in industry organizations related to dangerous goods transport and participates in COSTHA regulatory and reverse logistics panel, Dangerous Goods Advisory Council (DGAC), The International Air Cargo Association (TIACA), and Air Forwarders Association (AFA).