Volume 23
| Issue 1
| Year 2020
Click here to read the complete illustrated article as originally published or continue below to read the text article.
When Matt Weisenberger was a young man, his first job was a family tradition. With a broom in hand, he would sweep the wood floors at Weisenberger Mill, a Kentucky institution nestled on the banks of the Elkhorn Creek in Midway. The previous six generations of the Weisenberger family helped grow the mill from its humble beginnings to the foodie haven that it is known for today.
Weisenberger was the curious type, spending spare time watching the waters of the creek flow by, pondering how things worked. Constantly questioning – always searching for answers.
Academic curiosity kept Weisenberger busy first as a chemistry undergraduate student then, as a materials engineering graduate student at the University of Kentucky. About 20 years ago, he stumbled upon a scientific area that would shape his life's work.
As a student at UK, Weisenberger became intrigued – some might even say infatuated – with carbon fiber. Many consider it to be the material of the future — a next-generation version of aluminum. Its properties are often considered the holy grail in manufacturing. Carbon fiber is a low-weight, high-strength, corrosion resistant material that can conduct electricity. UK's Center for Applied Energy Research (CAER) is home to the largest carbon fiber spinline at any academic institution in North America, and over the past decade, CAER researchers have built a solution spinning line that draws visitors, collaborators and research partners from across the state of Kentucky, the nation, and the world.
Weisenberger now leads CAER's materials technologies research team. The group has assembled a talented team of researchers, scientists, and technicians that are focused on carbon research and development. The group is one of the world's leading research organizations specializing in carbon fiber research, discovery, and innovation.
Carbon fiber can now be found in any number of products. Boeing makes its 787 Dreamliner out of carbon fiber. Golf clubs, tennis rackets, and bicycles have been lighter – and more sturdy – thanks to the material. Wind turbine blades are often built with carbon fiber. And, yes, even those broom handles that gave Weisenberger his first blisters can be made from carbon fiber.
Recently, CAER received a $1.8 million grant from the U.S. Department of Energy (DOE) to transform coal tar pitch into high-value carbon fiber for use in aircraft, automobiles, sporting goods, and other high-performance materials. Researchers and industry partners will be converting the coal tar, which is a byproduct from coke production for the steel industry, into mesophase pitch — a liquid crystal — which can then be spun and thermally converted to carbon fiber. If successful, this new carbon fiber product could increase the value of coal tar pitch by five to 55 times of its current value, and find applications in high stiffness, low-weight composites.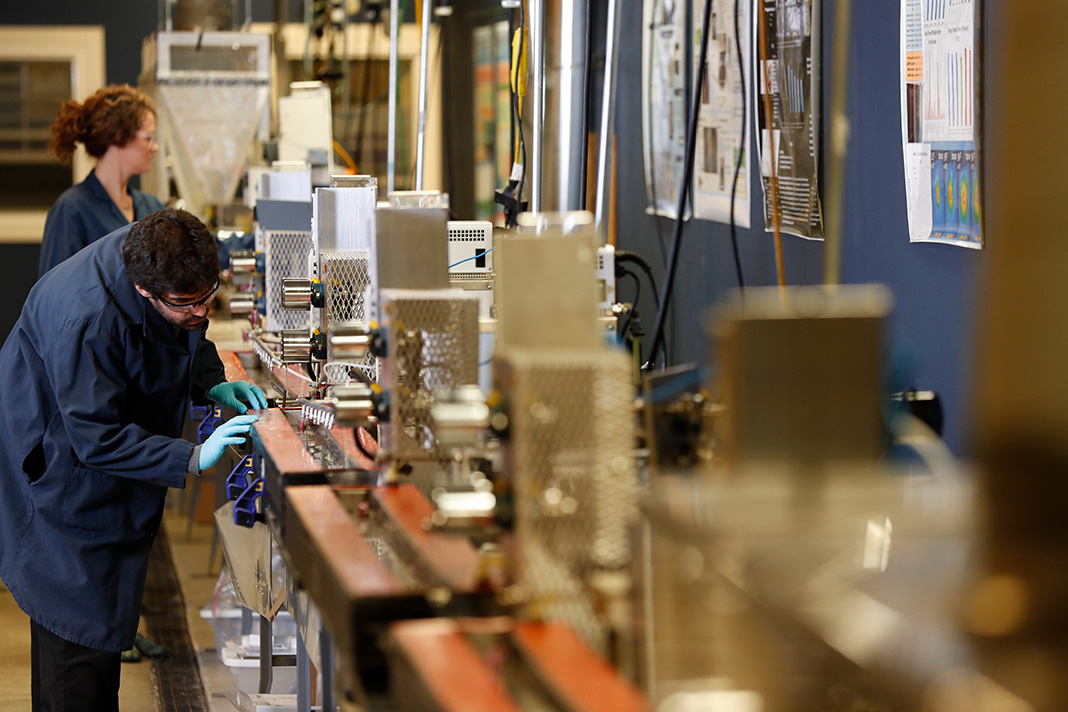 Weisenberger and the rest of his materials technologies research team are attempting to do the once unthinkable. They are seeking to turn the fuel that powered America's industrial revolution into a material that many believe will drive the nation's manufacturing future.
This project will support development of simplified multifilament melt spinning of the mesophase pitch to produce "green" (not yet carbonized) fibers, and subsequent continuous thermal processing, or oxidization, of those green fibers. The CAER team will then create woven preforms from the fibers for composites manufacture, as well as chopped carbon fiber for filled thermoplastics suitable for injection molding. As part of the project, CAER researchers will be working with two leading industry partners, Koppers Inc. and Materials Sciences LLC.
"This project is a perfect example of the work that interests us here at CAER," said Rodney Andrews, the center's director. "It will allow our carbon fiber researchers to potentially give new life to a coal byproduct. We are excited to be at the forefront of developing coal as a valued precursor for products. At the same time, this project also gives us an opportunity to work with industry leaders to develop solutions and new technology that can be taken into the marketplace. That has been a hallmark of our research."
The first challenge of the project, according to the CAER team, was getting the coal-based residues into a "spinnable" form. That's where the team's immense carbon fiber experience came in handy. Most carbon fiber research teams specialize in utilizing one type of source material or another. CAER has carved out a unique space to operate in carbon fiber research and development: they are known for their ability to spin almost any material that has the proper characteristics.
"We built our spinline by hand," Weisenberger said. "Graduate students, postdocs, research staff – it has been built and modified by us over the years. In addition, we have had the great benefit of working with so many different source materials over the years. That experience has been invaluable, as it has provided us with great insight on how to work with and modify materials to ensure it will be successful when we start spinning."
The concept of turning coal into highvalue carbon materials has been a brainchild of CAER researchers for many years. Recent support from federal agencies like the U.S. Department of Energy and other organizations have brought resources and focus to these research efforts. Though research in this area is still early-stage, Weisenberger sees great promise in the work.
"This is an exciting project for our research team," Weisenberger said. "Being able to efficiently upgrade a coal byproduct into high-value carbon fiber for composites would be a terrific benefit to Kentucky's and the nation's manufacturers. It would add significantly to the coal value chain, further establishing Kentucky as a global leader in carbon fiber research and development."
The packages of flour, cornmeal, grits, and cake mixes on the shelves at Weisenberger Mill display a Kentucky Proud emblem, a branding campaign from the Kentucky Department of Agriculture to help market and sell Kentuckybased products across the Commonwealth and beyond.
As a Kentucky kid who received his bachelor's degree from nearby Georgetown College before earning his master's and Ph.D. in materials science and engineering from the University of Kentucky, Weisenberger wears that Kentucky pride everywhere he goes. And if you catch him at the right time, he may be looking up at the sky and dreaming – dreaming about how the production of carbon fiber may hold the key to changing his home state's manufacturing economy.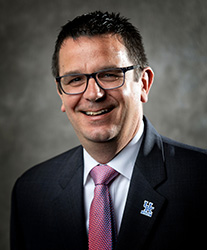 David Melanson is the assistant director for external affairs and development at the University of Kentucky Center for Applied Energy Research.
Contact information:
https://caer.uky.edu/
david.melanson@uky.edu