How manufacturing leaders use enterprise architecture to guide digital transformation and create more resilient supply chains.
By Claudine Bianchi
Manufacturers including adidas, Ducati and Kyocera all use a technology called Enterprise Architecture (EA) as their 'secret weapon' for digital transformation implementations, and they are light-years ahead of their competitors. These companies use EA to save millions of dollars in technology licensing costs, to create leaner manufacturing processes and increase resiliency in their supply chains, and to strategically guide IT investments.
These 20 companies (and hundreds more) have deployed a new form of actionable Enterprise Architecture practice, and their successes suggest that all industrial and manufacturing companies—from aerospace, to automotive, to mining—should be deploying EA also:
adidas, Audi, Bentley, Bosch, Bugatti, Ducati, Haworth, Hypertherm, Karcher, Kyocera, Lamborghini, MAN, Melitta, OTIS, Porsche, Scania, Skoda, Swarovski, Vale Mining, and ZF Automotive
Enterprise Architecture has evolved from an academic exercise with obscure acronyms like TOGAF, to become an outcomes-driven IT discipline and the new face of Digital Transformation and supply chain resiliency.
Why Does EA Matter?
Analyst firm Forrester Consulting did an analysis to quantify the cost savings of EA by analyzing multiple F-1000 companies to create a composite enterprise with 400 IT users and 23,754 employees. They calculated that an organization of this profile realizes EA benefits of $1,093,345 over three years versus EA implementation costs of $378,322, adding up to a net present value (NPV) of $715,023 and an ROI of 189%.
Improper management of software applications alone can add dramatic costs and create complexity in business operations. In a survey of 1,534 enterprises, 36% of companies with >$1 billion revenue run more than 1,000 applications, and 14% run more than 2,000 applications. The IT consultant Infosys reports that 'rationalizing' software applications to reduce redundant licenses and unused applications can save an average of $2 million per enterprise.
In addition to cost savings, EA is key to assessing technology risk in manufacturing supply chains. EA reporting tools can quickly answer questions like:
Which applications are mission-critical for factory management?
Which databases are vulnerable to security hacks?
When will the pay-per-use model project be finished?
What is (Data-Driven) Enterprise Architecture?
In its simplest form, EA tools dynamically map the relationship of every software application to every business process and every user throughout the entire enterprise, including supply chain vendors. The executives who wield these tools—Enterprise Architects—are emerging as trusted advisors to the CIO and CEO by making IT accessible for decision-making.
EA tools let companies analyze how well their IT infrastructure is currently utilized and serving users' needs, and to forecast where to invest in future IT resources. More sophisticated data-driven EA platforms pull information from industrial IOT sensors, MES systems ERP and elsewhere to act as central databases of all IT resources. The data is updated dynamically and tied to costing information so that companies can forecast budgets and play 'what-if' scenarios for different IT build-out strategies.
EA in Digital Transformation Practice
Global mining and manufacturing company Vale used Enterprise Architecture to re-tool its global supply chains in response to COVID-19 pandemic closures. To react quickly to disruptions, the company standardized software applications and IT processes throughout its supply chain using an EA exercise known as Application Rationalization that exposes unnecessary, obsolete, or conflicting applications. Their digital transformation efforts also included Innovation Hubs for design thinking and Dev Centers to quickly develop a suite of 20 applications for its 150,000 IT employees to maintain continuous supply chain operations.
In another example, 167-year-old Otis was spun out from United Technologies Corp and given five weeks to stand up an independent IT organization. Otis' sole Enterprise Architect executive used EA technology and services from LeanIX to crowd-source data about the company's 900+ applications, clone-and-purge all data relevant to Otis, and develop a business-aligned technology roadmap to be operational as a separate company—in just 10 days.
Office furniture maker Haworth uses EA to streamline IT consolidations from M&A transactions. After acquiring a portfolio of brands in Europe and Asia, IT complexity increased dramatically and transparency suffered. Integration of finance systems became paramount. Haworth used EA first to complete an as-is analysis, and then to create clear IT roadmaps. After a successful deployment in finance, Haworth rolled out EA to all other departments and, for the first time, business units had access to vital information and were collaborating and benefiting from the EA system's single source of truth.
Conclusion
Enterprise Architecture is your secret weapon to drive digital transformation, manage complexity, and make IT accessible for C-level decision-making. Measurable results include leaner manufacturing processes, more resilient and better-integrated supply chains, better vendor management, lower software application licensing costs, more accurate decisions for where to invest in future IT infrastructure, and other positive business outcomes.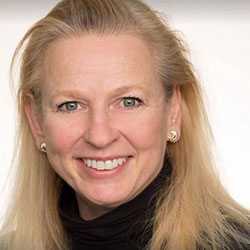 Claudine Bianchi is Chief Marketing of LeanIX GmbH. LeanIX develops a data-driven, agile Enterprise Architecture technology platform adopted by 90,000+ users at 270+ leading enterprises.
Claudine is a battle-tested veteran of enterprise technology with 20+ years of marketing experience including three successful acquisition exits totaling $2.1 billion, an IPO, and numerous strategic scaleups of VC-backed technology companies.