Paul Wellener, Deloitte's Industrial Products & Construction leader, explores four trends emerging for manufacturers in the year ahead and beyond.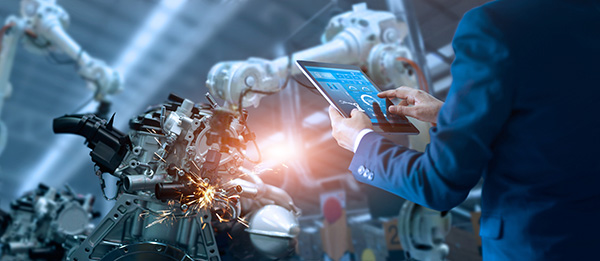 By Paul Wellener
Nearly a year ago, the U.S. economy was turned on its head, as the arrival of the COVID-19 pandemic disrupted everything from travel to education, from leisure to work. The manufacturing industry was not spared disruption, but in many ways, it forged ahead through unprecedented obstacles. Even though by year's end, many industrial performance indicators still had not regained their pre-pandemic highs, the industry overall showed remarkable resilience. The year ahead promises to be one where manufacturing continues to push forward and optimism is up, with 63% of executives in Deloitte's postelection poll showing a somewhat or very positive outlook on business. There are four areas for manufacturers to focus their attention in 2021 as they seek to be disruption-proof.
1. Solving forecasting challenges could be critical to navigating future disruption.
One could argue that the disruption brought on by the pandemic is unprecedented, and in some ways, it is unlike other past disruptions. However, it is possible that disruption could become a "predictable" part of the business environment, even if the source of that disruption is unpredictable.
For manufacturers, the events of 2020 may be a warning to develop better systems for navigating disruptions like the one we are currently experiencing. Visibility is likely to become the most critical capability for manufacturers in the coming months, and where to increase visibility depends on how a company is experiencing the pandemic, as exemplified above. Furthermore, digital technologies could be important enablers: 76% of manufacturing executives in Deloitte's postelection poll intend to increase their investments in digital initiatives and plan to pilot and implement more Industry 4.0 technologies.
2. Digital investments in technologies like digital twin could support new levels of resilience.
The events of 2020 have cast a light on how quickly a manufacturing operation can come to a complete standstill or, in some cases, can be revved up to unsustainable levels. In Deloitte's postelection poll, 24% of manufacturers cite coping with new requirements due to the pandemic as their top challenge, and 20% of manufacturing executives found that managing productivity is their top challenge of the current environment.
Digital investments can help to address the ongoing challenges of managing through unknown disruptions. Areas of investment can include adding sensors and machine learning to production lines to predict, prevent, and even prescriptively fix problems before they occur. Another example is installing vision systems with data analytics to improve in-line quality of products or parts. Digital twin technology can help prepare manufacturers for the next disruptive event. Deloitte's postelection poll of manufacturing executives identified that 24% executives who plan to invest in digital technologies believe digital twin technology will be the most important technology in which their company will invest in 2021 (tied for first with augmented workforce efficiencies).
3. Manufacturers seek to expand options to drive supply chain resilience.
The global pandemic has forced manufacturers to critically evaluate their supply constraints and build agility in their supply chains. In a recent survey, only 21% of respondents were confident in their supply network's visibility and ability to swiftly flex sourcing, manufacturing, and distribution, if needed. Given the disruptions many manufacturers have faced this past year, increasing flexibility in these global supply networks is generally a top business priority. There are a number of ways to achieve this, but one in particular involves the use of digital capabilities to increase visibility and flexibility across a global supply network.
As manufacturers evaluate whether and where to recalibrate their global production footprint, they can turn to digital capabilities that can increase their supply network visibility. Manufacturers can automate visibility with a digital supply network (DSN) to gain real-time understanding of activity across a complex supply network. The DSN breaks down the silos of data and includes adding connection points across the network that can sense and respond to sudden supply or demand changes and optimize operations accordingly. This level of visibility would enable manufacturers to reevaluate their extended supplier network and develop an inventory strategy based on data and insights rather than on history and hunches.
4. Workforce agility could become a necessity as disruptions continue to unfold.
The pandemic has caused unprecedented changes to where work gets done, as many companies moved all non-production operations to remote models in the spring of 2020. Since then, most companies have not returned completely to their pre-pandemic models, instead opting for hybrid working environments or continuing remote work. Through all this, the pace of change has taken its toll on manufacturing workforce leaders. In fact, 28% of surveyed executives identified that upskilling and building new skills to match evolving work environments (automation, digital, and remote) is the top challenge they are facing today in managing work and workforce.
And, as robots, cobots, and other forms of automation multiply in the production environment, the need for a workforce to manage and interact with these technologies also increases. These "middle-skill" roles require technical expertise and regular upskilling. One way to incorporate digital capabilities in the workforce is to develop a talent ecosystem, which is a deliberate network of external partners that can help bolster the talent pipeline for manufacturing.
An example of a talent ecosystem activity includes a manufacturer partnering with a technical school to create a specific train-to-hire program that provides role-specific training and results in a job offer upon successful completion. The 2020 Deloitte and MAPI Ecosystem Study reveals that more than 80% of surveyed manufacturers believe talent ecosystems are critical to their competitiveness, and 41% have already started forming new relationships to develop robust talent ecosystems. Talent ecosystems could be a game-changer in the year ahead for manufacturers that engage with them.
The year ahead for manufacturers shows a continued effort toward recovery. By continuing to invest in digital initiatives across production and the supply network and making strategic investments in reskilling their workforce, manufacturers can respond to the disruptions caused by the pandemic and build resilience that can enable them to thrive.
Paul is a vice chairman, Deloitte LLP, and the leader of the US Industrial Products & Construction practice with Deloitte Consulting LLP. He has more than three decades of experience in the industrial products and automotive sectors and has focused on helping organizations address major transformations. Paul drives key sector industry initiatives to help companies adapt to an environment of rapid change and uncertainty—globalization, exponential technologies, the skills gap, and the evolution of Industry 4.0. Based in Cleveland, Paul also serves as the managing principal of Northeast Ohio.