Challenges from the pandemic have forced the manufacturing industry to elevate its approach to embracing talent and technology for 2022.
By Ethan Karp, President and CEO of MAGNET and Vistage Member
2022 is a pivotal time for the manufacturing industry. Significant challenges from the pandemic, as well as those that have been bubbling up over the long term have brought us to a crossroads with talent and technology firmly planted at the intersection. We've reached a tipping point, and the industry is ripe for positive changes that will redefine the meaning of the manufacturing industry at large.
The year ahead will mark a significant shift in how both human and technological assets are strategically approached, and while many manufacturing leaders are on board, there are still others who have yet to embrace change to maximize their businesses' potential in a post-pandemic world.
Now is the time to invest in the future, through both talent and technology; it would be short-sighted not to, and 2022 is a critical moment in time to elevate the industry.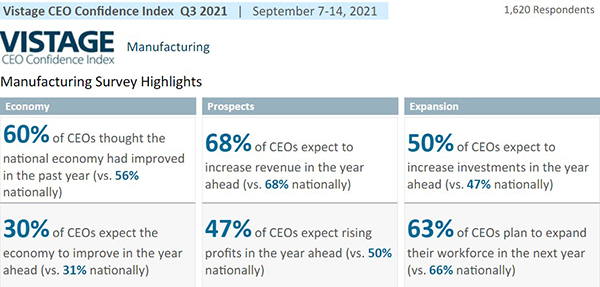 A NEW WAY OF THINKING ABOUT THE PRICE OF TALENT
The manufacturing industry has historically struggled with a lack of positive PR. Advanced manufacturing jobs are high-tech – offering a world of opportunity in everything from robotics to blockchain to artificial intelligence. Unfortunately, there remains a perception that manufacturing means heavy manual labor, a dangerous work environment and endless hours on a production line. Today, manufacturing is a lucrative career path, offering significant room to grow as companies embrace technology that's transforming the shop floor into the factory of the future.
The problem is not enough people know this. Many students have no idea what a manufacturer actually does. And too often, when given the choice between what many outsiders perceive as "a tough and dangerous" manufacturing job and a similarly paying "easy" retail or fast-food job, many will choose what they perceive as the less-demanding of the two. There is too much competition for entry-level talent across industries. Now is the time to double-down in investing in salaries so manufacturers aren't left behind. The good news is, according to the Q3 2021 Vistage CEO Confidence Index, 75% of manufacturing CEOs say they're boosting wages, and 59% are boosting them by 4% or more, in order to combat many of the hiring challenges facing the industry.
We remain at a crossroads, though, and while a wage boost will certainly lead to more immediate solutions, there is plenty more to consider when looking at talent. An overall shift in culture must happen in 2022. The value proposition is real, and the pandemic has magnified how purpose, feeling valued and autonomy mean more to employees now than ever before. This year we will see more leaders determine exactly how employee-focused they want their organizations to be.
It's also time to diversify where the industry is tapping the talent pool. Vistage found that 73% of manufacturing businesses report challenges in operating at full capacity due to staffing troubles and 63% intend to increase the size of their workforce in the next 12 months. In order to successfully address these plans, manufacturing leaders need to look at building innovative onramps for new talent: returning veterans, people with disabilities, people in disadvantaged communities, people of color, women, people re-entering the workforce from the criminal justice system, and underemployed people who want a brighter future. This year we're likely to see a recruitment approach that is as innovative as businesses' product roadmaps, expanding training programs and "earn and learn" options to make it fast and affordable for people to retrain for manufacturing careers. After all, there are thousands of unemployed and underemployed people working in retail, fast food and hospitality who within weeks could be in high-paying manufacturing jobs. What's more, in order to be successful in 2022 and beyond, leaders will need to invest in existing employees to keep them on board. In fact, Vistage found that 61% of manufacturing leaders are focusing on developing their existing workforce in response to hiring challenges, which is exciting to see and indicative that 2022 will see us make critical strides.
A FOUNDATION BUILT ON INNOVATION
There are technological advances at our fingertips that enable increased capacity and more productivity as well as better working conditions and more interesting careers. But many are still hesitant to adopt these innovations, as 75% of manufacturers say innovation isn't a top priority, according to the Ohio MEP 2020 Manufacturing Survey.
Despite the ability for technology to help organizations grow and compete on quality, lead time, service offerings, and price, as well as to address workforce issues, many remain hesitant to embrace widespread adoption and investment. The idea of Industry 4.0, or the use of cobots, automation, IoT, artificial intelligence, big data and more, often is mistaken with such advances taking the place of humans in the workplace. Overwhelmingly though, automation can supercharge productivity rather than replace people. Innovative technology can free people up to do more high-tech jobs like maintaining and running human-machine interfaces, enabling employees to use more mind and less muscle. And smart manufacturing roles also have the added benefit of a wage premium, paying an average of $12,000 more a year than more traditional manufacturing jobs. Unfortunately, only 14% of manufacturing companies say innovation is a core part of their strategy, as discovered by the MEP survey. This disconnect between the potential and the reality needs to be addressed in 2022.
TURNING THINGS AROUND IN 2022 AND BEYOND
As we continue to face fallout from COVID-related supply chain disruption and incredibly high demand (March saw the highest levels of production in the United States in 37 years, according to ISM), 2022 is going to be another unique year. These supply chains issues may get slightly better, but it will still be many months until the ports clear or more local production comes online (e.g., microchips). Consumer demand may stay high unless price inflation begins to eat away at consumer confidence or buying power. Manufacturers can invest at record low interest rates right now, unless the Fed turns up interest rates to combat inflation.
But despite these uncertainties, manufacturers need to stay the course – invest in their people, their wages, and their technology – no matter what in 2022. Manufacturers' competitive advantage for decades is at stake, and those who can see that forest through the trees of uncertainty in 2022 will be those who grow and succeed.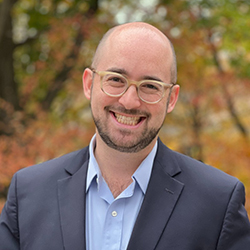 Ethan Karp is President and CEO of MAGNET and a Vistage Member. MAGNET's industry-specific engineering, strategic growth, and go-to-market expertise help manufacturers achieve excellence in products and processes. Prior to joining MAGNET as the Vice President of Client Services and Marketing in 2013, Karp served Fortune 500 companies as an Engagement Manager with the McKinsey & Company Cleveland office. With a focus on innovation, Karp worked on topics ranging from growth strategies to operations improvements in chemical, healthcare, and manufacturing companies as well as projects developing strategies for public and private school systems, creating state budget proposals, and driving economic development. Ethan Karp received undergraduate degrees in biochemistry and physics from Miami University and a Ph.D. in Chemical Biology from Harvard University.