Custom parts manufacturers can win the business of modern buyers by modernizing their infrastructure with three simple steps.
By Jason Ray, CEO of Paperless Parts, intended for Industry Today
The fastest, most fool-proof way to win more business is to understand the customer. Many job shops think they already know their customers well, but part buyers expectations are not the same as they were 10 years ago.
Today's buyers have built their careers alongside the Amazon effect – coming to expect easy, seamless, digital transactions, as well as rapid turnaround times, from every brand. While the expectations of custom parts buyers are changing with Industry 4.0, many job shops are not prepared to meet these demands.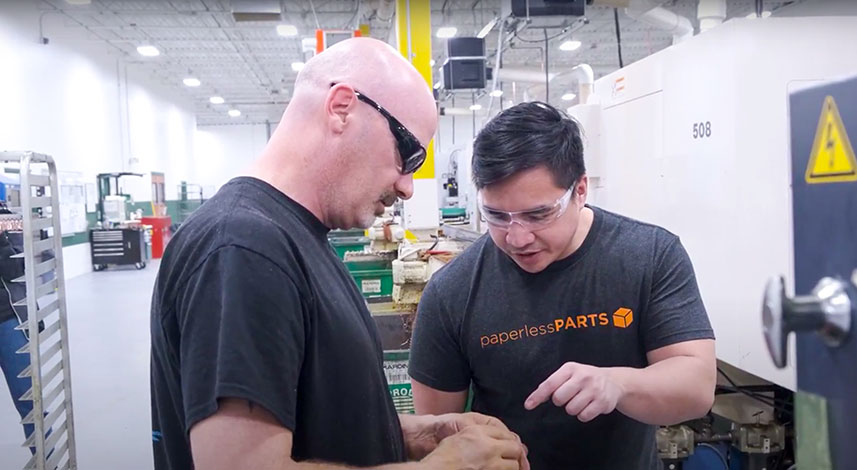 Paperless Parts surveyed more than 400 parts buyers to help job shops improve their business strategies in a post-Amazon era. The 2020 Part Buyer Expectations Survey Report discovered how buyer expectations and habits have shifted, and what job shops can do to catch up and keep competitive. Based on these findings, there are three tips for job shops to immediately impress parts buyers and start winning more business.
Tip #1: Honor the need for speed with digital quoting.
Customers across all industries now expect quick checkouts, faster shipping and few (or no) delays, and parts buyers are no exception. For custom parts manufacturing, a good customer experience is all about fast quoting:
67% of buyers expect a quote in less than 24 hours. Ninety-four percent of buyers won't wait longer than three days.
75% of buyers make a decision in a week or less after receiving a quote. In other words, if buyers don't respond within one week, the job was likely lost – and it's no use setting aside potential capacity for work that was quoted weeks ago.
92% of buyers are willing to pay extra to get their parts faster. Almost all buyers value speed over cost because they are mitigating opportunity costs associated with slowery delivery.
It's clear that buyers expect fast quotes and short lead times. Fortunately, there are small investments that shops can make that can result in big improvements. For instance, digital quoting drastically cuts down quoting time and provides the seamless experience buyers want in three simple ways. First, many shops waste time over-engineering quotes or using manual tools and processes. Digitizing quoting eliminates bottlenecks and improves accuracy so shops can get back to buyers within 24 hours. Second, digital tools make it easier to follow up on quotes sent out because they show the status of quotes, such as when it was sent or opened. Last but not least, digital quotes allow job shops to offer expedited service on every quote, which many buyers will take advantage of. This step toward modernization is a straightforward and effective way to impress buyers right off the bat.
Tip #2: Build a complete online presence.
The way that buyers find new suppliers is also changing: last year, 70% of buyers used a Google or Internet search to find new suppliers in the last year. This is critical for job shops to understand. because if buyers are looking online for suppliers, then every shop must have a website if they want to be discovered. Today's buyers have to manage more vendors and move faster than ever, so job shops that make their business' website easy and convenient to find are more likely to win business.
Simply having a website is not enough – quality and information matter. According to the report, a job shop's capabilities are the top consideration when buyers are deciding if they want to work together. That means job shops' capabilities should be clearly communicated on their website, so the buyer can make an informed decision.
Tip #3: Prioritize excellent customer service.
Referrals are the second most common way buyers find new suppliers. Knowing this, job shops must deliver a great customer experience to increase the chances of a referral. Today's customers want the convenience of digital tools and fast response times from businesses. Investing in digital quoting tools results in faster quotes and allows buyers to complete a purchase with the click of a button and even better the option to pay instantly with a credit card. Digitizing, and in some cases automating, internal processes also frees up employees to focus on their core responsibility: serving the customer. By implementing these tools, job shops can create a modern infrastructure centered around excellent customer service.
Individual consumers aren't the only buyers shaped by the times – job shops are, too. With the age of Amazon and Industry 4.0 well under way, it's important for shops to modernize to stay competitive. These three tips are a great starting point to impress buyers, update infrastructure and win more business.
As a Co-Founder and Chief Executive Officer at Paperless Parts, Jason focuses on driving the company's product vision, while building relationships with American manufactures. While serving as an officer in the US Navy, he led the implementation of additive manufacturing technology, prior to starting a consulting firm focused on driving efficiency in precision manufacturing operations through process improvement and automation. Jason holds a B.A. from Trinity College and an M.B.A. from Babson College.
Contact: paperlessparts@v2comms.com