It's important to separate home life from your professional life so make sure you set up the best environment to ensure you are productive.
Due to the COVID-19 pandemic the world is facing, many people have now been forced to work from home as a precaution and to reduce the spread of the virus. It certainly has been an adjustment, but for some businesses, these changes are evolving into a permanent working model for their employees. Working from home has many benefits, but it is important to be able to separate your home life from your professional life, too.
To make sure your new set-up is the best environment to work in and is well-equipped, here are 5 essential items you should have in your home office to help your productivity.
1. Printer/Scanner
It's always a good idea to try and limit the amount of paper you're using during your working day especially as more people are becoming conscious of eco-friendly office plans. However, there will be certain situations where you will have to print documents or scan them as part of your task or correspondence. Make sure you invest in a quality printer and scanner to have at hand when the occasion calls for it.
2. A Supportive Chair
If you're working at a computer for the majority of your day then you must make sure you're sitting comfortably and have the right support. Sitting at your kitchen/dining room table might be OK for a temporary period, but in the long run, this might not be the best set up for your posture. If it looks like you're going to be working from home for the foreseeable future, get yourself a specialist office chair that is designed to support your back and improve your posture.
3. Paper Trimmer
Having a paper trimmer at hand will be useful, as there might be a time where you need to trim back large print outs for files or distribution. There are different kinds of paper trimmers available, commonly people use a guillotine model. However, trimmers that rotate tend to have better results, so shop around to find the best one.
4. Stapler
A stapler will come in handy countless times, and they are a great help when trying to organize documents and files. They're not just limited for office purposes either, so having one around the house will benefit everybody. Cheap and easy to find in any good stationery store or online, you might as well buy two and have one as a back-up.
5. Filing Cabinet
Although the majority of things are now stored online and on computers, having a filing cabinet, big or small, would be useful for your home office. They're perfect for storing physical copies of important documents, as well as any training materials you might need, meeting notes, and so forth. They make an office space far more organized and will enable you to keep your working environment tidy and free from clutter.
Whether you're a freelancer who has always worked from home or an individual who has been exiled from the office thanks to the pandemic, it's important to make sure your working space at home is set up properly. Have these essentials at hand to help make your home office better.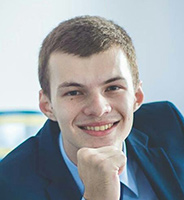 James Daniels is a freelance writer, business enthusiast, a bit of a tech buff, and an overall geek. He is also an avid reader, who can while away hours reading and knowing about the latest gadgets and tech, whilst offering views and opinions on these topics.