Here are a few tips and suggestions that may help the process go more smoothly and transparently.
1. Do your homework
Before making any commitment in time or money, learn all you can about the factory in advance. This may include doing a search on the English-language Chinese government website, which provides relevant information about licenses, outstanding liens, and the names of principal ownership.
Take the time to track down any previous customers and inquire about their past experiences if possible. Of course, there are large companies operating in China that have worked with major name brands for years and so they have a well-established reputation for quality and reliability. However, smaller or specialty suppliers may be relatively unknown outside of niche markets. No matter what you discover, if you're prepared to take the next step that means you should invest in visiting the factory for yourself.
It would also be in your best interest to confirm the manufacturer's billing address early on. This way, you can ensure that the account is in the same name of the company (not in a person's name). If you decide to move forward with manufacturing, you should also ensure that the manufacturer's name is clearly stated in all contracts, purchase orders and other financial documents.
2. Visit the facility in person
Once you've arranged a visit, bring your own translator who works for you and who has no relationship to the factory.
Be prepared to ask for verification of all documentary information. This might be in the form of business licenses and registrations, proof of insurance and even ISO certificates. If you're in a facility that appears clean, well-organized and well-equipped, confirm that this is in fact the same factory that will be making your product.
3. Verify employees' certification
It's important to ask for records the manufacturer has for employee training and certification. If the factory boasts ISO compliance, insist on seeing original documentation and that employees truly understand their positions and can adequately follow them.
4. Follow the production cycle from raw material to final product
The quality of raw material varies widely in China. Regardless of how the material is labelled, find out exactly where the material was purchased from and try to obtain a website address or other identifying information. This will help you track down the source of the material.
The substitution of material with an inferior grade after a contract has been signed is unfortunately not unheard of so you must be diligent in this regard – always check and confirm again about the standards of the raw material and how it's being tested. Ask key questions like, "Where does the equipment come from?" and "Who makes it?" At the very least, the manufacturer should have metrology equipment for testing metals and plastics. If so, ensure they can demonstrate how to use it. Be sure to ask key questions like "How often is it calibrated and by whom?" and "Are there records of the calibration?"
It's important to verify what kind of inspection equipment is being used by the manufacturer and confirm that it is properly calibrated. Insist on having a quality control employee – not the boss or the supervisor – perform a dimensional inspection of a product while you watch. You should also ensure they maintain proper records of all measurement and testing procedures and results and ask to see these records.
5. Get a day-to-day contact
Identify the person who will be your main contact with the factory. If it's within your budget, it's to your advantage to have your own employee stationed in China who can be the direct liaison between you and the manufacturer.
These tips may seem overly cautionary but this process is quite valuable as you must look closely and carefully at all underlying assumptions about how manufacturing is done. This can often be the greatest source of misunderstanding and confusion between two sometimes very different cultures.
There is a bright side to all of this. There are many reputable manufacturers in China that can offer excellent service at competitive prices. The notable factories will exercise the same attention to detail that you would expect from the best manufacturers anywhere. Perform your due diligence up front and you can find a reliable partner for many years to come.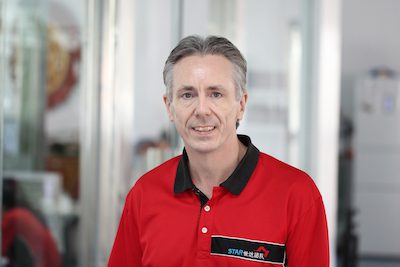 About Gordon Styles
Gordon Styles is the founder and president of Star Prototype, a provider of rapid prototyping, rapid tooling and low-volume production services. Utilizing his background in engineering, Gordon founded Star Prototype in 2005 and under his leadership the company has expanded to more than 200 employees. With an international team of engineers and technicians, Star Prototype combines advanced technologies – such as 3D printing and multi-axis CNC machining – with traditional manufacturing techniques and high quality standards. Prior to Star Prototype, Gordon owned and managed the United Kingdom's largest rapid prototyping and rapid tooling company, STYLES RPD, which was sold to ARRK Europe in 2000.