March 8, 2019
By Michael Breen, manager of product and channel management at KUKA
The smart equipment and interconnected factories of Industry 4.0 are taking over the manufacturing industry, leaving many small- and medium-sized companies struggling to keep up. As technology transformations take center stage, manufacturers face a choice to adapt or remain stuck in the past. Advanced industrial technology is valuable and cost-saving in the long run, but it is also an expensive investment. By 2020, the industrial manufacturing industry is expected to spend $175 billion in Industry 4.0 operations.
Fortunately, robotics suppliers have found a solution: modular automation. Through this flexible manufacturing process, individual production components can be easily rearranged to create custom solutions for specified use cases and changing product volumes. By strategically upgrading equipment and maximizing your assets' capabilities, you can propel your company to cutting-edge Industry 4.0 standards without breaking the bank. Modular automation is a smart, practical way to move your factory forward, with big payoffs down the road.
Identify areas for automation
It's important to be strategic in your move to modular automation — especially when you are trying to rein in costs. Identify the most important areas for improvement in your company, and the key challenges you're facing. How can automated technology alleviate these problems and cut out waste?
Additionally, factor in the lifespan of both products and equipment. Purchasing expensive machinery, specifically for a product that will be replaced soon after hitting shelves, may not be worthwhile for your company. To maximize efficiency, consider how current equipment and systems can be converted to different processes. While the lifespan of new equipment may be limited, planning ways to use it for alternative purposes increases its value and helps you stay ahead of a fast-changing industry.
Preconfigured and coordinated solutions like KUKA's ready2_use application packages also enable easy, affordable automation. These tested solutions build on existing automation expertise and integrate quickly into your systems, saving time and increasing your efficiency. Ultimately, choosing the robotics partner that aligns best with your business needs is a crucial step to advancing your processes, enabling you to make the best decisions and limiting operational delays moving forward.
Implement flexible automation solutions
In order to maximize ROI, select robots that can change and grow alongside your business. Rather than spending large sums of money on replacements, invest in add-ons. Components like KUKA's end effectors and 3D perception sensors enable robots to extend their lifespan and retain their value by adapting to new manufacturing tasks.
Flexible automation enables machines to be recycled throughout several lifecycles, re-purposing robots and systems to accommodate different products, altered designs and varying manufacturing volumes. This versatility keeps production costs fixed, reduces the need for new machinery and improves factory efficiency. Modularization enables applications with a large variety of parts — such as robotics, assembly systems and labeling systems — to be flexibly automated, streamlining operations and saving costs in the long term.
Human-robot collaboration is another solution taking hold of the manufacturing industry. Combining these two labor forces improves the productivity of manual work stations while integrating seamlessly into a company's existing systems. With new robots making human-robot collaboration easier, this less-expensive, easy-to-implement practice is growing in popularity. A 2017 Loup Venture research report forecasted that over one-third of robots sold by 2025 will feature collaborative applications.
Improve employee training
Even after you've implemented flexible automation, there are still ways to continue streamlining operations and reducing costs. One of the most important ways to do this is through effective employee training. When your staff is properly trained on new robots, they can help ensure technology operates properly and achieves the desired outcomes. Teaching employees to discover and solve minor problems can resolve machinery issues before they expand and become more costly. The more staff knows about new technology, the more empowered they'll be to keep systems running smoothly.
Flexible automation is a proven, practical way to move your factory into the streamlined, connected world of Industry 4.0. And these upgrades have tangible benefits: manufacturing executives expect digitization to cut costs by 3.6 percent and increase revenues by 2.9 percent per year through 2020. Modular automation opens the door for companies to join the fourth industrial revolution at reasonable prices, launching companies into the future while keeping their budget on track.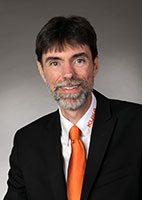 About the Author
Michael Breen is the manager of the SAE team, System Partners and Product Management. He has worked in various engineering roles while working at KUKA for over 20 years. Michael earned both his bachelor's degrees from Oakland University.