Volume 10
| Issue 3
| Year 2007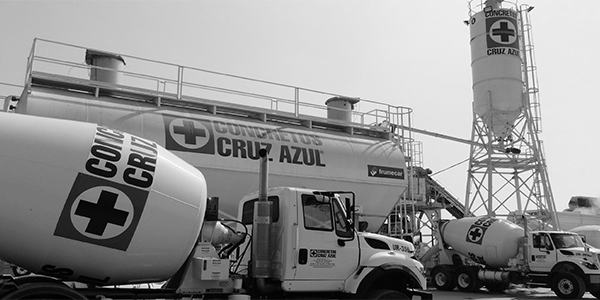 Concretos Cruz Azul was founded in 1881 as Coopera-tiva Cruz Azul, creating the well-known Cementos Cruz Azul brand, a trusted cement trademark that has been a mainstay in Mexico's construction industry for more than 125 years. Now in its third century, the Cruz Azul brand has evolved and developed with Mexico to meet the construction demands of the country.
With more than a century of experience under its belt, the company, in 1991, founded its subsidiary Concretos Cruz Azul, which supplies ready mix concrete to construction facilities throughout the country. Cooperativa Cruz Azul saw a business need, and it is with Concretos Cruz Azul that it meets a growing market demand. "Concretos Cruz Azul is a door towards the growth and development of the organization," company Vice-CEO Alfredo Álvarez said.
In its 15 years of operation, Concretos Cruz Azul has been able to provide the best service on time in order ensure customer satisfaction. Such an important market segment has further flourished with the strong support of the Cementos Cruz Azul brand, led by CEO and President Guillermo Alvarez Cuevas and Vice President Alfredo Alvarez Cuevas, who are brothers and the owners of this division and of the privately held Cooperativa Cruz Azul group of companies.
The Cruz Azul brand is also well known in Mexico because of the Cruz Azul soccer club that plays in Mexico's First Division. The soccer team is the winner of many Mexican championships.
High-quality supplier
The firm, however, does not only trade on brand recognition. It works hard to ensure it provides ready-mix concrete of the highest quality to construction sites throughout Mexico. Concretos Cruz Azul has obtained ISO: 9002 certification for its ready-mix concrete operations. It also has Mexico's EMA certification for its testing laboratories to ensure customer confidence in its concrete mixes.
"We have more than 40 plants throughout the country, we are 100 percent Mexican, and our brand name is well positioned. In name recognition surveys, eight out of 10 people mention the Cruz Azul brand," Alvarez said. "With that name recognition and brand loyalty, we work hard to provide quality ready-mix concrete. Our concrete has 97-percent customer satisfaction. Within 40 minutes from the time it leaves the plant, it is loaded onto the concrete mixer truck and it is poured on the construction site."
Alvarez explains that before concrete is poured, company technicians take samples of the ready-mix concrete to ensure the quality of the product. In addition Concretos Cruz Azul maintains a laboratory in each of its more than 40 plants in Mexico that constantly tests quality, so the company can ensure and improve the quality of its product.
"Our concrete is more expensive in terms of cost in the country," he adds. "It is $2 to $3 more expensive per metric ton than the competition. That is because of the quality of our product and the confidence behind our product that we have been able to grow to become the third largest producer of ready-mix concrete in Mexico. Our main competition are two foreign-owned concrete companies, so we not only stress the quality of our concrete, but also that we are 100 percent Mexican."
He explains that Concretos Cruz Azul works in tightly monitored production margins. "Our cement mixer trucks cannot have concrete in them for more than three hours. The optimum time for ready-mix concrete is 60 minutes, but we have cut that time to 40 minutes from the point the ready-mix concrete is poured onto the cement mixer truck, travels to the construction site, and is poured from the truck onto the construction site, Alvarez said. "Our operational and administrative system is exact; we cannot have any delays in our production. We have a close working relationship with our clients to ensure the quality, and they have 24 hours to cancel an order." State-of-the-art technology, mobile plants that supply ready-mix concrete on construction sites, mobile laboratories to test the ready-mix on-site to ensure concrete is of the highest quality, and satellite technology all combine to guarantee quality within the 40-minute delivery time. In addition, SAP computer technology helps the company compete in the highly competitive ready-mix concrete business, he said.
In 2006, Concretos Cruz Azul sold 1,300,000 cubic meters of concrete to construction sites throughout Mexico. Álvarez is confident the company will continue to grow, and gain more market share. "We aspire to be number one in the Mexican market. We may not be the biggest now, but we are best ready-mix concrete producers in Mexico," Álvarez said.
Alvarez's confidence is owed not only to the high quality of the ready-mix concrete, but also of the considerable investment made yearly in new technology. He explains that the company's research and development experts are not only working to come up with improved quality for its concrete, but research for new applications. "We are always ahead of the market; we look to build synergies to remain ahead of market needs," Álvarez explains.
Many uses
Concretos Cruz Azul, he explains, is always looking to expand the uses of ready-mix concrete. The company's products can be used to construct architecturally complex buildings, needing various colors and aggregates. In addition, the company's highly advanced lightweight concrete has thermal and acoustic properties, for use in walls and mezzanines. Concretos Cruz Azul also makes cellular concrete for use in light applications. It has a high resistance to fire and improves acoustic isolation.
The company's high resistance ready-mix concrete is used for floors and pavement that require immediate use, advancing considerably the construction schedule and reducing down times. High performance concrete is used in the construction of columns, bridges, or special concrete structures. Flow Concrete can easily be poured into steel mesh. Water resistant concrete has low porosity, which reduces the event of water passing through the concrete, and it reduces humidity. Water resistant concrete is found in water tanks or irrigation channels.
Concretos Cruz Azul also makes bacterial reducing concrete used in areas in which health and sanitation is a priority: hospitals, schools, sanitation facilities, laboratories and food warehouses. Shotcrete concrete is prepared for areas that need protection to stabilize inclines or banks. It is also used to reinforce tunnels or to protect excavations areas.
In addition, Concretos Cruz Azul has introduced technologically innovative self-compacting concrete with two particular characteristics: fluidity and cohesion in the cement paste and aggregates that allows the concrete to flow freely reducing or eliminating the compacting work done by laborers.
Ecological concrete is designed to allow water to flow freely underground; it is used for walkways, park benches and streets. Concretos Cruz Azul uses sub-aquatic concrete for areas that are used underwater, in applications for pillars and columns that are submerged in water. It is also used in dikes and dry-docks.
The company's fluid filling concrete is used in ditches, tunnels or used as the base for pavement in roads and industrial floors. Long life mortar concrete is a product that does not come into contact with the air. This type of concrete can be found in large home block construction.
Concretos Cruz Azul will continue to expand the use for ready-mix concrete, searching for new synergies as it works to stay a step ahead of the competition and market demands. "We are 100-percent Mexican owned, working in Mexico, and we are exploring a move outside Mexico," Alvarez said.
Concretos Cruz Azul, he added, will continue its emphasis on "the Cruz Azul quality seal, the high recognition in the Mexican market of our brand, to continue developing high quality ready-mix concrete and to begin looking for expansion outside Mexico."