Volume 22
| Issue 4
| Year 2019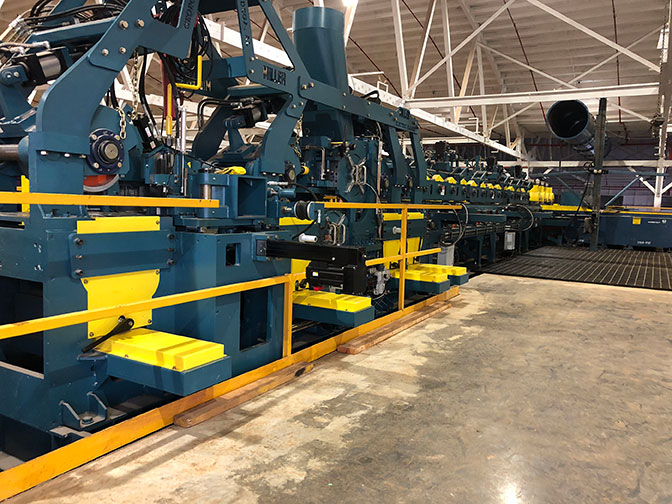 Click here to read the complete illustrated article as originally published or continue below to read the text article.
US sawmills produced some 14.7 billion board feet (bbf) and Canadian sawmills about 10.8 bbf of softwood lumber in the first five months of 2019, according to the GWMI (Global Woods Markets Info) news service. Thanks to BID Group, that lumber is being processed from raw trees into finished products faster and more efficiently than ever before.
BID Group supplies complete turnkey systems as well as components and upgrades to the wood processing industry that brings Industry 4.0 solutions to sawmill operations. It begins with tree logs cut into 65 feet lengths entering the mill.
"The first step in the process is debarking the tree," explains Simon Potvin, Executive Vice President and Chief Operating Officer Wood Processing. "One of the most exciting developments in technology over the last three years is more precise geometric scanning of tree stems that utilizes advancements in vision systems and artificial intelligence (AI). The older scanning systems could do 30 readings up to about 6 inches accuracy per tree stem; current technology performs as many as 1,000 readings up to 1/8 inch accuracy. That considerably reduces loss of fiber that occurs in removing bark and cutting the logs into smaller lengths ranging from 8 to 20 feet that are also straighter and more cylindrical."
The big difference in not just how sawmills operated 20 years ago, but within the last few years, is processing speed. "Back when cutting logs was manually operated, you could cut 10 to 15 logs a minute. Now you can do 30 logs a minute, and without requiring operator intervention. Instead of having operators perform functions every step of the way, now you just need an operator to monitor the system. And if the system is working optimally, the operator doesn't have much to do."
At this point, the lumber is still "green," meaning not yet a finished product. The lumber is sorted into grades determined by the imperfections it contains. The higher grades are free of knots, crack, and other imperfections, while lower grades are less so.
The next step is to cut the logs into a desired lumber dimension, i.e., 2×4, 2×6, 2×10, 2×12. "The size depends on current market conditions," Potvin notes. "As demand changes from one week to another or even one day to another, it's easy enough to reprogram the system to make the dimensional changes and provide Just-in-Time (JIT) inventories." Again, more accurate scanning and AI systems provide for more accurate and consistent planing of the boards. "On a rough level, a 2×4 might actually measure somewhere around 1.6×3.7.," Potvin explains. "The planer machinery ensures all the boards are consistently cut at 1.5×3.5. It's also at this stage where we can add effects, such as rounded edges."
The next critical process is drying, and here again is where the use of the latest BID Group innovation—continuous kilns—yields even greater efficiency and productivity. "Typically, lumber is manually loaded into a kiln to dry and then manually removed. The problem with this is that when you open and close the kiln chamber, you're losing heat, as much as 50 to 55 percent. So you're wasting time waiting for the kiln to get back to the right temperature," Potvin notes. "With continuous kilns running two tracks into pre-heated conditioning chambers at both ends to maintain constant temperatures in the kiln, you double productivity. Instead of drying 20 to 25 batches at a time, you can now dry 40 to 50 batches at a time."
The final stage comprises the automatic sorting and bundling of product into bales that can be loaded and stacked. It's only at this point that a human operating a forklift is required to complete the process.
Turnkey, Equipment or Upgrade
BID Group works on about 50 projects a year. Some 60 percent comprise greenfield turnkey systems. "Operators are closing or consolidating mills and at the same time adding new ones to take advantage of new technologies and market conditions," Potvin explains. "Here we're usually involved right from the planning stage to design and deploy an end-to-end system. Large operations typically do five-year plans. One of our projects right now is a five-year plan for the southeast Georgia, Louisiana, Alabama area that involves setting up ten turnkey sawmills. So we're at various stages of implementing that five-year plan."
Another 25 percent or so of projects involve adding lines of component subsystems. "These might involve a partial or complete shutdown of a week or two," Potvin says. "The goal is to improve productivity by adding capacity and/ or installing more efficient processes to existing lines."
The remaining projects are upgrades that might require shutting down the plant for a two- or three-day weekend. Ever-accelerating technology makes what was the latest and greatest only a few years ago pale in comparison to upgrades that achieve even better operational efficiencies.
BID Group operates 18 facilities throughout North America, of which 12 are dedicated manufacturing operations. "We are strategically positioned to serve the four corners of the continent," Potvin says. While BID Group does have some international business, such as in Brazil, Potvin says this is primarily the result of domestic customers that have international operations. "At some point we're looking to expand sales overseas, but right now we're concentrating on other priorities in developing our business."
Industry 4.0
In addition to the actual tools that cut, con figure and produce a finished product, Potvin emphasizes the software side that goes into the making of hardwood. "Like any manufacturer, we're looking to implement Industry 4.0 to our systems. Our Oper8 software platform is our next big step towards bringing real-time monitoring of sawmill operations. This entails everything from managing and maintaining equipment to tracking logging by-products such as wood chips and sawdust," Potvin says.
He adds, "The objective is to provide data on a daily basis that five years ago you could only generate monthly or weekly at best. Of course, the more relevant data you have immediately on-hand, the more flexibility you have to react to not only what's going on in the plant, but also changing market conditions."
Money doesn't grow on trees, but how you turn those trees into products determines how much money you can make out of them. However you cut it, BID Group provides the best solutions for delivering a complete range of innovative world-class equipment, service and turnkey solutions for the forestry industry.