Volume 21
| Issue 6
| Year 2018
Click here to read the complete illustrated article as originally published or scroll down to read the text article.
Pawtucket, Rhode Island, was an unlikely birthplace for the Industrial Revolution, but in 1793 the first successful cotton- spinning factory in the U.S. came roaring to life and along with it a period of great manufacturing prowess for the country. While the first Industrial Revolution moved workers from hand tools to machine tools, from water power to steam power, the new industrial revolution we find ourselves in is being powered by innovation of a different sort and in industry sectors like advanced manufacturing, IT/cybersecurity and life sciences.
Once more, Rhode Island is in the vanguard of a new age of manufacturing, and it's certainly not because we've been resting on our manufacturing laurels. In fact, the state had a particularly tough time after the recession. The number of manufacturing jobs was nearly halved, contributing to an unemployment rate that was the highest in America as recently as 2014. Today, our unemployment rate is nearly in line with the national average.
Bringing 4,500 new full-time jobs over the past few years, 30 companies (including Johnson & Johnson, GE Digital, Virgin Pulse, Electric Boat, Priceline's Agoda and Finlays) have chosen to open or expand here. And to support the $2.5 billion in real estate transactions now in the works, over 11,300 construction jobs have been created, both directly and indirectly. Providence's bustling skyline has even earned it the nickname "Cranetown."
Each month, the number of manufacturing jobs in the state continues to climb, reaching 41,700 as of September—the highest number of jobs in the sector since 2009. To be sure, these are not the same manufacturing jobs that existed a decade ago.
The traditional R.I. manufacturing landscape has shifted from simple textiles and jewelry to high-precision metal machining and performance materials. New smart-textile companies are building materials for the military and supporting elderly needs, while other Rhode Island companies build robots to increase manufacturing efficiencies. Tech companies are opening their doors for the first time, as traditional manufacturers pivot to leverage technology that meets the needs of their modern customers.
Stimulating all of this activity have been the state's concerted efforts to create future economy jobs with comprehensive legislation, initiatives and partnerships with Rhode Island universities.
Real Jobs RI has provided training programs for innovative manufacturers like Electric Boat, training hundreds of Rhode Islanders to fill maritime manufacturing jobs at Quonset Business Park, which 200 companies call home.
The state has also supported industry partnerships such as the Rhode Island Marine Trades Association, Rhode Island Manufacturers Association and Southeastern New England Defense Industry Alliance, all of which provide additional programming for employers. Further guiding the state's manufacturers to sustainable growth are nonprofit organizations like Polaris MEP, which is a division of the University of Rhode Island (URI) Research Foundation and funded by the National Institute of Standards & Technology.
Manufacturers expanding or moving here are eligible for Rhode Island's Qualified Jobs Incentive program, through which they can receive redeemable tax credits for up to 10 years in exchange for job creation. As a result, in the last year, the state has added 1,300 manufacturing jobs.
Cluster Grants and Innovation Vouchers have also helped forge technology connections and unlock greater R&D capacity that would have not otherwise been accessible to small manufacturing companies. And through the Rhode Island Manufacturing Initiative, manufacturers can take advantage of economic development incentives for purchasing new equipment, launching new product lines and hiring new workers.
We've gotten as many Rhode Islanders involved in the process of rebuilding our manufacturing industry as possible, hosting manufacturing- and maker-focused pop-ups in the I-195 Innovation & Design District and launching the Manufacturing Advisory Council to involve industry leaders in setting policy on issues important to them.
And we've connected our universities to manufacturers in order to better understand how to prepare graduates for the new demands of an increasingly technical environment. URI's Business Engagement Center is a great example of how a university and employers can grow together by connecting needs and resources.
To start building a skilled talent pipeline early, we've also partnered local businesses and high schools. This includes investing $3.65 million to enhance manufacturing programs at our staterun career and tech school and $2.3 million in the state's Pathways in Technology Early College High School (P-TECH) initiative. And through the CS4RI initiative, Rhode Island is now among the first states to offer computer science to every child in every public school.
Our state was a pioneer in manufacturing then, and we remain one today—in this brave new manufacturing world where plenty has changed but the need for collaboration and new ways of thinking remains.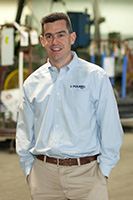 Polaris MEP's Center Director, Christian Cowan, is a senior executive with more than 20 years of experience in technical manufacturing operations and marketing in the IT networking, energy and textile industries. Christian was most recently the Director of Global Product Management for Opengear, a provider of outof- band IT management solutions. Previously he served as VP of Marketing for Asure Software, a leading vendor of cloud computing time management software services (SaaS), and as Product Manager at A123 Systems. Christian managed the Security/Environmental Monitoring and IT Network Management lines while Product Line Director for APC, now Schneider Electric. He brings both domestic and overseas hands-on manufacturing experience to Polaris MEP. Christian earned his BSEE degree from Villanova University and his MBA from the University of Rhode Island.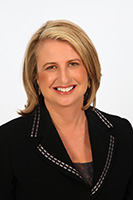 Laurie White is President of the Greater Providence Chamber of Commerce — Rhode Island's largest private sector business advocacy and economic development organization. She has been President since October 2005. The mission of the Chamber is to be the advocate for growing and protecting the business community in Rhode Island.
A significant portion of the Chamber's work is devoted to developing the state's Innovation Economy by driving advanced industry formation, entrepreneurship, medical, academic and industry collaboration, technology transfer, talent retention and competitive tax policy. She also is chief executive of the Greater Providence Chamber Foundation which serves the private sector in generating new business investment in Rhode Island.
Laurie is an honors graduate of the University of Rhode Island where she received a Bachelor of Arts in Journalism in 1981. She was the recipient of the University Dean's Distinguished Achievement Award in October of 2010 and the President's Distinguished Achievement Award in October of 2016. She received an Honorary Doctorate in Business Administration from Johnson & Wales University in May of 2010. In recognition of her advocacy work in support of public higher education, she was inducted into the Community College of Rhode Island Hall of Fame in April of 2010. She was inducted into The Prout School's Hall of Fame in October of 2008.