As COVID-19 amplifies challenges to the services industry landscape, appliance manufacturers must leverage technology to build resilience.
By: Samir Gulati, Chief Marketing and Product Officer
The services industry landscape was shifting before COVID-19, and the pandemic was simply a tipping point for much-needed transformation.
Consumers are changing, along with the way they experience appliance brands. Coinciding with this is workforce change, as shortages of talented service professionals make it more challenging to attract consumers who already see little differentiation between manufacturers.
The annual Service Leader Trends survey, completed in February 2020, asked 150 service executives about external and internal challenges. The core theme that emerged was "preservation," both of customer share and talent share.
While COVID-19 shed light on the industry's systemic challenges, the pandemic didn't cause them – it revealed the consequences of inaction. Below are plays appliance manufacturers and field service techs can run to emerge stronger.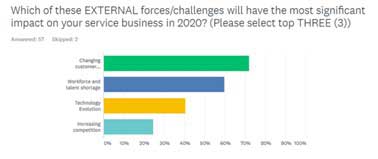 Play #1: Embrace Changing Consumerism, New Workforces and Technology
COVID-19 shutdowns across retail have dramatically increased online shopping, amplifying a pre-existing trend. And the shift is not related to buying alone – consumers have higher post-sale expectations that put new pressures on brands to innovate and evolve.
Consumers expect advanced self-service capabilities, and the experiences they do have with service technicians are more important than ever. Smart companies are facing this head-on, differentiating with a combination of self-service technologies and accessibility to service technicians.
The second force shaping the services industry is a talent shortage, as fewer people are entering the trades. According to the survey, 72% of respondents were planning on increasing spending to hire technicians – a need only growing more acute.
The safety of technicians and homeowners is also essential. Smart companies are deploying novel approaches such as zip code blocking to avoid dispatching to COVID-19 hot spots, relying heavily on real-time job visibility to safely prioritize technicians.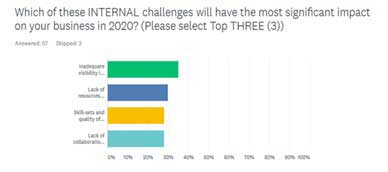 Play #2: Get the Internal House in Order
COVID-19 requirements have increased pressure on organizations with outdated internal processes and infrastructures to support field services.
Dawn Taylor, President of home warranty provider Centricity, argues that the industry must go a step further with technology and close the loop to connect manufacturers, technicians and consumers. Taylor's company uses software to increase collaboration with third-party providers. Creating a real-time information loop that supports customer self-service when needed and an extended services network will enable companies to deliver a more consistent consumer experience, especially important for original equipment manufacturers (OEMs) that are responsible for building and sustaining brand loyalty.
Steve Zannos, who is responsible for service delivery for premier brand Electrolux, describes the closing of the loop in simple terms: "Not frustrating customers by asking them to keep providing the same information to different people throughout the process is better for the customer and the brand."
Play #3: Create an Effortless Serviceability Experience
Service organizations of the future will continue to be technician-centric, but modern technicians will be equipped to work smarter and more collaboratively. From self-service consumer portals to online tools for consumers that promote service call avoidance, investment in technology will empower technicians and consumers with real-time information.
Many appliance manufacturers are adopting digital infrastructures that power a "blended workforce" of full-time technicians strategically supported by third-party providers. Business rules allocate work across these "hybrid networks," and consumers are given tools that enable them to more actively engage.
Play #4: Engage Technicians for Good
For the industry to successfully adjust to new consumer preferences and digital transformation, it will rely heavily on technicians who are highly motivated.
The COVID-19 pandemic has enabled OEMs and other companies to reinforce their commitment to technicians, presenting a unique opportunity to create and promote a "culture of care" that invests in safety and job satisfaction.
Play #5: Accept the New Normal
Service demand is expected to increase significantly over the coming months, especially since many companies pushed out minor calls to prioritize much-needed capacity for emergencies. What is clear, however, is that the industry was undergoing dramatic change pre-COVID-19 that will continue.
Key take-aways are as follows:
Investment in technology to improve pre-dispatch, dispatch and post-dispatch preparation and prioritization must continue, with a focus on empowering and enabling technicians and consumers. Self-service consumer portals that integrate seamlessly and in real-time with information from the field will play an increasingly important role.
Focus on technician engagement is critical, and technology will help to eliminate time-consuming paperwork and improve collaboration and connection with mobile workforces, encouraging new incentive strategies and the use of gamification.
Geographic expansion and new offerings will follow as new technology enables broader, more efficient service coverage and new approaches such as proactive maintenance and service call avoidance.
Emerging stronger from COVID-19 is only possible if one sees it as a clear harbinger of what is to come. In our uncertain world, investing in people, processes and technology is always a smart play.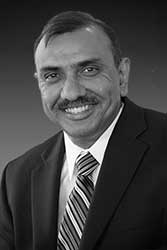 Samir Gulati, Chief Marketing and Product Officer
Appointed Chief Marketing and Product Officer at ServicePower in 2017, Samir is responsible for all aspects of Marketing and Product Management, including market strategy, product roadmaps, demand generation, product marketing and corporate marketing. Samir brings over 25 years of experience in global product and marketing leadership roles in technology companies.
Samir was previously VP of Marketing at Appian, where he helped to rapidly grow the company and take it to a very successful IPO in May, 2017. Prior to that, he held a number of executive leadership roles at Pegasystems, Apptix and SAGA Software. Samir started his career at GE, where he led Product Management and Marketing teams in the US and Asia-Pacific. He holds an MS degree in Computer and Information Science from the University of Pennsylvania and an MBA from the University of Chicago's Booth School of Business.
Contact:
1.571.343.5118
info@servicepower.com
https://www.servicepower.com/