The annual RAPID + TCT additive manufacturing industry event signals a return to in-person events.
By Angie Szerlong
For three decades now, RAPID + TCT has helped promote and enable the growth of the additive manufacturing industry. For an industry defined by innovation, the annual opportunity to connect with fellow professionals and share insights and information about the new and emerging advances powering new products and processes is a not-to-be-missed opportunity.
Produced by SME and Rapid News Publications, RAPID + TCT is North America's largest and most influential additive manufacturing event, providing attendees with everything they need to know about the latest 3D technologies, hear groundbreaking product announcements and experience 200+ hands-on exhibits. There is no better place to learn real-world additive manufacturing solutions from the industry's most respected experts and network with thousands of industry peers — all under one roof.
The 2021 event, which took place Sept. 13-15 at McCormick Place in Chicago, featured a now signature blend of invaluable face-to-face opportunities between buyers and sellers, unsurpassed educational content and direct access to leading industry experts. The event was particularly meaningful this year, coming as it did against the backdrop of the COVID-19 pandemic and a period of unprecedented disruption.
What follows is an overview of the 2021 event, including some highlights, key themes and takeaways.
A welcome return
One of the key things that has made RAPID + TCT a success over the years is not the event itself — it's the people. Additive manufacturing is a close-knit professional community — one that has become accustomed to using this annual event as an opportunity to not only learn about new products, materials and technology, but to engage with peers, entrepreneurs and innovators who are moving the industry forward.
The loss of that personal connection has been evident over the course of the pandemic. There was a palpable sense of excitement from attendees about being back together, connecting with mentors, colleagues and fellow professionals. In many cases, it was a chance to renew relationships and reinforce professional connections that have been years or even decades in the making.
The successful return of a high-level, industry-wide, in-person event felt like an important milestone. The response from major equipment suppliers was also outstanding. Several key additive manufacturing companies displayed their products on the show floor, including industry titans 3D Systems, Desktop Metal, EOS, Markforged and Stratasys. Exhibitors showcased their latest innovations, giving attendees an exclusive, hands-on look at the best the industry has to offer. A total of 267 exhibiting companies were on the show floor. RAPID + TCT 2021 welcomed 5,788 additive manufacturing professionals — in-person and virtually — from 49 states and 37 countries. This year's event signaled a new wave of users with 35% of the audience being new to adopting additive manufacturing technologies.
Decision makers from a variety of industries were in attendance, including automotive, aircraft/aerospace, defense, electronics, industrial and commercial, machinery, medical/surgical/dental, R&D, consumer products and consulting/engineering.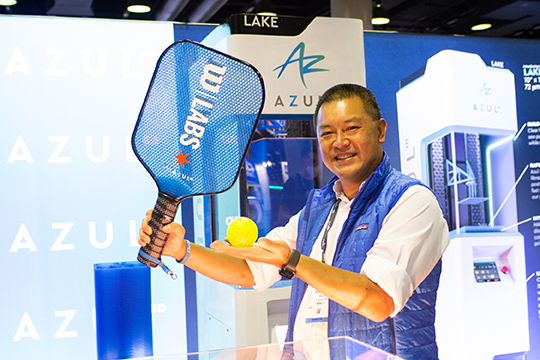 Utility and accessibility
A significant part of the RAPID + TCT appeal is the conference's reputation for going beyond the hype and focusing on real-world solutions to advance additive manufacturing processes. 2021 attendees had the opportunity to hear real-life examples of how industry leaders are implementing additive manufacturing as well as the chance to review case studies on how the technology is transforming traditional manufacturing.
Content highlights from this year's event included:
70+ interactive Conference Presentations in 4 Classrooms
Medical AM Classroom: 14 Medical Additive Manufacturing Presentations
Main Stage: 3 Keynote Presentations and 11 Thought Leadership Panels
The medical sessions were particularly popular, and several were standing room only. The popular Thought Leadership panels expanded to 11 this year — all of which, along with the three keynotes were livestreamed from the main stage. For the first time ever, event organizers offered the new RAPID + TCT LIVE! digital experience and event app, allowing attendees to participate remotely to access exclusive networking and digital content from speakers and exhibitors.
The 2021 event keynote speakers were Melissa Orme, PhD, vice president of The Boeing Co., providing insight on how AM is disrupting the aerospace industry; Terry Wohlers, Dr. h.c., FSME, principal consultant and president of Wohlers Associates Inc., shedding light on AM's impact on startups and the overall economy; and Mark Wehde, chair of Mayo Clinic Engineering, illustrating how this technology is changing the healthcare industry.
Moving forward — together
For an industry that continues to conceive, test, improve and manufacture new products faster and in a more cost-efficient manner with each passing year, events like RAPID + TCT represent a critical point of connection and knowledge-sharing. Above all else, there was a collective sense of community and gratitude that such an important annual touchstone had returned. That sense of community and collaboration was evident throughout the event, with fellow professionals enthusiastically sharing ideas, designs and experiences to benefit their peers. It was that enthusiasm and generosity of spirit that resonates the most after the 2021 event — and will likely remain the enduring legacy of RAPID + TCT going forward. The industry can look forward to The Next Level when RAPID + TCT convenes next May in Detroit.
Angie Szerlong is Industry Manager for Additive Manufacturing at SME and has more than 15 years of experience and exclusive focus on the additive manufacturing industry. She is a leading advocate for both the technology and its impactful adoption across key manufacturing sectors.