Electrification, lightweighting combined with shorter cycle times require auto makers to embrace digital threads in design, manufacturing.
By Steve Peck, VP Applications & Engineering, aPriori
As the push for reduced automotive emissions continues to gain momentum and manufacturers plan their futures around electric vehicles, the automotive development process is undergoing big changes. The value in the vehicle is shifting from the chassis and drivetrain to electronics and sensors. Some estimates suggest that 50% of the vehicle's value will be in the electronics as we move into the next decade.
At the same time, product development timelines are also shrinking. For years, the automotive industry worked in a +/- 48-month concept-to-market entry timeline. Today, aggressive schedules are pushing towards +/- 24 months. In addition, the average time the vehicle spends on the market has shrunk by nearly 50%. This means significantly less time available to achieve product line profits. Cost issues can no longer be ignored in design and left to be addressed in value engineering activities in production. There is no room for error. The design must be manufacturable and meet target costs when it is released to manufacturing for production.
"Black Box" Electrical Components and Lightweighting
With the electrification of vehicles, components like printed circuit board assemblies and wire harnesses now have a big impact on cost. But they are often seen as black boxes, with little/no visibility into what drives supplier cost and differentiation. There are also timing and cost variability issues based on market demand and other regional factors.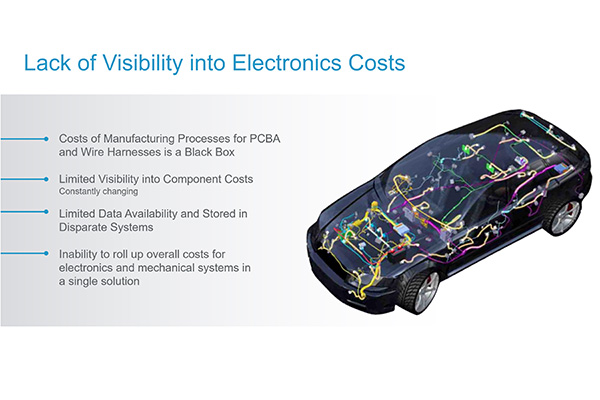 Electric vehicles also have manufacturers incorporating advanced materials into the structure and body panels to reduce vehicle weight and cost. This multi-material mix including aluminum alloys, high-strength steels, titanium, magnesium and composites are changing not only the individual parts and cost, but also the manufacturing and assembly processes involved. Designers are also considering part consolidation opportunities using additive manufacturing or casting techniques to eliminate multi-component sheet metal assemblies. In short, various initiatives are being explored with the goal of improving overall quality, reducing weight and extending range while trying to contain total vehicle cost.
These shifts create a lot of unknowns around the cost and manufacturability and introduce risks to profitability. Cost information during design – if even available – resides in various systems, making it very difficult to rollup overall costs for the mechanical and electrical systems of the vehicle into a single view.
The Domino Effect
This lack of cost visibility can create a negative domino effect in the development process. There is an inability to collaborate efficiently in the early stages of design and access important supply chain information. There are often many different people and groups involved, not to mention suppliers. As a result, design changes are made later in the process, negatively impacting time-to-market and profit margins.
Many manufacturers also struggle with suppliers in terms of cost transparency. In many cases, this is not the supplier's fault. Bid packages go out to suppliers that are ill-suited for the project. This puts undue stress on those suppliers trying to respond to those RFQs.
With the new requirements of electrification and lightweighting, along with the need to meet compressed product cycle times, automotive manufacturers need to embrace more digital threads in their design and manufacturing processes. Manufacturing simulation leveraging digital twins is helping to de-risk programs by providing early insights to avoid late-stage surprises.
Modernizing the Product Development Process
Many automotive manufacturers have already embraced digital transformation at some level in engineering. We have seen the adoption of Model-Based Definition and the evolution from PDM to PLM accelerate. We are also seeing an increased usage of digital product twins to connect with digital factories in real-time to accelerate the design process. With digital manufacturing simulation, engineers can more easily collaborate cross-functionally and share data across the vehicle lifecycle. Everyone in manufacturing, sourcing, cost engineering, and the supply base can have access to the latest information to accelerate cost estimating, eliminate communication bottlenecks, and provide the right information to make the right decisions to optimize the vehicle.
Using 'digital twins,' designers and cost engineers can analyze parts for design-to-cost and design-for-manufacturability issues and gain valuable insights for informed decision making. This way, changes can be made earlier, with minimal cost implications.
Digital manufacturing simulation also provides the ability to highlight different product features and their key cost drivers. It can provide guidance on how to fix them so that a designer can go into the design, update the parts that need to be addressed, make changes in CAD, and get the right information to the right people at the right time. And with increased automation and integration within the PLM environments, the analysis and transfer of data between systems is happening behind the scenes so more time can be spent innovating and optimizing designs.
For contract manufacturers, digitizing the process means the ability to respond more quickly and consistently to quotes while ensuring they're hitting their target margins and delivering high quality products.
Manufacturing simulation offers automotive vehicle manufacturers new ways to respond to changing market demand and the impact it has on their development processes. The result is more accurate cost estimates, better products, more collaborative supplier relationships, and faster time to market.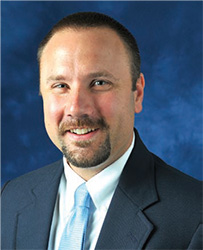 Steve Peck is Vice President of Applications & Engineering for aPriori, a provider of digital manufacturing simulation software. Peck has over 20 years in manufacturing, development and product lifecycle management at companies including Siemens PLM; Immersive Design, Inc.; SIPA, SpA, Thermodyne Division; and Husky. His experience includes product strategy, technical consulting, and application engineering. speck@apriori.com.