A labeling machine OEM has upgraded the motion controllers on its machines to boost label throughput and application accuracy.
A large labeling machine OEM in the USA has upgraded the motion controllers on its machines to boost throughput and increase label application accuracy. The labeling machine builder has integrated controllers from motion control specialist, Trio Motion Technology, to increase throughput by over 25% with labeling accuracy improving to +/- 0.5mm, as well as create a future-proof design.
Requiring precision and speed
Founded over 100 years ago, the OEM designs and builds hundreds of machines every year for packaging and labeling applications, primarily in the food & beverage market as well as the medical and pharmaceutical industries. In addition to packaging meat, poultry and seafood, the packs have to be labeled, placed with a high degree of accuracy that is repeatable over thousands of units. High volume production also means that high speed is required to maximize throughput.
The machines can include both top labeling for branding and bottom labeling displaying product data such as nutritional information. Added directly after the packaging machine, the inline labelers form part of the production process and must coordinate with the speed of the infeed conveyor, which can vary based on multiple factors including conveyor loading, mechanics, and voltage fluctuations to the driving motor. The next challenge is for the labeling machine to accurately apply the labels, maintaining accuracy even when infeed of packs is high. Previously, the labeling machine OEM used a programmable HMI to provide control. However, greater accuracy in label placement was required by the OEM's customers which decreased with variation in conveyor speed.
Trio's solution
The labeling machine OEM turned to experienced motion control manufacturer, Trio Motion Technology, to provide a solution that improved accuracy which would not deviate at high throughput. The controller also had to provide easy integration as well as increased reliability to maintain productivity. Trio's Euro404 Motion Coordinator was selected to control two stepper motors and accept a line encoder for precise conveyor tracking. The Euro404 accurately registers and feeds the top and bottom labels to the incoming packs.
Equipped with precise 64-bit motion calculations on an ARM11 Processor and floating point math, Trio's Euro404 controller has increased accuracy in label placement by 50%, from +/-1.0mm to +/- 0.5mm. Crucially, the Trio controller maintains high accuracy repeatability irrespective of the speed of the conveyor and product inflow, meaning that throughput can be increased. This is achieved with standard features in the controller for registration capture-to-motion triggering and electronic gearing. The gearing feature tracks the speed of the conveyor via encoder input and precisely synchronizes the label feed motion.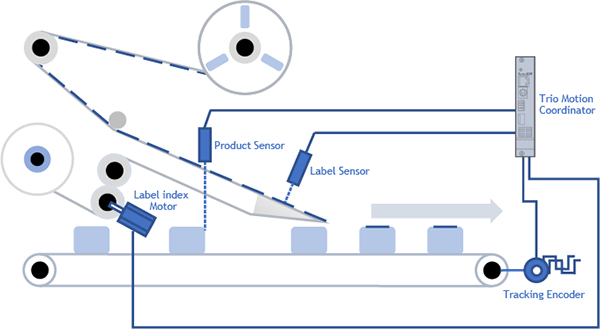 Total throughput depends on the size of the pack, but the machine is now capable of placing up to three labels per second, or 180 labels per minute. This has increased machine throughput by over 25%. The previous system was unable to track the speed of the conveyor and the incoming packs in real time, resulting in the throughput versus accuracy tradeoff.
Trio's Euro404 controller is provided ready to mount onto a control board, in this case manufactured by the labeling machine OEM, that interfaces directly to the controller. The Euro404 required no modifications, enabling faster time to market and reduced cost. It was also a requirement of the control board to have a compact footprint to minimize the overall size of the machine. The controller fits into a low-profile board and enclosure, helping to achieve the low floorspace requirement.
The original smart HMI also presented a program compatibility challenge depending on the model required for the various labeling machines in the OEM's range and it didn't have an upgrade path for obsolescence. Instead, Trio's controllers use the same program with no reprogramming required, and the Euro range has an upgrade path for both stepper or servo control. Trio's future proof system allows previous generation programs to load and run into the latest generation controllers.
Time and cost savings
The Euro404 is also very easy to use. Interfacing with a control panel and e-stop, all settings are managed through a compact touch screen. Flexible control is provided though the user only needs to set the label size along with a calibration run in order for accurate, high throughput operation to start. As Trio's environment for motion and machine control is a single integrated system, it's easier to work with and doesn't require an HMI or PLC to coordinate and control additional devices required for label registration.
A more stable programming system compared to the previous smart HMI approach is also combined with more reliable hardware in a robust package and a single unit, reducing the volume of required connections. For the OEM this has significantly reduced downtime contributing to more productive machines.
Combined with increased accuracy and throughput, Trio's controller has also helped to reduce cost, with fewer maintenance requirements, less development time required, and better value hardware compared to PLC or HMI options. The OEM manufactures around 150 labeling machines per year, meaning that significant cost savings are achieved.
Trio also provides controllers for stepper, servo and Ethercat labeling applications that can scale to more demanding and complex labeling systems.
About Trio Motion Technology North America
Trio Motion Technology North America was established in 1999 in Freeport, Pennsylvania to serve Trio's USA, Canada and Mexico customers. Including a large distribution hub which stocks the full range of Trio products, Trio North America also supports over 50 sales and distribution outlets across the region.
The Freeport facility includes a full hands-on training center for distributors and end users, equipping Trio's customers with the skills they need to optimize their own applications. Trio Motion Technology North America also includes applications support, providing customers with the technical expertise to enable them to create the most productive and reliable machines.
About Trio Motion Technology
Trio Motion Technology was founded in 1987 as a manufacturer of motion controllers. Today the range, branded Motion Coordinators, can control up to 128 axes of servo, stepper and piezo motors as well as hydraulic systems. Trio's expertise of motion programming is based within its Motion-iX technology. Launch of the new servo drive and motor package now develops Trio's offering into a motion solution in addition to providing motion controllers for automation vendors and system integrators.
The company headquarters is based in Tewkesbury, Gloucestershire, which also comprises its primary research and development hub. Additional R&D facilities are located in Italy, Bulgaria, and also China, where Trio's products are assembled. Application development teams are located in the UK, USA, Italy, India and China, and a global sales network comprises over 100 partners.
In 2017 Trio was acquired by the Estun Group, which is supporting Trio in its growth with assistance through shared facilities and R&D as well as financial backing. Trio has exceeded 15% growth year on year since the acquisition. In addition to the primary global markets, a significant proportion of Trio's business is in China where the company's motion control capability has enabled Estun to become a major player in the China automation market. Despite the presence of the Estun brand, motion control products in China carry Trio branding.
About Estun Group
Estun started its activity in 1993 in Nanjing, China as a manufacturer of control systems for metal forming machinery. Today the company comprises six business groups focussing on automation and robotics, distributed around the world. Estun reported 2018 global sales figures at $230 and has more than 40% growth rate in recent years.
Estun is one of China's tier one robot manufacturers and has a 100,000 m2 robot manufacturing facility, as well as a servo drive and motor manufacturing plant. The company is operated with an Automation Business Group, focused on machine performance, and a Robotics Business Group, based on turn-key factory projects including robotics and automation.
Estun's acquisition strategy is one of collaboration over assimilation with many of its acquisitions being less than 100%. The spirit of collaboration also extends into key partnerships with suppliers and customers for mutual benefit.
Estun's business groups comprise:
Estun (100% ownership), specialists in robotics, China headquarters;
Trio Motion Technology (100% ownership), specialists in motion control technology, UK headquarters;
Cloos (100% ownership), specialists in welding technology and welding robots, Germany headquarters;
Euclid Labs (25% ownership), specialists in 3D vision technology for robot applications, Italy headquarters;
MAI (52% ownership), specialists in production cells using robotics, Germany headquarters;
Barrett Technology (52% ownership), specialists in special purpose robotic manipulators, USA headquarters.
For more information about Estun, please visit https://www.estuneurope.eu/about-us/