By Ray Grady, chief customer officer and president, CloudCraze
While manufacturing leaders recognize the importance of a strong digital presence, many organizations still struggle to implement a fast, scalable and customer-first commerce experience. That's because many manufacturers are using legacy, on-premise systems that are too outdated to support user-friendly commerce experiences, and complex ordering and payment features.
These organizations are paying the price for inefficient systems. B2B manufacturers report that 70 percent have lost a business deal because of ordering pain points and 31 percent say they've lost at least $2 million in sales.
As buyer expectations for a streamlined digital experience rise, manufacturers will continue to miss sales opportunities, as well as struggle with customer loyalty if they can't deliver a streamlined and engaging online experience. To improve their offerings, businesses needs agile, cloud-based solutions.
Self-service options reduce operational cost
Traditionally, manufacturers have struggled with the high costs of servicing second and third-tier buyers. Sales representatives spend significant time manually processing lower volume orders – sometimes at the expense of larger customers. Cloud-based solutions enable tier-two and -three customers to service themselves, freeing up sales representatives to focus on tier-one clients. This reduces operational costs while generating more sales from long-tail customers that were previously hard to reach: a win-win.
For instance, a convenience store owner ordering soda from a manufacturer like Coca-Cola would work directly with a sales representative regardless of the order size or frequency. But with a cloud-based commerce site, buyers have more autonomy in the ordering process. They can order products, review previous orders, and automate recurring shipments at their own convenience. Additionally, intuitive self-service options eliminate the need for phone and fax orders, reducing manual errors and increasing order accuracy. Through cloud-based solutions, customers can more easily manage their purchasing cycle and manufacturers can save valuable resources.
Agility enables game-changing improvements
As technology advances, so do customer demands. Customers expect manufacturers to quickly launch new capabilities and improve processes. But many are limited by legacy technology that can't be adjusted on the fly.
A cloud-based commerce solution allows manufacturers to stay 100 percent connected with customers. Using a cloud-based commerce system built natively on Salesforce gives manufacturers a 360-degree view of customer data and makes it easier to adapt the commerce experience based on customer feedback.
Cloud-based systems also make it easier to iterate over time — and without the need for large and costly dedicated teams. By decreasing operating costs and effectively using employee and buyer feedback, manufacturers can implement powerful improvements that significantly increase sales.
Cloud-based solutions enable a holistic view of the customer
Disparate on-premise systems often make it difficult to organize consumer data, creating silos that prevent businesses from streamlining transactions. Without centralized data, buyers are required to complete repetitive, complicated steps before purchasing.
A cloud-based system built natively on your CRM platform connects customer, order, marketing, and sales data to streamline transactions and eliminate friction in the experience.
User-friendly commerce experiences ease the burden on sales reps to manually place orders via fax, phone or in-person, resulting in a higher volume of orders over time. By simplifying transactions, buyers are more likely to purchase and remain loyal to your brand.
Many manufacturers have already caught onto the benefits of cloud-based technology and have experienced positive results. In fact, 55 percent of manufacturers report stronger management of their global supply chains using cloud platforms, while 48 percent are managing new product introductions more efficiently with the technology.
Ultimately, business buyers won't put up with clunky or time-consuming processes for ordering – especially as more manufacturers implement cloud-based platforms. If you don't want to lose out on sales, it's time to move to the cloud.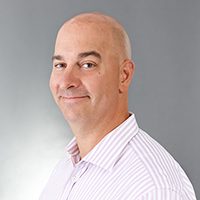 Ray Grady // President and CCO, CloudCraze
Ray Grady is President and Chief Customer Office at CloudCraze where he spearheads business development, customer success, professional services and continued global expansion in the US and EMEA. Prior to CloudCraze, Ray was senior vice president and general manager of Acquia, one of the fastest-growing SaaS providers in the world. Before Acquia, he co-founded Acquity Group, which went public in 2012 and became the second-largest independent digital agency before being acquired by Accenture Interactive in 2013 for $316M. With 15 years' executive experience in B2B commerce, Ray builds high growth teams, scales businesses and helps clients achieve digital success. He began his career at Bottomline Technologies, followed by Whittman-Hart. Ray earned his B.A. in Political Science from the University of New Hampshire.