Volume 10
| Issue 3
| Year 2007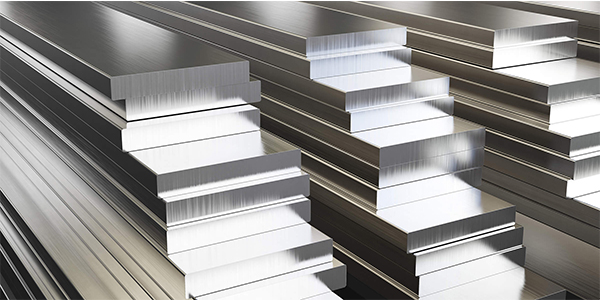 Have you ever stopped to think just how many aluminum factors into our daily lives? Everything from food packaging to electric circuitry, from airplane interiors to refrigerators contains aluminum, making it possibly the most versatile of all metals. It is lightweight, conducts electricity and heat, blocks light and oxygen, and has anti-corrosive properties. Plus, it's inexpensive and easily cast, molded and shaped. What's more, Brazil is loaded with the stuff. In fact, Brazil has the third largest supply of aluminum ore, known as bauxite, in the world and it won't be used up any time soon.
Bauxite mining began in Brazil in 1931 in the interior state of Minas Gerais, a region known for its mining activities since the Brazilian gold rush of the 18th century. The 70-year period from 1700 to 1770 produced more gold than all years before it combined. In keeping with the mining tradition of the region, the Companhia Brasileira de Alumínio (CBA) has become the country's first largest metallurgical enterprise and the world's first largest producer of aluminum. During its many years of bauxite extraction and refining, CBA has grown to produce more than 475,000 tons of aluminum per year, almost doubling over the past five years.
The company's technologies for processing bauxite and turning its aluminum into usable forms like rods, coils, and sheets is unmatched in the business. Since its inauguration in 1955 in the town of Alumínio, Sao Paulo, CBA has been diversifying its markets, evolving its processes and updating its technologies to become a world leader in mining, processing and production of aluminum, a turnkey approach that gives the company a unique competitive edge. Alumínio, a town of 15,000 inhabitants named after its only major business, is where CBA processes the ore that comes in from its three mining locations in Minas Gerais. The factory is approximately 7.5 million square feet (around 172 acres) and employs 5,500 workers. About 50 percent of the aluminum that comes out of this factory is shipped to the rest of the world via the nearby port of Santos, Latin America's busiest industrial port.
Making Everything Aluminum
CBA may be the first largest producer of aluminum in Latin America, but it's the largest producer that offers an integrated product line. Not all mining operations process and refine their ore into aluminum. Not all refineries create cast or extruded products. And very few operations produce most of their own electrical energy. Not only does CBA mine its own bauxite from its three principal mines (with more in the works); it refines the ore into aluminum; casts it into tubes, rolls, plates, sheets and ingots, and transforms it into high-volume finished products like roofing, siding and railing. "This is our unique characteristic," affirms Luis Loureiro, Commercial Director at CBA. "We are a company with great capability to compete in price and quality and our integrated services give us a competitive edge."
Take the extraction of aluminum ore. Every day, trainloads of bauxite get moved from Minas Gerais to the Sao Paulo plant, a distance of around 600 miles. The mines provide enough bauxite for a great many soda cans. The total capacity of CBA's two mining operations is upwards of five million tons of ore per year, with about one third of that coming online in 2007 from the company's newest mining facility.
Once the ore is chemically processed into aluminum oxide, it undergoes a process of electrolysis that turns it into finished aluminum. The aluminum is then processed into various finished forms. The company divides its vast product line into two main groups: transformed products and cast products. Transformed products are those that are pushed or pulled into shape, through complex refining processes. Cast products are formed from liquid aluminum and include coils, rods, slabs, and ingots.
Some of the transformed products, such as electric cables and construction materials, are final products that are sold through vertical market channels. "Our electric cables are used in the Itaipú hydroelectric plant," remarks Loureiro. Itaipú, on the border of Brazil and Paraguay, is the largest and most efficient hydroelectric power plant in the world. "CBA produces unfinished aluminum power cables with or without a steel core for use in all kinds of power facilities." Other transformed products, like plates, coils, and rolled sheets are sold to manufacturers who convert the raw material into everything from kitchen appliances to engine parts and bus interiors. CBA applies different finishes for special applications, such as refrigeration and engraving. Production volumes are impressive: CBA produces an average of 24,000 tons of cable per year; over 200,000 tons of plate, sheet and coils each year; and over 7,000 tons of roofing.
That's just the line of transformed products. Most of the company's cast products are sold to other manufacturers for re-casting into a diverse range of finished goods, including use in steel production. CBA produces 1,300 tons of cast aluminum every day, an average of 40,000 tons per month.
Aluminum is a high-tech business. Not only is the refining of bauxite a complex and costly process, but the many processes involved in forming and casting the metal can be technology intensive. "We have continuous casting technology for our coils and rods, called 3C. We also have Direct Chill and Wagstaff technology for our cast products." CBA offers various surfaces and finishes for its extruded forms, including the modern sandblast-anodized finish, which eliminates stains and scratches. From forming and cooling to methods of rolling it up and shipping it, CBA keeps its technology on the cutting edge.
Conducting Business
Considering CBA is the first largest metallurgical company in a country that has one of the largest bauxite reserves in the world, you might think that CBA has everything going for it. But the company has had its share of challenges and the most difficult is clearly the availability and price of energy. The process that turns bauxite into finished aluminum involves electrolysis, an energy intensive technology. As a result, energy consumption by CBA represents one third of its total production costs. "Aluminum is intensive in its need of electrical energy," explains Loureiro, who points to political complications in Brazil as part of the problem. "Politically, the important issue is in infrastructure for the country…in energy. If we don't have this, then the country is not whole. We need industry to sort out some of these problems and execute the solutions. But these things take time. It's a great challenge for us."
To hedge its bets, CBA has been implementing its own solution to the energy crisis and has constructed 18 hydroelectric power plants for its own use. The first was built in 1954 and since then, the company's investments in energy production have not let up for a minute. Today, CBA produces over 70 percent of the energy it consumes. That's over 500 million megawatt-hours per year, a shocking amount on any scale and far more than any other aluminum processing company in the world. "Energy availability and price are difficult in Brazil. We have around 70 percent self-sufficiency, but we still have barriers to get over. We have 18 plants and we'll make as many as we need. It's a good area of growth for CBA."
Recycling aluminum helps reduce the need for energy, by reducing the amount of new aluminum that gets produced. In this, Brazil is an example for the rest of the world, with a national aluminum-recycling rate of 96 percent, the highest of any nation. But energy consumption is not the only environmental concern that weighs on companies like CBA. Mining operations that pollute waterways is among the worst offenses of the bauxite extraction business. "We are all worried about this problem, but it does not mean we should stop industry and go back to the dark ages," reasons Loureiro. "We have a consciousness of sustainability in all our processes. And now Brazil has a lot of bureaucracy that slows things down. We have to take this into account for all our projections."
Aluminum Planet
After World War II and a stagnant period for aluminum in Brazil, CBA took over an aluminum works begun in 1941. Seven years later, the company began producing its own aluminum and by 1955 was producing 3000 tons per year. After the war, the world's consumption of aluminum grew exponentially and CBA's exports became an integral part of its business. Today, the company ships out almost half of everything it produces. "We ship mostly to Europe, the Middle East and the United States. In Europe, we have 13 percent of the market for sheet rolled aluminum."
Domestic consumption increased, too; first in transportation, then in electrical, construction and packaging applications. "Brazil consumed more aluminum too, and we became an integrated company by servicing these domestic markets," recounts Loureiro. "Today, the construction market is the best because we are recuperating from years of stagnation. We had a lack of foreign investment there. In the past three years, we've seen growth in the electricity market. There is a big demand in countries like China and the United States for electrical cables."
Over the years, CBA has seen markets boom and bust in various countries and the company services just about every market application of its product. "Today the biggest market globally is in transportation and China is a huge consumer. Even in Brazil, our biggest markets are transportation and packaging; almost 50 percent of our domestic product goes to these two markets. Aluminum packaging extends the shelf-life of food products and it has the advantage of being completely recyclable, which is good for the environment." Loureiro also points out that while Brazilian automobiles use very little aluminum in comparison to American cars (an average of 80 pounds per car in Brazil compared to 240 pounds in the states), the country makes up for this deficit with its mass quantities of busses, which are often lined with aluminum. "There's a great market in Brazil in the production of buses. Sao Paulo is crazy with buses…us and London."
Loureiro anticipates an increase in the use of aluminum for cars. The metal's anti-corrosive qualities, its lightweight and resistance make it a perfect choice for use in parts requiring modern, economical designs. "With the new components and light weight cars, use of aluminum should double in the coming years. Even totally aluminum cars exist today. Whenever weight is a concern, aluminum is often the best choice. Planes use a lot of aluminum and we have a sophisticated project in place that uses conductive aluminum parts for cell phones."
Speaking of aluminum construction materials, Loureiro turns to global markets. "In the United States, people use a lot of wood for their homes, but here in Brazil, we like to preserve our forests," he says ironically. "But the big market for these materials is China…for making homes." He notes that CBA is the only Latin American supplier who produces laminated sheets in certain widths and thickness preferred for construction applications. "Years ago we could not produce these thickness. But we always invest in new technologies and our machines are very evolved. This makes the whole industry more competitive."
Gold for Aluminum
Over the past five years, CBA has almost doubled its production output and in 2005 the company assumed its position as Brazil's second largest producer of aluminum with 400,000 tons produced that year. In 2007, the company will reach 470,000 tons. This growth followed an increase in the world market for the metal and an intense series of investments by the company. "We invested almost $2 billion in all aspects of our integrated business: processing, mining, energy, transformation and environment." Loureiro details the tab: $164 million in mining operations, $373 million in bauxite processing, $517 million in smelting, $379 million in transformation of products, $504 million in electrical energy and $128 million on the environment. The world market for aluminum maintains 5 percent growth per year, or an equivalent of about two million tons of metal."The world's growing demand created a favorable environment for our own growth to take place, but the investments we made to extend our capacity were also key."
CBA continues to invest. The company is adding new mines in the Southwestern and Northern Regions of Brazil, with a focus on the Amazon region in the north for the long-term future. "This is where we'll find more mineral in the future for our company," projects Loureiro. "We have more than we need here in the Southwest, but maybe by 2020 we'll be looking at our northern mines. We think four years and 20 years into the future." One thing is for sure, as our culture requires more light weight and economical products, use of aluminum will only continue to grow…and CBA along with it.