Volume 10
| Issue 3
| Year 2007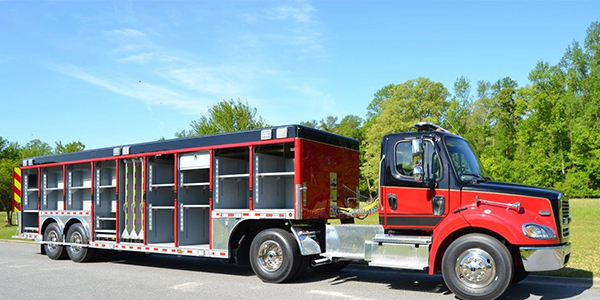 It's not often you run into a company that has contributed to the English language. But Hackney Emergency Vehicles can claim that distinction. According to the Historical Dictionary of American Slang, the verb to hack means "to ride in a Hackney coach or taxicab." The common use of the word dates back to 1879.
In the mid-19th century, members of the Hackney family, which built horse-drawn carriages and wagons, emigrated from England to the U.S. and settled in eastern North Carolina. They established a family business in Wilson, N.C. manufacturing wagons and eventually became the largest supplier of wagon wheels in the U.S.
"After the turn of the century the horse-drawn carriage business went by the wayside as horse-drawn carriages became horseless carriages. They had to diversify into other types of products and began building truck bodies," said Eddie L. Smith, Director of Sales and Marketing for Hackney.
As the family expanded, James A. Hackney, Sr. relocated to Washington, N.C. in 1946 and founded a new company – Hackney and Sons, Inc., manufacturing utility truck bodies. In the late 1950s it developed the first roll-up door body for the beverage industry, a space-saving design still in wide use today. "The roll-up does away with the open-air body that was subject to theft, breakage and inclement weather," Smith explained. "It became an instant hit and developed from a steel body in the 60's to an aluminum body. That became the platform for every side-load beverage body you see today."
Hackney remains the premier manufacturer of beverage bodies both in the U.S. market and most of the other six continents. The family sold the business in 1990 to Transportation Technologies, Inc. and rapidly became one of the largest specialty truck body manufacturers in the United States. Hackney entered the public safety sector in 1986 when an emergency services officer in Oregon stopped for coffee on the way to reporting for duty and saw a roll-up door body at the local convenience store. "The light bulb came on … He saw all the space in the vehicle and that it would make a fantastic HAZMAT vehicle. This prompted a call to the local distributor where he was directed to Hackney," Smith said.
At the time Hackney was looking for other applications for its body designs, fire departments were trying to figure out how to haul large amounts of bulky equipment to emergency scenes. It was a perfect match. Hackney decided to pursue the emergency vehicle business. "It was the right body, well suited for a lot of different applications."
The Rescue Niche
In 1987 the company set up a separate division to focus on the emergency vehicle market. Things took off and today Hackney is recognized as the leader in emergency support vehicles in the U.S. including rescue vehicles, HAZMAT, and technical rescue (also known as urban search and rescue or USAR).
The emergency vehicle industry is a very small niche market. According to Fire Apparatus Manufacturers Association only about 5,000 emergency vehicles are currently being purchased each year in the U.S.; out of that only about 800 are rescue vehicles, including HAZMAT and USAR, Smith reported. "It's a small market and we control the biggest percentage of that market segment. The primary reason for our success is that the technology that goes into a Hackney is totally different from all other emergency vehicles out there."
In addition to the first side-load, roll-up door body and all-aluminum construction, other Hackney engineering innovations include integral door tracks and drop-pinch frame technology.
The drop-pinch frame supplies about 30 percent more storage capacity within a given wheel base than other designs. "What we do is modify the frame rails to create a 40-inch-deep compartment below the frame rail. The industry standard is only 24-27 inches of depth below the frame rail. The drop/pinch frame modification moves the standard frame rails inward utilizing what is typically wasted space, which in turn makes it a lot easier to inventory, retrieve and store the equipment. And it's a lot less expensive," Smith said.
The next step in design to meet storage demands as well as provide quick access to equipment is Hackney's unique door and integral door track. "All other fire truck manufacturers purchase doors from aftermarket door manufacturers, a design that consumes a lot of valuable storage space. Hackney manufactures its own doors and these are integral to the body," Smith said. Hackney's design results in additional storage space that is freed up by use of the integral door tracks, not added on the door opening. "Use of add-on roll-up or even hinged doors results in as much as eight inches of lost storage space. A typical rescue vehicle will have nine compartments, resulting in a total loss of 72 inches of valuable space. People have recognized that about our product. That is what has made us number one. They've got to carry a lot of equipment and they don't want a big huge monster that they can't turn around. We can provide them with more storage and access without costing an arm and a leg in both dollars and wasted space," Smith said of Hackney design benefits to its public agency customers. Nearly 70,000 Hackney vehicles incorporating this door and drop/pinch frame technology are in service around the world on any given day.
All Hackney emergency vehicles' are manufactured in its Washington, N.C. plant, a facility that stretches out over two city blocks. Its beverage body plant is located in Independence, Kan.
If you've ever seen your local fire department strut its stuff in a summer parade, you know the pride that the fire service takes in the appearance of its equipment. In addition to engineering and building these amazing machines, the paint job is a very important final touch and a huge challenge to apply to an aluminum body.
"It takes longer to paint the body than to fabricate the body," Smith said. "Aluminum does not like to be painted." Besides industry standard processes for painting aluminum bodies, all Hackney emergency vehicle bodies are also hand polished and buffed for an extraordinary mirror finish. "That's what the fire service demands. They are proud of their equipment and want it to look outstanding. It takes a lot of hours to make that happen."
Once painted the body is loaded onto a chassis for final assembly and options are installed to meet the exact requirements of each individual customer. All custom cab and chassis' are supplied by Spartan Motors. Commercial cab and chassis suppliers include Ford, Freightliner, General Motors and International. Engine horsepower requirements are selected by the customer ranging from 300hp all the way up to 550 hp. The electrical system is fully multiplexed using state-of-the-art Akron/Weldon V-Mux, a peer-to-peer system.
Diverse Response Needs
The benefit of Hackney's design, with its drop-pinch frame technology yielding more cargo space, is essential to today's emergency responses, particularly in technical rescue operations. "These guys have got to carry myriad pieces of equipment that previously never even existed," Smith said. "Today the typical emergency response team finds itself transporting breathing equipment, extrication equipment, equipment to shore up a collapsed wall or ditch at a construction site, HAZMAT containment and/or mitigation equipment, life support medical equipment and a myriad of other technical equipment."
In addition to rescue, HAZMAT and USAR, another type of emergency response vehicle in high demand is the command and tactical support unit, with communications equipment supporting interoperability that enables responders to communicate with each other on all radio frequencies. The vehicles serve as rolling command posts, incorporating communications packages from companies such as Motorola. "These vehicles have the technology to be able to transfer between frequencies…from cell phone to walkie talkie to central dispatch," Smith said.
While Hackney has focused on vehicles for conventional rescue operations and homeland security, the communications and tactical units have not been among their products in the past. But, the depth of engineering and manufacturing capabilities inherent at Hackney lends itself to Hackney developing new markets. "We have recently developed a brand new proprietary body platform for many applications such as command and communications tactical units for homeland security and law enforcement," Smith said.
The emphasis on funding provided by the Federal government for homeland security is focused on providing specialized emergency response capabilities by selected local government agencies for regional responses. For example, Florida has seven Hackney trailers strategically located and operated by local government fire departments. "They are required to respond when a hurricane or disaster occurs. Acceptance of the vehicles and equipment also means that those agencies must respond to whatever region the governors office dictates." This approach helps more isolated or economically depressed areas benefit from better response.
Hackney continues its long history of innovation, supported by a new corporate structure to advance its expertise. The corporate parent is Vision Technologies Specialized Vehicles Corporation (VT SVC), which has its own heritage in supporting our nation's military requirements. It has approved a revamped R&D department at Hackney and reinvigorated the engineering effort.
"VT SVC has been proactive in giving us back our passion for innovation. Engineers within the R&D department have already been responsible for the development of a new body design that will be used on the command and logistics vehicles and many other applications previously not offered at Hackney," Smith said. "The current owners are in the global transportation business for the long haul… and are making major investments in moving Hackney to new levels. We have good support on the corporate level to look beyond one single fiscal year and look strategically toward an exciting future."