By Duane Clement, Founder and CEO, Data Inventions
A routine visit to a manufacturing plant in Erie, PA changed everything.
Throughout my career in R&D, and as an engineer with Procter & Gamble, I witnessed firsthand the problems and opportunities to leverage technology and data to improve manufacturing operations—across a broad spectrum of operations.
But during that particular plant experience in 2014, it became crystal clear that plant leadership and machine operators had access to ample data—in fact, they were buried in it—but the majority weren't able to use it in time to inform their decisions and make improvements.
All the ingredients were there, but the company wasn't able to operate to their full potential. Most importantly, the data trapped in silos was inhibiting their ability to grow and compete on a bigger level.
And, unfortunately, this is the norm.
Big Data, Big Opportunity
According to the Industrial Internet Consortium, more than 99 percent of data in a typical factory is discarded without attempting to derive insight.
Part of the challenge is that key information can be hard to access, fragmented, or presented after the fact when it is too late to make an impact.
For years, our team saw what was really happening in the manufacturing marketplace, and we decided to do something about it. Recognizing this need in the market, Data Inventions was born.
Simply put: Our goal is to make it easier for mid-market manufacturers to operate more effectively and improve business results.
Through our cloud-based suite of apps, managers, machine operators and others within a plant environment can easily view their data in real-time, form actionable insights, and take immediate action to impact everything from the shop floor to the bottom line, including:
Enhancing operational efficiency
Reducing downtime
Reducing scrap
Preventing failure
Improving throughput and on-time delivery
Making Information Available in a Straightforward and Meaningful Way
Data Inventions apps are designed to be fully compatible, which means they automatically connect and organize data across the enterprise from ERP systems in the back office to the shop floor —regardless of the age of the machine. The data is then analyzed to spot trends and offer insights. The resulting information is presented via a simple, intuitive touchscreen interface.
Offering easy access to real-time job and machine performance, the manager dashboard can be accessed anytime and anywhere to provide the visibility and control managers need to react to production performance and quickly address problems.
Essentially, we handle the complexity behind-the-scenes and provide the insights companies need to achieve better outcomes. These companies have the opportunity go live in hours, see results within weeks, and pay out their investment in a matter of months, an obvious "win win."
The Wave of the Future
By connecting people with real-time information through easy-to-use apps, manufacturers are in a much better position to improve production performance.
Based on a McKinsey analysis in 2015, "The disruptive technologies of Industry 4.0, such as IT-enabled manufacturing and increased computing capacity, hold the promise of smart factories that are highly efficient and increasingly data integrated. Data is the core driver: leaders across industries are leveraging data and analytics to achieve a step change in value creation. A big data/advanced analytics approach can result in a 20 to 25 percent increase in production volume and up to a 45 percent reduction in downtime."
And, take note of this momentum: A recent Gartner study shows that 43 percent of organizations are using, or plan to implement, the industrial IoT (also known as Industry 4.0) in 2017, with manufacturing leading the way. Needless to say, we're proud to be part of a growing movement toward the industrial IoT that incorporates a broader set of disruptive technologies to transform the manufacturing sector by 2025.
It's an ambitious goal, but we believe these front-line tools and analytics will continue to revolutionize the manufacturing industry and propel it into the future.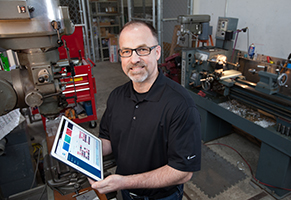 About the Author
Duane Clement, founder and CEO of Data Inventions, leads all day-to-day management decisions and implements Data Inventions' long- and short-term plans. A global executive and entrepreneur, he has expertise building companies and taking technology products to market. In addition to founding his own companies, Duane was previously with Procter & Gamble and Catalina Marketing, and assisted in the sale of Snyder Communications for $2.1 billion. To learn more, visit www.datainventions.com, email info@datainventions.com, or call 513-952-8020.