Volume 20
| Issue 3
| Year 2017
Click here to read the complete illustrated article as originally published or scroll down to read the text article.
On June 29, 2017, the Kasungu Aerodrome in partnership with Unicef launched Africa's first air corridor to test the use of drones in humanitarian missions.
When we hear the word drones – or Unmanned Aerial Vehicles (UAVs) – it often conjures images of covert military operations or online shopping parcels falling from the sky. In a world where technology often moves faster than commercial uptake, however, Unmanned Aerial Systems (UAS) have quickly emerged as a technology solution of choice for organizations looking to streamline operations and develop new capabilities.
Faculty members and experts in applied research at the Southern Alberta Institute of Technology (SAIT) in Alberta, Canada recently established the Centre for Innovation and Research in Unmanned Systems (CIRUS). While companies grapple with the idea of integrating drones into their business, many simply don't have the knowledge or resources to independently launch their own UAV program.
As a global leader in applied education, SAIT creates enterprising collaborations with industry partners across Canada and abroad. For companies wishing to utilize UAS technology, SAIT provides the scientific and technical knowledge to develop comprehensive UAV solutions (i.e., appropriate vehicle, sensors and software); inform UAV flight best practices; provide consultation on regulatory requirements, and; help companies develop standard operating procedures for UAV use.
Three recent SAIT-industry partnerships, led by SAIT researchers Shahab Moeini, Dr. Ken Whitehead, Wade Hawkins and Glen Kathler, demonstrate the impact and diversity of UAS applications.
Building Information Modeling – The Next Generation
The construction sector is one of the largest users of UAV technology, expected to account for $11.2 billion of the US commercial drone market between 2016 and 2020.
UAV technology is disrupting many long-established industries due to its potential to save costs, increase efficiencies and enhance worksite safety. Tasks such as aerial survey and inspections, for example, can be carried out more efficiently using UAVs than with conventional methods.
PCL Construction Inc. is the largest contracting organization in Canada, and the eighth largest in the United States. When they decided it was time to explore UAS as a supplementary construction project management tool, they contacted SAIT's Construction Project Management program in the School of Construction – known for its expertise in UAV technologies, construction science and project management. PCL was looking for cost- and time-effective ways to improve quality and accuracy through better project monitoring, progress reporting and supervision.
The goal of the joint project was to develop, test and validate a construction-specific UAV application by identifying the best combination(s) of aerial vehicle, sensor type, data capture and data processing methods to meet PCL's needs. The team was the first to receive a project grant from the Natural Sciences and Engineering Research Council of Canada (NSERC) for UAV research at SAIT.
Working together, SAIT and PCL devised a method to capture essential data and create a 3D model of an entire construction site using UAVs in conjunction with sophisticated 3D modelling software – a process known as Building Information Modeling, or BIM.
PCL used the information to investigate ways to overlay the 3D imagery with the original schematics of the building and look for deviations that would need to be addressed before the project advanced further. The partnership helped PCL learn what type of UAV to use, best practices for flight, and how to incorporate the information gathered into a BIM system. Additional outcomes included the development of operational procedures, improved construction progress reporting, and innovative application of unmanned ground systems for site monitoring.
Since completion of the project, PCL has integrated the technology into their daily practices. The project serves as an excellent example of SAIT's capacity to perform high quality applied research driven by industry needs. SAIT is one of the first academic institutions to participate in a UAV project of this scope.
PCL and SAIT are currently working on a second project, and a third project is scheduled for the coming year. These studies will explore the advanced application of UAVs and BIM in commercial and industrial construction project management.
Enhancing the "Search" in Search and Rescue
This flight test program, also made possible by an NSERC grant, investigated the use of UAVs in Search and Rescue (SAR) operations. It illustrates both the incredible potential of UAS technology and the complexity of implementing a UAV program within an existing business structure.
Working in collaboration with InDro Robotics Inc. and Coquitlam SAR, SAIT set out to answer the question, "What are the best UAV flight methods and equipment to use for SAR given regulatory restrictions, available software and UAV platform capabilities?"
Coquitlam is located approximately 25 miles from Canada's mainland western coast, in the Province of British Columbia. Coquitlam SAR serves a geographic area of more than 680 square miles, including some of the most rugged and inaccessible terrain in Western Canada.
The project brought together technology, education and research in a real-world industry application where the stakes can be high– literally, life or death in many cases. Covering off everything from Tranport Canada regulations for UAV operation to site logistics, safety and communications, the SAIT research team's goal was to design and develop UAS standard guidelines and operating procedures in the context of SAR.
Stage one mission planning utilized Geographic Information Systems to choose a staging area, perform visual assessment of the ground conditions, and derive a digital elevation model to assess topographical conditions. Targets, including people and objects of different sizes and colors, were positioned to represent lost persons and were located in a wide variety of natural settings.
The team completed numerous flights over two days, each with a specific purpose, in order to assess the SAR targets' visibility given current technology and regulations. Variables like image resolution, camera angle, and sensor type as well as UAV speed and altitude were investigated. In many cases, targets were successfully spotted during real-time video and thermal analysis.
One unique aspect of the project was the development of a communication protocol, which is critical to any SAR mission. Building an effective and efficient flow of communication between the UAV team, the SAR team, the mobile operations centre and, eventually, the lost subject, played a key part in the project's success.
The test flights provided Coquitlam SAR and InDro with valuable information about which techniques, equipment and software can best aid SAR operations, and under what circumstances UAV applications are appropriate. From there, SAIT worked with them to develop a framework for UAS best practices in Coquitlam SAR's rescue missions.
Where's the Beef?
Every year, ranchers spend a tremendous amount of time retrieving cow-calf pairs from the range and looking for lost cattle. Although agricultural applications of UAVs are well-known, there is less commentary about the use of UAVs for cattle management.
A research collaboration between SAIT, Thompson Rivers University (TRU) and the livestock sector is exploring new methods for the successful detection of cattle. It could even result in the ability to gather and move animals on the range using UAVs.
The research is focused on equipping UAVs with Radio Frequency Identification (RFID) detectors that can locate cattle wearing ultra-high frequency (UHF) RFID ear tags. The project demonstrates the value and quality of the data, the tolerance of the animals to the unmanned systems, and the value of the integrated UAV/UHF-RFID system in improving beef cattle management in extensive grazing areas.
The project evaluates the best type of UAV to carry the RFID antennas. Flight paths are either pre-programmed with WAYPOINT SOFTWARE or flown manually. System features under evaluation include: height and distance limits, return-to-home capabilities, automated takeoff and landing, automated collision avoidance, and accuracy of cattle detection. In addition, researchers test the value of additional on-board sensors such as multi-spectral imaging and infrared thermography.
Finally, researchers are working to determine the best type of UHF-RFID ear tag to use with the UAV multi-rotor system.
The Future of UAS and Intelligent Sensor Networks
UAS projects at SAIT are strengthened by a collaborative approach that combines best-in-class applied research, expertise and technology with partners in multiple sectors and academic disciplines. Key to the success of each UAV project is the integration and testing of bi-directional wireless sensor networks that can obtain and analyze measurements from most any environment.
Intelligent sensor networks are being rapidly adopted by industry in Canada to improve visibility into processes, personnel and assets through data collection, analysis and business intelligence. The technology is instrumental to the local economic structure and helps businesses in Alberta streamline and improve processes.
SAIT helps industry solve process or product challenges in this area through its Centre for Innovative Information Technology Solutions (CIITS). In 2017, a cash injection of $2.8 million CAD will support the development of a leading- edge intelligent sensor network facility and lab infrastructure at SAIT. Provided by the Canada Foundation for Innovation, Alberta Economic Development and Trade, and Cisco Systems, Inc., the funding will double the size of the current research space and triple the project capacity.
Advancements in information technology are vital to research and development in many areas, including UAV applications for industry. With this increased capacity, SAIT will continue to lead by solving today's challenges with tomorrow's technologies.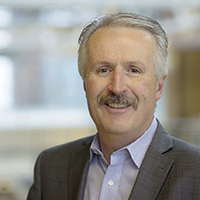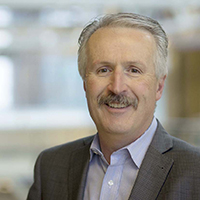 Rick Tofani, Director, Applied Research and Innovation Services, SAIT
Rick Tofani leads 40 full-time staff and up to $6-million in research projects annually at SAIT's department of Applied Research and Innovation Services. He joined SAIT following success in both the public and private sector, most recently as Director of Operations with the Canadian Oil Sands Innovation Alliance (COSIA).
He managed a $35-million portfolio while at Alberta Innovates Technology Futures (AITF), and he initiated the Regional Innovation Network model of intra-provincial organizational research collaboration.
Between 1999 and 2006, Rick established the Office of Applied Research and Innovation at Red Deer College and the Innovation Centre at Olds College.
He has an MBA from the University of Saskatchewan and a B.Sc. in Geological Engineering from Queens University. Rick has served on nine advisory boards throughout his career, and he's undertaken project review and funding adjudication for organizations such as NSERC, Innovate Calgary, Canada Foundation for Innovation and the Alberta Science and Technology Awards.