New partnership between ACERTUS and PODS provides a more customized and comprehensive moving experience for consumers nationwide.
By Trent Broberg, ACERTUS chief executive officer
'The Great Relocation' has significantly increased the demand for portable moving and storage containers over the past year. High fuel prices, low inventory and great demand for vehicles in general is shifting the way consumers treat their vehicles. When compounded with the surging prices of new and used vehicles due to semiconductor chip shortages and supply chain bottlenecks, consumers are increasingly wanting to ship their cars when they move – instead of drive them – to preserve mileage, avoid wear and tear, and save valuable time.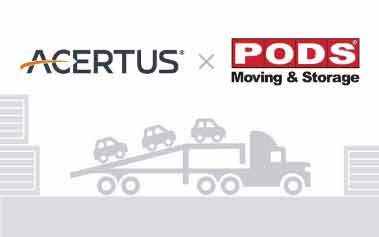 ACERTUS, an omnichannel automotive logistics platform, and PODS Enterprises, LLC, an industry leader in portable moving and storage solutions, recently partnered to help consumers solve this very critical issue of how to move their vehicle safely and efficiently when they move homes. Whether it's across town or across the country, this collaboration offers and executes nationwide auto shipping services for residential and corporate relocation customers, bringing together expertise, infrastructure and technology to deliver a customized and streamlined moving experience.
Technology has enabled dramatic improvements – and expectations – in the way consumers order, ship and receive their goods, and that demand has carried into the automotive sector in more recent years. The automotive logistics platform, which utilizes and pairs ACERTUS' technology with PODS' existing infrastructure, allows consumers who are moving to simultaneously book vehicle transport while booking their move, making for a more comprehensive solution and enabling a seamless digital customer experience. This also provides customers faster, safer and more streamlined services when transporting their vehicles.
More Customers Expect a Home-Delivery Option
Beyond the moving experience, the trend of vehicle home delivery is an expectation and experience consumers continue to show interest in. While vehicle home delivery took a number of years to truly catch on within the larger automotive industry, COVID-19 expedited the growing trend, so that it's not just fully online-based retailers that offer such services now – but a growing number of dealerships, auction sites, rental car companies and more. Even with in-person shopping resuming more, customers continue to show they like having an online-shopping option, with the ability to have their vehicles delivered wherever and whenever they want.
Beyond just the convenience they offer to customers, online car buying, and vehicle-delivery service give customers extra peace of mind – and consumers want the flexibility and security to remote shop for their next car.
Retailers Can Expand Their Overall Reach with the Right Partnerships
It's more important than ever for vehicle retailers to ensure they provide online shopping and home-delivery options for their customers. These offerings will not just meet their customers' demands – it will also help retailers expand their overall market reach and turn over their inventory faster.
A strong website with a platform for customers to shop online and choose the experience they want, and the auto logistics to transport vehicles to any destination, all properly position retailers to sell to customers no matter where they live, reaching more markets – including some that are even more profitable.
Additionally, if a retailer (such as PODS) chooses to partner with an auto-logistics provider for their specific car-delivery program – something that is especially necessary if the retailer is operating out-of-state – that provider can then take on the home-delivery logistics while the retailer's team remains focused on selling vehicles.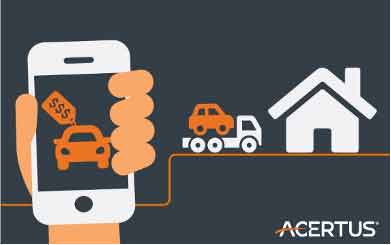 Logistics Technology is Key
Working with a logistics provider can help both retailers looking to improve their overall home-delivery operations and those hoping to launch a home-delivery program for the first time. A full range of vehicle-logistics solutions – not just the deliveries themselves, but the technology behind any other required transports, storage facilities, title-and-registration services, reconditioning, maintenance and more, makes logistics providers well-positioned as partners in the process.
The bottom line, in this time of supply chain constraints, trucker and driver shortages and the compound of the 'Great Relocation' – the way our goods are moved has only become more challenging, and consumer demands have changed to seek greater speed, quality and efficiency. Automotive logistics technology is truly becoming a competitive advantage from companies to help meet and prepare for ongoing changes – whether moving vehicles for their relocation or delivery new vehicles directly to their home – consumers continue to look for customized and seamless experiences with their vehicles.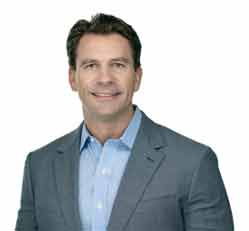 As the CEO of ACERTUS, Trent Broberg is hyper focused on expanding the company's possibilities and creating a new era of growth. He is dedicated to creating technology enabled solutions for ACERTUS and the transportation industry at large.
Prior to joining ACERTUS in March 2021, Trent served as the Chief Operating Officer at Truckstop.com. Before serving in that role, he held senior executive positions at Swift Transportation, DB Schenker and Real Time Freight. Drawing from more than 15 years of experience in the transportation realm, he uses his industry knowledge and leadership skills to carve out high levels of growth and develop profitability.
Trent holds a Bachelor of Science degree and a Master of Business Administration degree from Arizona State University. https://acertusdelivers.com/