The turbulent nature of air travel can be strenuous for even the most experienced of flyers. Today's travellers know to be prepared for the unexpected, being all too familiar with the likelihood for surprises to arise when travelling. Some such surprises include weather issues and IT problems which can lead to flight cancellations and delays. When disruption strikes, travel providers face the issue of customers with derailed plans and pressing complaints which can be made far worse when travellers are left in the dark about their next steps.
When travel disruptions occur, one of the biggest problems is a distinct lack of communication, often leaving travellers feeling both frustrated and frantic. One of the key ways to resolve this issue is enabling travellers to access information from a multitude of touch points and engage in conversations across multiple channels.
An effective omni-channel experience in the airline industry is one which allows travellers to converse both in person with an agent and digitally, but also allows for a continuous conversation with customer services. Whether the disruption is major or minor, time is sensitive for all travellers, and immediate answers are expected. Situations are rarely stagnant – it is likely that the problem faced by yesterday's traveller will match today's. So, personalization paired with a fast solution is a winning combination.
Aspiring for customer satisfaction to sky-rocket, airlines are now taking off with innovative technologies such as intelligent automation. AI tools are helping with the management of delays and cancellations, and supporting a seamless airport experience. Automation is sweeping the travel experience and being implemented across the board, as can be seen walking through the airport for passport control, online self-check-in systems and even customs clearance.
Today, automation is imperative to enable contact center agents to achieve faster and more accurate results that not only make for happier customers, but help to alleviate the stress that customer advisors would otherwise face, as well. There are a variety of technologies on the market that aid back-end communication processes, such as tools that are reducing the impact of processing claims on the airlines' bottom line, as well as speeding up the time it takes to compensate airline passengers.
Some of these AI tools are now even using natural language processing to manage refunds and change fees, whilst also complying with fare rules. Travel providers that are implementing these technologies are experiencing the benefits of reduced retail losses through automated fare calculation, faster calculation of amounts related to schedule and ticketing changes and notably, an improved turnaround time for customer queries. Having the advantage of an automated fare calculator empowers airline employees to process a significantly higher volume of customer requests, ensuring a far smoother process for both customers and employees.
The need to offer quick and personalized experiences and deploying automation to do so will only increase with time, and the need to match evolving expectations. Alongside the increasing presence of digital solutions being leveraged by competitors, other changes that are coming onto the scene in the future will have a direct effect on airlines and OTA's, and are important to consider. For example, 2017 will see the implementation of Alternate Dispute Resolution (ADR) services by the Civil Aviation Authority (CAA), ensuring that customers can get an independent and legally binding resolution to their travel issues. Airlines that wish to avoid public disputes and negative press have much to gain from investing in innovative technology that will make flight disruptions as painless as possible, for both travellers and airline employees alike.
As the realm of digital solutions expand, travel providers will be increasingly required to operate via processes that support a quick, easy, and personalized experience. In order to boast excellent customer satisfaction, airlines will need to keep up to date with the latest technological advances, in order to match today's age of connectedness, mobility, and expectations for instantaneous access and services.
Airlines will reap the benefits of adeptly balancing the automated with the traditional. This means that alongside the digital provisions, airlines must also maintain the human interaction that remains a desirable feature for customers when seeking answers or solutions to problems. Providing new channels of communication to keep customers constantly informed is of equal importance, particularly in a travel setting where changing schedules are a frequent reality, have a large impact, and must be mended with ease and agility. With this in mind, automated intelligence tools are providing a means for airlines to achieve such goals in a cost-effective manner, and in turn making their own, and their customers' lives far easier as a result.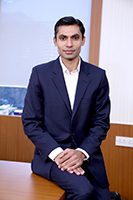 Bhupender Singh is the Chief Executive Officer of Intelenet Global Services. He is responsible for managing Intelenet's global business portfolio across US, UK, Europe, Middle East, India, and Philippines.