How one company uses automation to enhance roles and processes to ensure the facility runs smoothly and to help avoid employee burnout.
Most people understand what automation is, and they believe they understand why companies use it. At WCCO Belting, we use automation to enhance roles and processes to ensure our production facility runs smoothly and efficiently, and to help avoid employee burnout. Additionally, because we are based in the rural community of Wahpeton, North Dakota, our local unemployment rate is nearly zero, which means there aren't enough people to fulfill essential jobs, like those at WCCO Belting and many other companies in the area. This makes automating certain aspects on the production floor even more important.
As a mechanical engineer by trade and a toolmaker before joining WCCO, my instinct is to visualize how things are made – including processes used, how much it costs, and many other important aspects. I look at automation as taking the mundane labor and repeatability out of a process. I try to make a task easier on the operator by reducing the amount of manual labor that has to be done so people aren't fatigued when they go home.
At WCCO Belting, we build machines to use on the production floor that are not available for purchase. Most of the equipment we use is custom-made for our applications, and it's likely the same machine or process has never before been designed or built. One reason for this is because rubber is a unique property. Unlike many materials, it has a memory. Take, for example, a rubber band. You can stretch it out to lengthen it, but it will eventually creep back to its original size. This makes creating processes for rubber products different than for materials in many other industries. Rubber, essentially, is like a living part.
With this in mind, one of the projects we have been working on is equipment to stretch the rubber and create an initial memory in the product so that it doesn't creep back to the wrong size. When a customer uses the belt, they can then tension it to the same memory point that it was made with. This machine is removing unnecessary steps and labor from our process. Additionally, because rubber is such a heavy material, our employees were getting fatigued trying to do this work by hand. This equipment allows us to put out two to three times more volume than completing this task manually, and it frees up our employees for tasks that are more rewarding and less physically demanding.
As another example, the original design of WCCO's RAPTOR® Draper Belting, the global gold standard product for agricultural harvest header attachments, has been using reinforced rubber cleats. Our employees were manually adding the reinforcements to the rubber cleats which took a lot of strength and endurance. This repetitive task needed to be completed thousands of times a day and was quite physically demanding. To help overcome the challenges, we automated the process. All that's required is the push of a button and our employees are no longer fatigued.
I liken automation to a long-distance runner. You can sprint fast, but you will get tired, and you need to remain steady since you're in it for the long haul. Automation helps even out our productivity, so we are performing at the same level from the first day to the last, much like a long-distance runner. Through automation, our employees don't need incredible strength or stamina. As an added benefit, we can utilize a larger group of people because anyone can essentially perform the job once they are trained.
The case for automation as a way to enhance roles and processes, and to achieve greater productivity, is clear. At WCCO Belting, automation has increased productivity using the same number of employees. And one employee can do the same task all day, if needed, often because it requires less strength and physical endurance. As we have seen after automating certain functions, our output has grown utilizing the same number of employees, which is a win/win for us and the customers relying on us.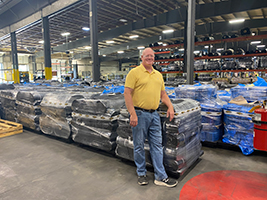 DuWayne Cookman is the Automation Engineer at WCCO Belting, Inc., a family-owned manufacturer of agricultural and industrial rubber belting and conveyor products located in Wahpeton, ND. In this role, Cookman designs equipment for in-house handling of rubber belting. Cookman has over 25 years of experience in automation, robotics and designing special machines. He holds five patents and three publications.